AUSTIN, Tx.— Paulina Vega Dieppa, former Miss Colombia (2013) and Miss Universe (2014), is no stranger to sharing her enthusiasm for life via her 5.6 million Instagram followers. From showcasing life at the beach, her exercise routines and her time hosting "A Otro Nivel," a singing reality competition, Vega is now venturing into new horizons with her new Colombian-based skincare line, Mind Naturals.
Mind Naturals is prioritizing well-being, with an emphasis on time being an individual's most precious resource —because "the URL shouldn't dominate the IRL," as stated on their website. Currently, the skincare line features vegan, cruelty, paraben and phthalate free products like a  face moisturizer, refresh cleanser, hydrating mask and eye cream —each infused with organic CBD sourced from Colombia.
According to Mind Naturals' website, products range from $12 to no more than $22. In addition to prioritizing well-being and the consumer's pocket, the brand is also dedicated to working sustainably with Mother Earth, not against her. For example, the organic CBD used in Mind's products are sourced from their farm located in northwest Colombia, powered by natural water springs, light and wind energy. 
"(In Colombia) we're so aware and used to eating fresh foods and vegetables," Vega said via phone interview. "Everything is organic, everything is natural and everything's really accessible. That (mindset) comes in the ingredients. It's awareness, honesty, responsibility, right and respect in every area." 
In a 2019 article by Ecobnb, Colombia is leading the push for living an ecologically aware lifestyle. The country has recently made advances in building a greener capital, implementing a bicycle path system throughout the city of Bogota. With the city's population being nearly eight million people, almost 84,000 people use Bogota's cycle route network every day, cutting their costs and reducing pollution.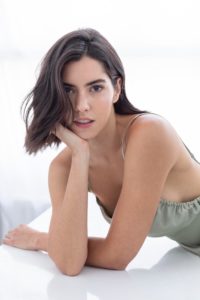 Vega explained the same green mentality her native country has is what went into her products —from the ingredients to the fully recyclable, Sugarcane packaging. She went on to explain by being transparent about Mind's ingredients such as sacha inchi oil, cacay oil, and calendula extract, Mind skincare users can better equip themselves and buy products that suit them. 
"We can learn and Google everything about our skin, and then it's like, 'oh, I need this ingredient,'" she said. "When I started educating myself, I started to notice my skin is dry or only one side breaks out, so those are my concerns. Whatever concern I want to focus on is what I need. Everyone has different skin types. So you have to find out your routine and that's why honesty is so important —to make the life of the consumer easier."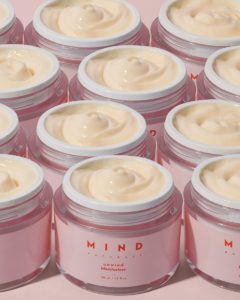 Time is one of Vega's values. The 27-year-old said she values taking care of herself and said a lot of time can go into developing a healthy habit. Instead of just going through the motions of her beauty routine, she explained taking time to care for yourself can lead to a deeper mind-body connection and goes beyond just moisturizing, which is why the brand is called Mind. 
"I think it's super important to take care of yourself on a daily basis," she said. "I think if you can do more than just put cream on your face you can start to see and feel like you own more time to get inspired to have fun. So every time I shower, I play music. Because I don't want to just shower. I don't want that time to go to waste over something that has to be done every day. That moment with yourself is very psychological."
Vega lives by this philosophy and one can see this portrayed via Vega's March 10 Instagram post where Vega can be seen dancing to music as she is preparing for work. She explained her philosophy comes from wanting to make life easier and making sure time is enjoyed between life's little moments.
"When you're present and aware you can leave the problems that you consumed behind," Vega said. "Which is basically a tool for life. And if you make these tools, you can then not take (those problems so hard)."
Now, one can see Vega's life philosophy portrayed through her new skincare line with simple, clean products, with affordable prices. Most importantly, the former beauty queen said honesty and quality are the two things she looks for in a product. 
"(Mind) really works and (Mind) is not very expensive," she said. "Normally the brands that you find are really expensive and I think that's really unfair. That also happens with healthy food, for example, can be really expensive. (Mind) is extremely honest. We want everyone to know exactly what they're buying and they don't have to spend all their money buying them."
Currently, Mind Naturals has dropped its first collection featuring a face moisturizer ($22), refresh cleanser ($12), hydrating mask ($14) and eye cream ($18) with two more products, rose water and hand sanitizer coming soon. To follow Mind's movement, follow the hashtag '#mindthepeople' and find the brand on Instagram @mindnaturals.
About the writer:
Elisa Garcia is a graduate of the University of Texas at Austin with a bachelor's in journalism and is now the Magazine Editor of Latinitas Magazine. She has experience in social media, reporting and videography. Garcia enjoys covering pop culture trends, arts and life community events and feature profiles on women empowerment. Her works have been published in The Pan-American Newspaper, ORANGE Magazine, San Antonio Weddings and Latinitas Magazine. You can read her work at elisaruthgarcia.com! When she's not writing you can catch her with her cat, Opal.
Want to read more stories like this? Give us your feedback, here!
Latinitas Magazine is a department within Latinitas, a registered nonprofit. We are funded by readers like you, so please consider donating today. Thank you!