Every day after school Bárbara would head to her grandmother's studio and watch her as she handmade dresses. While Bárbara was never formally taught how to sew, she learned through observation, and as her skills sharpened so did her love of design, "I remember for my first communion, I designed my own little dress. I was like 'this is how I want it, this is what I want' and my grandma made it for me. So that was my first taste of designing a piece of clothing." It was around this time, when Bárbara was 12, that she moved to Texas. The town she moved to, in The Valley, was near the border and made up of predominantly Spanish speakers. Bárbara jokes that she didn't fully become fluent in English until she moved to San Antonio where, despite her love of design, she chose to study Fine Arts at UTSA. 
Although I thought I knew a lot about Bárbara Miñarro before our interview, speaking to her made me realize just how much more there was to learn from her. I knew she was a contemporary artist, a businesswoman, an immigrant, and the creator of her own store "Breakfast Friend". I knew she would be the Pitch Speaker at one of Latinitas Start Up events in San Antonio this past weekend, and I knew she would be the perfect person to speak on starting your own business from the ground up. And while I was already thoroughly impressed, I had little to expect about the type of person she actually was. So, let me tell you, Bárbara Miñarro is a phenomenal person. Right away she was bubbly and friendly, willing to share any knowledge she'd garnered in her 28 years on this Earth. She spoke lovingly about all the care she took in crafting her brand, making sure her hand-painted purses were ethically made, and making sure everyone involved was receiving liveable wages. "Breakfast Friend" was more than a business for her, it was a passion. That mindset perfectly encapsulates the person she is, and the heart she has. 
Bárbara grew up in Mexico and was surrounded by creativity from a young age, "Everyone in my family is creative. Not necessarily an artist but there's [an] architect and musicians and seamstresses." Her entrepreneurial spirit sparked early, as Bárbara and her cousins would make jewelry together, simple beaded necklaces, and sell them around the neighborhood. Her love of fashion started even earlier, when at around 3 or 4 Bárbara would fight her mom on what she wanted to wear, "I would pick my clothing or if she put two things that didn't go well together, I was like, 'I don't like this'. I just always really loved color and fashion and just expressing myself with what I wear." And this need for expression didn't dissipate as she got older. If anything, people like her grandmother, a seamstress and wedding dress designer, really nurtured her creativity.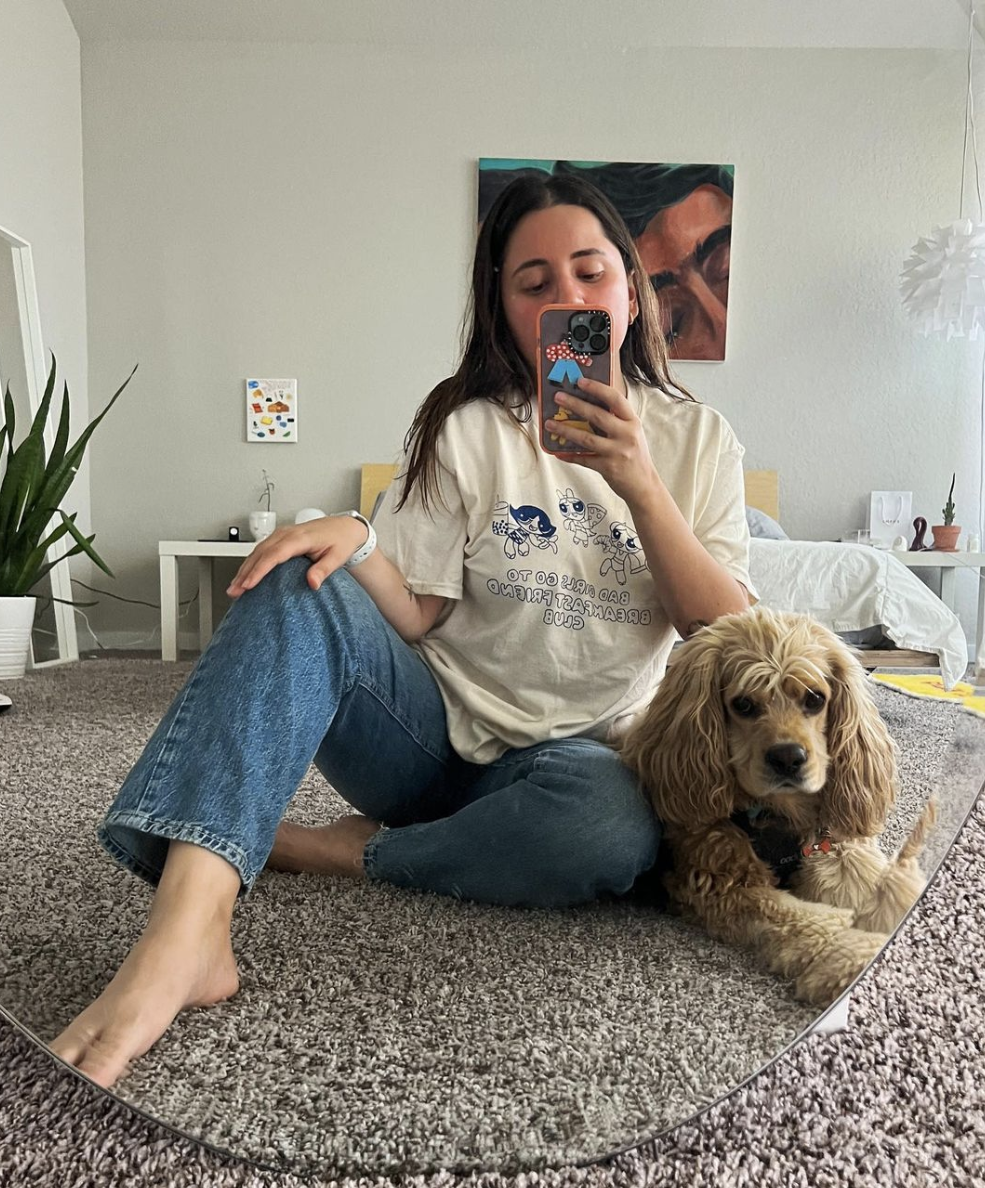 College served as a masterclass for Bárbara in different techniques and mediums when it came to painting. While she wasn't fully certain where she wanted to go after college, she was able to hone in on her identity as an artist. It was actually during that time Bárbara first came up with the name "Breakfast Friend," an intriguing couple of words to pair together, "the name came before the project." I couldn't help but ask her what Breakfast Friend meant, and though I initially anticipated a regular response, I hadn't realized how much thought Bárbara had put into her title, "I feel like during your early twenties [and] late teens–when you're in college you go through a lot of growing up. You find out what type of friends you want around and who's a good friend or what friends mean. I always felt like the people that you want to go to breakfast with are your true friends because that's how you want to start off your day." 
But food and the term breakfast in general held even more significance than that. Bárbara told me about a phrase she grew up with "sobre mesa". What literally translates to "on table" actually refers to the conversations you have after a meal, "I just really love that exchange of words and sharing that special moment, where no one's on their phone and you're just present." For Bárbara, the term Breakfast Friend is more than just two aesthetically pleasing words brought together, it's a reminder to enjoy the moment. Stay grounded. And, like everything Bárbara does, she brings her culture with her, "Being an immigrant away from my home and having to create a new life here in Texas. I feel like I carry my heritage and my nationality in the way that I eat and the food that I consume and I just honor that through some of my purses. I have pan dulce purses. I made one with Mexican candies. That's the way that I celebrate what I grew up with and I know a lot of us can relate to those items." 
Bárbara started her online store Breakfast Friend in 2020, by locally sourcing and then hand-painting her purses. After plenty of build-up and anticipation, her first drop was a massive success, "They sold out the first day before the 24 hours were up, and I just couldn't believe it." What started out as purses has expanded into all sorts of products from clothing to jewelry to even lifestyle items like rugs. Everything is hand-crafted and curated by Bárbara. She even creates the prints she uses for her clothing. I asked her what product she shows people when she first tells them about Breakfast Friend, "of course, one of my purses," she says with a smile, "but it depends." Whenever she meets people, be it at pop-ups or local events, Bárbara tries her best to gauge what that person's style is before she shows them anything.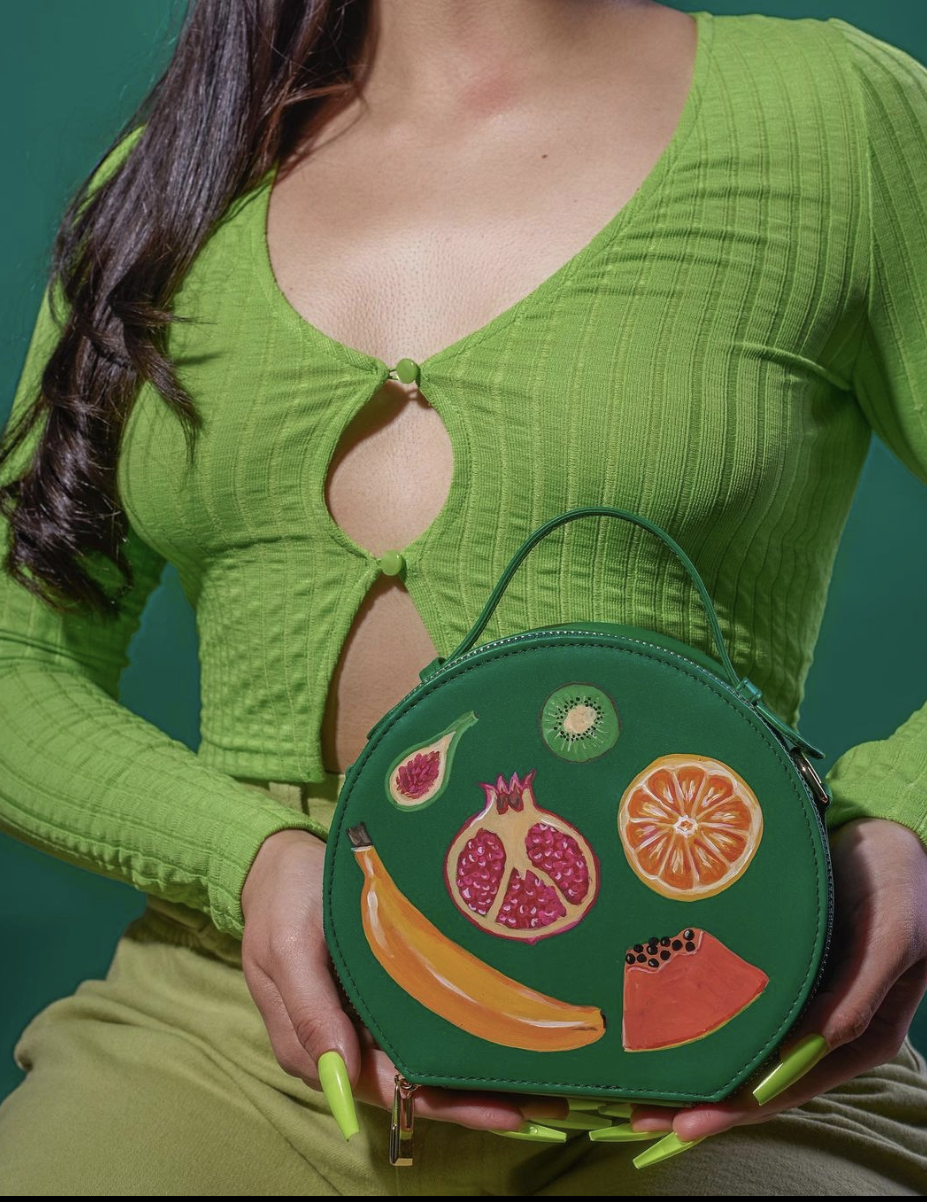 This prompted me to ask what purse she would recommend for me, and then came the questions. If I value comfort over looks. If I like fruits or veggies. She was trying to figure out my aesthetic as best as possible when all she had to go off was the black shirt I was wearing. After all was said and done, Bárbara recommended a gorgeous rich green crossbody with different types of fruit like banana and kiwi hand-painted on it, "It's got all these colors so you can match it with a lot of things, and the green is kind of neutral." It was everything I asked for; comfortable, colorful, and high fashion. Though I did confess that, contrary to my darker outfit, my favorite color is pink. And while the shade of green was beautiful, I was in love with her pink and red ying-yang cross-body. 
Bárbara also sells purses where clients will submit photos of their own pets, and Bárbara will hand-paint them onto a lux purse. Her so-called Pet Portrait Purses stemmed, unsurprisingly, from her love of pets, "I love pets and the joy that they bring us. The unconditional love that they give us, and [the purses are] just a cute way to honor them and have [them] and carry them around." The idea sprung up from her own dogs passing after 16 years, "I just remember when she died…I was like, how do you have this really special loving creature with you at all times, no matter what happens? Almost like a way to honor them." And for the less sad scenarios, Bárbara explained to me it's a cute way to show people who your pet is, "everyone's always like 'let me see your dog. Let me see your cat'" This way, you can show them in a stylish purse.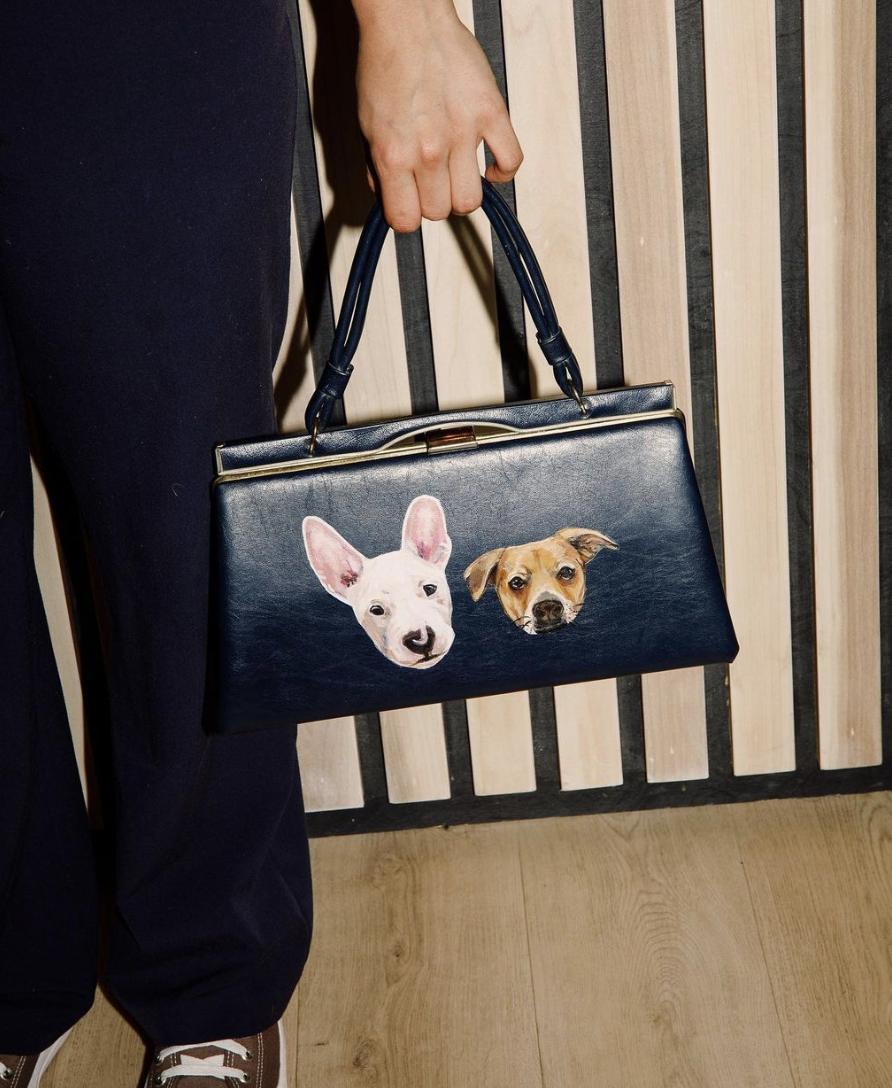 When it came to the actual business side of things, I was curious how Bárbara decides where to set her price points at, and she was pretty candid with her response about how difficult it can be, "Oh my god, girl…that's still something I struggle with." She works with artisans that handmake the purses she then paints, and even stressed the importance of making sure they're taken care of. But that's where things get difficult, in order to pay them Bárbara also has to ensure she's making enough, "It's so hard because it's like how much is your hourly rate? How much time do you spend doing something? And then, as an artist, sometimes you'll paint something that will take you 20 hours and then the next day maybe it takes you two, you never know." That doesn't even take into account all the paints and equipment needed to run the business. 
 Bárbara advises doing some market research, testing products to see how they do at a set price, or comparing your prices to products similar to yours. And while this was initially a struggle for her, she seems to have figured it out, "I think I already set a price range for myself that I feel comfortable with, but there are times where I don't know." Considering Bárbara was the Pitch Speaker advising our chicas during our first Start-Up conference in San Antonio, I was excited to pick her brain on the business side of things. Her biggest piece of advice when it comes to giving a pitch is simple, "First of all, practice." Every time Bárbara interacts with a customer, at a pop-up or event, she's pitching to them. Showing them what sets her brand apart, and why they would want to be her customer. The best advice she has a part from practicing is, "Know what your product is very well, and have that elevator pitch. How can you describe what you're selling or what service you're providing in 2-3 sentences? Quick and to the point, maybe throw a joke in there, so people remember you." 
Bárbara also highlighted the importance of using buzzwords like handmade, women-owned, immigrant-owned, hand-painted, ethically made, "At the end of the day, how do you make that person fall in love with your product standing in front of you? Be the person you would want to be shopping from or shopping with." Even though Bárbara's brand is still relatively new, it's growing quickly, in large part due to her willingness to hear feedback and change her approach. There are other things she recommends too like having a focus group with your friends, "There were some friends that I gave purses to; how do you feel? What do you think? Be honest. I rather do it on a small scale and get honest feedback, than just put something out there that doesn't do well."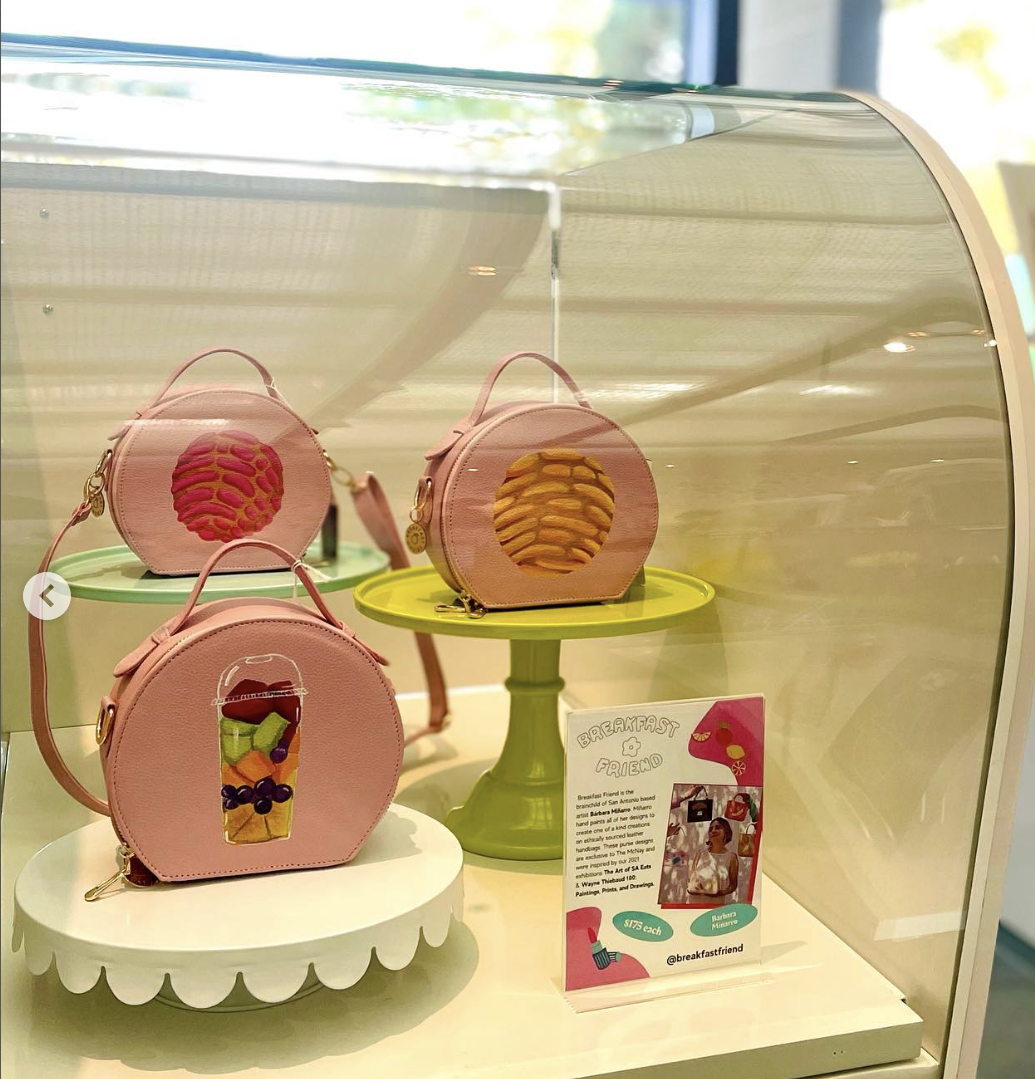 Above all else Bárbara emphasizes the importance of believing in yourself, you will end up where you need to be, "Something that I would tell people [is] don't wait till you have the perfect product. Of course, don't sell something that's not good quality," she quickly adds. "For example, I really want these shipping boxes that are branded and really nice but I'm not there yet, but that shouldn't like deter me from painting my own boxes." It's about finding a way to make your vision come to life with what you have, all the while slowly building your brand up so that with some time, you won't need to paint boxes. But if you never put a product out, or take that chance, your brand will never grow to where you want it to be. So, do the best with what you have, and the rest will come. Just believe and stay true to your vision. 
Bárbara is an absolute delight, and I'm so honored I got to speak with her. She is kind and charming and has so much knowledge to share when it comes to the business world. Something she initially had little to no experience with, apart from selling those necklaces in Mexico. Yet, she's used every opportunity given to her, from college to her family members' own artistic abilities, as a moment to learn and grow. Her business has come pretty far in just under two years, and she's kept a trademark humble and bubbly nature around her the whole time.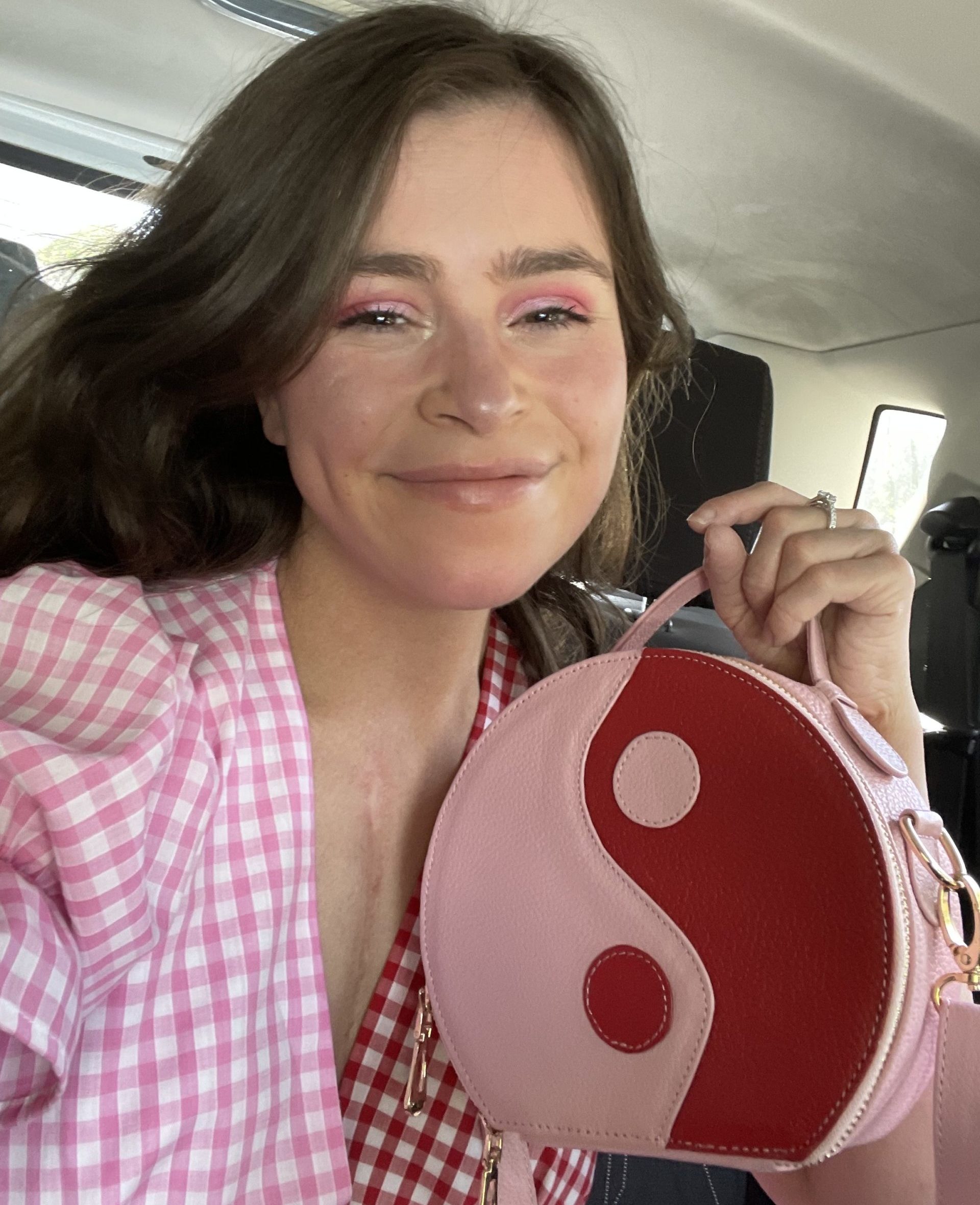 You can shop Breakfast Friend right now, or follow them on Instagram!