At 27 years old, Sacramento native Cecelia Perez is making a name for herself with her stunning and exquisite visual art which showcases authentic reflections of the Chicano community and nostalgic depictions of the past. Perez's genuine take on Chicano Art has incited feelings of nostalgia, romance, and longing which has provoked emotional awareness for many Chicanos and provided a way for healing. A California native, Perez grew up in Sacramento in a Mexican-American household and speaks on her upbringing, "I grew up in a lower income neighborhood," she said. "In our area, we had car cruises that would happen on the boulevard up the block, which we saw all the time. Where I grew up there's a lot of people who have these really cool lowriders tucked away, and you won't see that in the suburbs at all. It's a part of the culture and I love it."
Perez also has 4 older brothers, and took influence from both her parents. "My mom has always been an artistic lady, and my dad has always been a logical and politically oriented guy," she adds. Perez initially had an inclination at a young age of pursuing art. Her early exposure to an artistic environment provided her with diversity in influences from listening to various musical styles, to interacting and meeting local politicians and artists in her hometown. Drawing at a young age, and voicing her interest in art, Perez reminisces, "I told my parents around the age of 4 that I wanted to be an artist," she said. Perez even spoke in front of the Hispanic Chamber of Commerce in Sacramento at such a young age.
Ultimately finishing high school, Perez attended a local college and was unsure of the direction she would take, "I switched my college major like 5 times," she said. "I went from studying regular studio art to pursuing mortuary science (which is becoming a mortician or funeral director), and then I switched back to art. I figured I don't think much about science, and I eventually decided to pursue the arts because that's all I know and think about, and my parents have always been there in full support along with my siblings."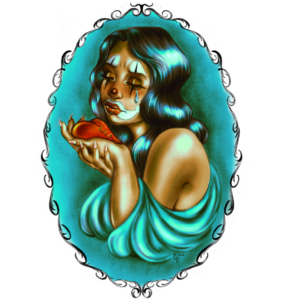 Around 2017, Perez took her career in a different direction as she moved from Sacramento to the Bay Area, while in her early 20s, "I moved straight to Oakland because one of my brother's was living there at the time, and I was fascinated by the art scene and an environment I was never exposed too. At this time I started to get more professional with my work" she said. "Sacramento is [a] very political oriented city, and most people get into politics and end up working in government or typically getting a regular job." Perez's move to the Bay Area proved to be a step in the right direction as her time as an artist in Sacramento held a limited scope, "I noticed there was a lot of male Chicano artists, and I was taking great pride in being one of the only few Chicana artists in Sacramento, but problems occurred with me trying to move my way into art spaces because they were primarily white male-dominated spaces, and it was very difficult to break into that. I decided to go to the Bay, and there was a lot of BIPOC people who have areas that are very welcoming and that I can identify with." During this time Perez hosted her first solo art show which resulted in a successful showing for the young Chicana.
Perez eventually moved to San Francisco and is currently based out of the Millbrae area. After working a day job and creating art on the side since 2017, she has been able to completely utilize her talent and work full-time as an artist today. Growing up around OG Mexican-American artists has also played a major role in influencing Perez's visionary work, "I was fascinated by them, they were people like me whose work resembled my tia's, parent's, and people I knew," she said. "My dad had a lot of friends and he was always in the scene in our Mexican-American community, which helped expose me to so many people."
Inspired by the love of oldies music, reflections of the past, and Mexican-American culture prompted Perez to create a style unique to her own. Perez's introspective artwork conveys human emotions such as sadness, disappointment, happiness, love, heartbreak, and depictions of Chicano life from decades past. As a woman, she is able to display her work from a female's perspective, which takes on a different lens compared to other styles of Chicano art which can at times oversexualize women. Perez's artwork also touches on authentic feelings that one can easily identify with and showcases visual aspects of reality such as relationships, the love of cars, and the beauty of Chicana women. "I like to convey that it's okay to show your emotions as a man and a woman, and to have the balance between masculine and feminine," she said.  "For instance, masculine vehicles are built by big masculine men, but you can also have women build these vehicles too and showcase a pretty girl. I also don't always do the same characters, some have longer faces, some are chubbier than others with different traits such as long hair, curly hair, straight hair. I also portray different vehicles, depending on what oldie song I'm listening to, because I listen to the lyrics and the melodies and I reflect on nostalgia and what was it like during the time of innocence before cellphones and computers and tap into that raw emotion. I try to show people hey… you too can be a hard ass but also still have your emotions."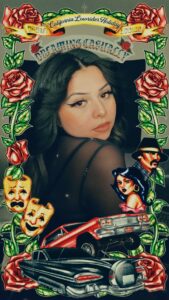 Some misconceptions that others may have about Perez's artwork include the notion her work is "prison art," which can be an added challenge at times, "Sometimes people ask for commission for me to put in gang-related or inappropriate things, but I have to decline. I try to keep my artwork as neutral as possible, and yes it does have characters, lyrics, roses, and similar tattoo imagery, but it's not a direct reflection of gang affiliation or violence of any kind. I like to keep everything neutral, dreamy, and positive." In inspiring others, Perez does a great job of tapping into people's emotions as she often gets comments from others complimenting her work, "I do have the eye for creating stuff that will remind people of their significant others, parents, daughters, or whatever they may be. I know that I'm doing a good job with representation, or helping them heal or just empowering them."
Music also plays a huge role in Perez's artwork as she listens to a variety of artists including classic American rock, 70's soul group The Stylistics, 70's funk group Earth Wind & Fire, and 80's group The Police. Perez coincidentally even ran into Foo Fighters singer and former Nirvana drummer Dave Grohl in 2017, "He ran into me and pushed me out of the way of a carnival ride, and I realized he was pretending not to know where he was going. Ever since I met him, I've had the best of luck, he somehow sprinkled a little magic on me," Perez recalls. Some of that good luck and hard work includes Perez's collaborations with other entrepreneurs such as working with the makeup brand Lucky Lashes. Perez has provided artwork for the brand's beautiful eyeshadow palettes including the popular "Lost In Love," palette which even caught the eye of Chicano rapper MC Magic, (who has a song of the same name). "Lucky Lashes also recently unveiled a new makeup palette we worked on together, it's the back of the 1959 chevy impala, the colors are a warm tone of red and yellow, and in the back has a woman and man together," Perez adds. Other collaborations include Perez tapping into the music industry in which she has created artwork on tour posters for the old-school new-school group Duran Jones & The Indications.
Admiring the form of art, Perez gives her thoughts on Disney, "I love the way Walt Disney's designs were done with pencil or acrylic and used that raw pencil style stroke. Every stroke has a texture of the brush and paint, and I always see Disney illustrators have that style which I can replicate on pencil and paper. There's something about digital art that makes my style look like pen and paper but it's digital," she said. Perez utilizes technology in creating her art, paints, and does a little bit of airbrushing.
Speaking of Perez's heritage, she reflects on some challenges, "I always felt like I was too American for the Mexican kids who spoke fluent Spanish and too Mexican for the American kids who did not eat beans and rice and chicharrones. I really like listening to Vicente Fernandez but I also enjoy a good Motorhead concert," Perez said. "Us Chicanos we also just aren't about dickies and Pendleton's. Some of us are skateboarders, musicians, hippies, and rockeros, and live different lifestyles. The Chicanismo culture, it's about being genuine in who we are, and both worlds of being an American and Mexican, and that's what Chicano art reflects."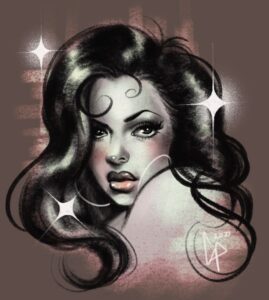 Currently, Perez has merchandise for sale on her website including tapestries, prints, tote bags, and a newer item "Las Chulas Payasa Plush" collectible. On top of running her business, Perez also stays busy with freelance work and creates digital portraits for customers, and at times animation for videos, "As a freelance artist you have to be ready because you don't know what's going to happen," she said. In 2021, Perez was also featured in a 7-Eleven commercial with other Chicana girls on lowrider bikes promoting the "Big Gulp" drink. Perez was also recently sworn into the city of Millbrae's Cultural Art Advisory Committee, which is amazingly inspiring for other Latinas out there, especially other aspiring female artists. "I love other artists who share the same interests as me, and it's incredible to uplift other female artists, there's only so many of us."
In giving advice to other women Perez says, "Make sure you get rid of all your toxic relationships whether it's family, friends, significant others, and replace them with positive thinkers. I used to not be this good at drawing, and I focused a lot of my time [on] making myself better, and right now I feel unstoppable. Work hard at perfecting your craft, and it will pay off in the end."
Catch Perez at the Outside Land Music Festival at Golden Gate Park in San Francisco the weekend of August 11th -13th, where she will be painting a mural, and be on the lookout for future collaborations and merchandise.
Follow Cecelia on Instagram, and check out her website here.