Roxette Solis will soon be crowning her successor at the Miss US Latina Pageant taking place in Miami the weekend of August 4th – 6th. For the past two years, Solis had the privilege of representing the United States as Miss US Latina, initially winning the crown in the summer of 2021. Prior to winning she held the title of Miss Washington Latina and competed against women from all around the United States to win her current coveted title. The Miss US Latina Organization itself has been around for 40 years. Founded in 1983, the organization has established itself as the "longest-running pageant system" for Latina women all around the United States. The organization prides itself on representing women from a variety of Latina heritage backgrounds. Before Solis's pageant journey took off in the United States, she lived in her home country of El Salvador and moved to the US (Washington State) in 2018. As Solis seeks to crown a new winner, she reflects on the past two years as Miss US Latina and what she will miss the most, "August 8th will hit two years since I was crowned, and I'm feeling a variety of emotions, it's bittersweet," she said. "The title for me, means so much, because it's given me a newfound source of confidence and motivation. Before this, I was confident in myself, but I feel unstoppable in achieving my goals more than ever now. I also believe I chose the right organization because it heavily emphasizes being a 'good role model' which I love. The whole goal really is to be a motivator and role model for everyone… women, men, children."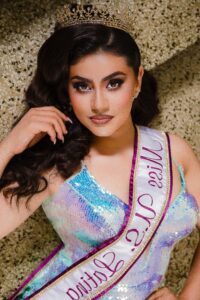 Solis will graciously miss wearing the crown and sash but is also delighted for the next winner, "I'm happy for the next Miss US Latina because it's a chance for her to achieve great things with the organization." Last October, Solis competed in the Miss America Latina del Mundo international pageant in the  Dominican Republic, where she along with 22 other girls represented their countries. Solis placed in the top 7 and reminisces about her experience, "I was there for 6 days, and my experience was pretty special. I met so many girls from other countries and especially bonded with the ladies from Venezuela and Colombia. One particular day we went to a school, and gave backpacks to children which I will never forget, just seeing how happy the kids were had inspired me," she said. Solis also allotted to the lack of confidence she was feeling when competing at the national competition in the US in 2021, and believes it has grown over time, which helped prepare her for the World pageant. "The competition in the Dominican Republic was also very difficult as well because all of the women were extremely prepared, you really had to be on you're A-game. I remember I was at the airport in Utah coming back from the DR, and I was crying because the experience was really life-changing and made me feel closer to my goals and I feel unstoppable now."
Representing the United States is even more extra special to Solis since coming to the US in 2018. Back home in El Salvador, Solis faced some difficult times as the country has been through moments of political unrest and criminal activity. Her mother had been a cop in the police force for 25 years, in which Solis grew accustomed to interacting with law enforcement while growing up. Before the move, her family experienced an extra burden of stress and danger due to threats targeting the family over her mother's occupation. "It was a very stressful time right before we moved here to the US, but El Salvador now has a new President (Nayib Bukele) that was elected a few years, and things are a lot better now, and more restrictions are in place," Solis said. Prior to arriving in Washington State, many acquaintances of Solis's mother who worked in law enforcement had been killed, adding to Solis's gratefulness for life, "There was even a moment where I thought my mom had been killed, as rumors were circulating around about a female police officer who was murdered." Solis also had a great opportunity in coming to the States, as she had a family member that helped with the relocation. Traveling back to El Salvador in 2019, Solis was able to participate in the most recent presidential election that took place to cast her first vote that year, a first-time experience for the El Salvadorean beauty.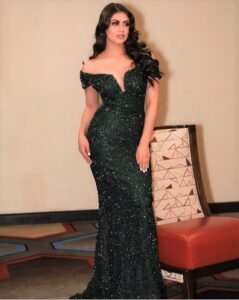 Inspiring Solis throughout her life, her mother has also been a huge motivator for the 26-year-old beauty queen as she witnessed multiple challenges and adversities they faced, "The relationship with my mom is very special. At one time she had been the only woman and sergeant in the police force in our state of Chalatenango and that's provided much inspiration to me because I also want to make a difference in the lives of others and the community. It was extremely dangerous and challenging for my mom taking on such an occupation, but she did it, and actually really loved her job while providing for our family," she said.   
  Speaking more on pageantry, Solis got her start in her home country winning multiple pageants and dawning costumes made by her mother. Last November, she also had the amazing opportunity to meet Miss Universe 2021 Harnaaz  Sandhu (India) when Sandhu came to the Seattle area for an event with Washington State's Miss World America Shree Saini, "I was very excited and inspired by both women. They both had uplifting stories that I could identify with." Truly a once in a lifetime opportunity, Solis will never forget the experience. She also has made the most of her pageant journey as Miss US Latina and has been a great example of representing Latina and Hispanic women in the country and in the community by staying active with various events throughout the state. 
Throughout her reign as Miss US Latina, Solis has participated in local community events for Latinos and has volunteered with food banks and local farms. Last summer she got to travel to Hawaii with the Miss Washington Latina Organization, and also refers to herself as a "homebody." Not much of a party girl, Solis has lost friends for that very same reason and has also experienced insecurities as a woman just like any other ladies out there, "I've experienced body-shaming in the past while growing up where sometimes I would be made fun of due to having lots of hair. Once I was even jokingly called a 'monkey' because of excess hair I may have had on my hands or face, but I laugh when I think about it now. I also have had issues sometimes with maintaining my weight as I had an injury that affected me health- wise to the point where I couldn't even move my upper body, and people can make assumptions, but they really don't know what's going on with you personally. This past year as I was preparing for the world pageant, I had to tone myself even more and get into shape and lose weight so I can be my best, but it was difficult at times due to the injury I've been dealing with for a few years," she adds.
Other challenges Solis has faced include the language barrier, as she continues to learn English fluently. Although learning the language has proved to be an added challenge, she has improved greatly and has been successful in navigating both her heritage and culture into the US as she's maintained a successful job at a manufacturing company near Portland, Oregon. Currently, Solis works a variety of positions within her company taking on administrative work as well as operating machines and recurring tasks such as internal and product audits. Her job is quite different from the glamour of the pageant world, but she loves it. "I really love my job, and have some great co-workers, and it's hard to find a place where people are supportive." Solis also wants other ladies to know that finding confidence is key to attaining success. "We all face insecurities, and women may even make comparisons on social media, but just remember a lot of photos can be photoshopped and edited to create that perfect look. Getting involved in pageantry can be challenging because you do open yourself up to criticism, but you have to remember not to ever lose your confidence and just be yourself no matter what, because at the end of the day that's going to help you get through life. I also believe that God's plans are perfect, and things have a way of working themselves out from what I have experienced." she said.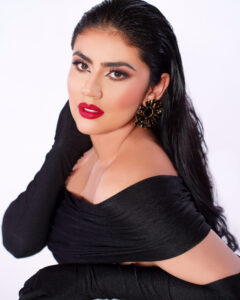 Recently, Solis modeled and participated in Africa Fashion Week in Seattle this past Spring, and also participated in North America Fashion Week last fall. She plans to continue her education, as she already has a college degree in hospitality and tourism which she received prior to moving to the U.S. Solis will soon be in Miami the first week of August to crown the new Miss US Latina and is excited about her future. She plans to continue participating in pageants and setting herself up for further success in her career and education aspirations. Follow Roxette on Instagram to keep up with her journey.