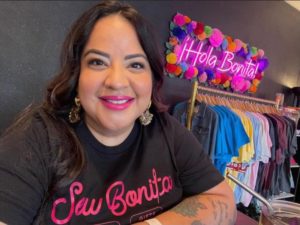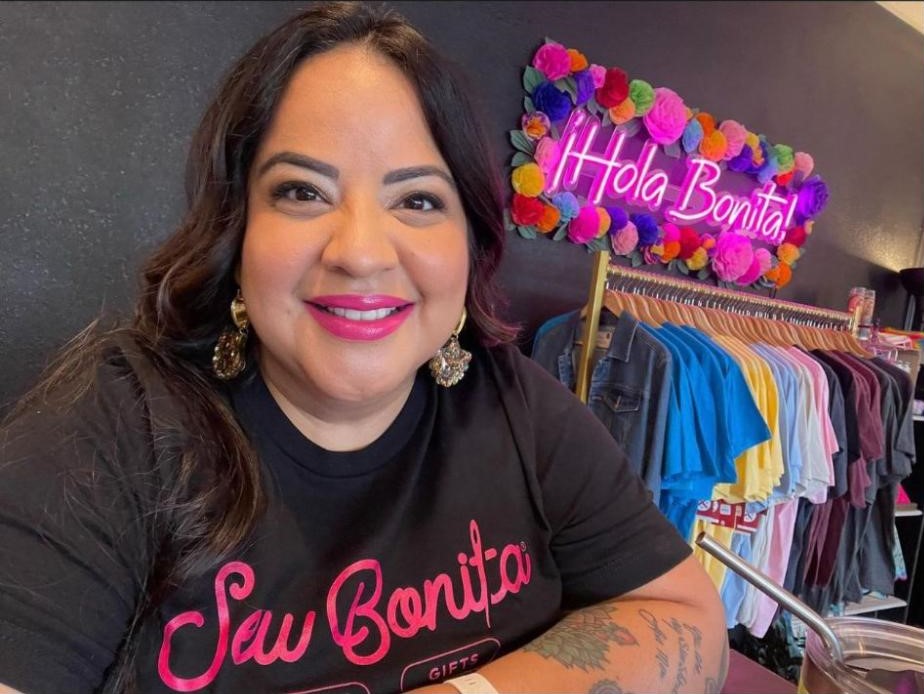 By Anna Martinez
Chingona. This is one of the words Elena Flores uses to describe herself. 
"It is a word that can have a negative connotation, but women [are] taking a stance and changing the meaning of what this word means, we get to define it," said Flores.
Flores is in the business of changing the conversation happening around women and the way they define themselves. For Flores, this movement started when she started to feel comfortable in herself. 
She uses the words "creative" and "chingona" to describe herself. "I feel like I fit into that mold, they mean different things and on the path to self-discovery you change those self-identifiers but I as a 42-year-old woman, I am comfortably those things," said Flores. 
At this time of self-discovery Flores decided she wanted a shirt that said "chingona," so her husband, a graphic designer, made her one. "Suddenly there was a movement happening and I didn't know that I was a part of it," said Flores. 
Women started asking about the shirt because they, too, wanted one. Flores decided to combine this with her hobby of sewing. "I didn't want to be just a 9 to 5 person, I needed an outlet," said Flores.  Then "a hobby turned into a business and a business is now a dream," said Flores.  
Flores' business is called Sew Bonita. In her shop you can find T-shirts, drinkware, house decor, seasonal items and everything in between. The items that she sells are inspired by her Latinidad, and her Mexican roots are ingrained into her products.
"The fabrics that I sew are very colorful. I tend to stay away from anything neutral or muted, I gravitate towards something that's very bold and vibrant and I think me growing up on the border of Mexico and Texas has a lot to do with it because I was always just around those colors," said Flores.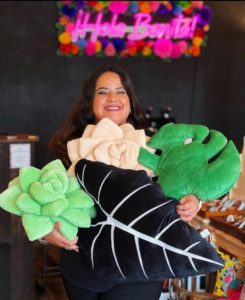 Flores chooses these colors because they remind one of their grandmother's kitchen or their mother's jewelry, Mexican dresses or the flowers one's mother kept on the kitchen table. 
She says that it is important to accept the colorful parts of one's culture. "We associate those colors with life, your vida is colorful, it is meant to be vibrant and joyous and happy," said Flores.
Flores' inspiration was her late mother. She recounts that her mother had a sewing machine that was attached to a desk. "The desk table would convert into a sewing machine, and she taught me how to embroider. She wanted to teach me how to sew and I never learned from her, so I taught myself," said Flores. 
She remembers her mother sewing her and her sisters' dresses when they were kids. "Sewing back then was a method of survival and sewing is never going to go away," said Flores.  
Flores' business is a reflection of every part of her culture. Her business reflects Mexican culture and her business also reflects Mexican culture's history of being poor and having to survive. 
Flores' store explodes with her Latinidad. "When you come into our store we have a lot of Latinidad, the cumbias are on," says Flores. She attributes this to her childhood on the Texas – Mexico border.  
She is proud to be a woman representing her culture in the business world. Although her success did not come easily. Her biggest barrier was the self doubt that would always creep up.
"When I was younger, I thought that there wasn't a place for me. Maybe I was a little too brown or a little too Mexican. If I could give young girls advice I would say to be gentle with yourselves, be aware of who you are and the power that is within," said Flores. 
Flores represents her community and a greater movement. She hopes that young Latinas are able to have conversations with women who they resonate with and feel like they're with their primas and hermanas so that they can stand in their power and create change. 
She is aware that people are watching her and she is happy to be a role model for someone. "I don't take for granted that the responsibility is there but at the same time I am doing this because I feel like the representation has to be here and I don't mind doing it," said Flores. 
She is excited to help change the conversation surrounding chingona women.