This past weekend Latinitas and JCPenney joined forces once again for the official launching of JCPenney's Hope & Wonder Hispanic Heritage Month Collection in San Antonio. The event took place Saturday morning at the Ingram Park Mall. Latinitas students and family from all over the city were invited to join in on the celebration with goodie bags, makeovers, and a bit of behind-the-scenes knowledge from some of the actual designers. While the official Launch began in early August, with the collection being offered in select stores and online, the San Antonio launch event started as soon as doors opened, and all I can say it was a resounding success.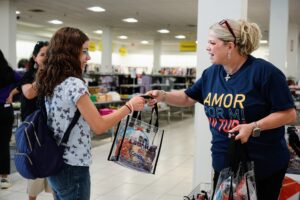 From the moment the girls walked in, they were greeted with the smiling faces of JCPenney and Latinitas Staff, cheering the girls on as they made their way through registration into the excitement. Once inside, the girls were treated to a goodie bag filled to the brim with Latino favors like conchas and Mexican candies. They were gifted a T-shirt from The Collection, a $50 gift card, and the opportunity to get made up at the makeup counter. From their nails to their hair, these girls were flawless. 
As the girls made their way around JCPenney, I caught up with some of the designers to talk a bit about the inspiration for the Hope & Wonder Collection, "Last year we focused a lot on being united and together as one, but this year we wanted to focus on the diversity of our culture and the different ways we express love for our culture," says Senior Designer, Pamela Velez. I met her last year during our partnership for 2022's Hope & Wonder campaign. Back then the statement phrase Unidos Somos Más adorned every shirt. Now Pamela rocked her favorite shirt from the new Collection prominently proclaiming There Is Beauty In Our Cultura in beautiful Spanglish, "I feel like this one really expresses the beauty that we have in our culture. It's also in Spanglish on purpose because a lot of us speak half English half Spanish, and we're very proud of that."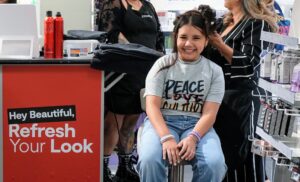 When it came to JCPenney's amazing partnership with Latinitas, Assistant Mentor Designer Gabriella Corza had this to say, "I'm so glad that we're able to partner with Latinitas and bring this type of joy and environment and pride of our culture to the community, to the future of the world. To these beautiful little girls that can grow and bring our culture to the world." The love was clearly mutual as Latinitas Interim Executive Director Gabriela Kane Guardia shared, "To partner with a big company like JCPenney is such a wonderful experience for Latinitas. They've been really intentional with helping us get a lot of national recognition, and they've been really supportive of us. They've come and joined us to teach the girls during summer camp at Design Chica. They have invited us to come to events at their headquarters, and so it's been a really special opportunity to engage with the associates at JCPenney and to have them engage with our students at Latinitas."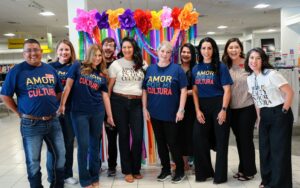 As the girls emerged from the makeup counter, I asked some of them what their favorite part of the day had been, "Hair and makeup" sisters Sophia and Dalia exclaimed in unison before giving me a full 360 of the hair. In fact, most girls said the makeovers were their absolute favorite parts of the day. Though one little girl, 9-year-old Lily, did say her favorite part of the day was "everything". 
When it came to Cultura, the overarching theme of The Collection, I couldn't help but ask everyone what Cultura meant to them. "In the Latino Community Cultura is just everybody coming together. Having fun, excited, reminiscing, and keeping other traditions like food, tamales, not only that but giving. Everybody just helping each other out, 'cause that's what the Latin Community does," General Manager Jesse states. Monica, another General Manager at Ingrim Park Mall, adds, "What Cultura means to me is family, tradition, laughter, and continuing to push the traditions from year to year with my family. Just following those traditions. It's also a part of my past, my present, and my future."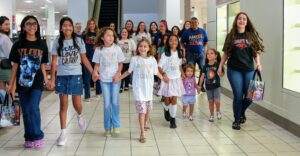 It's these conversations JCPenney sought to inspire with their Collection. By giving Latino families a space in their stores, they were sending a direct message that Latino customers are more than just welcome, we're valued. Seeing all our students wearing the new shirts, shopping, and enjoying the event, it was clear to me they succeeded.
As the event came to a close, Latinitas Interim Executive Director Gabriela Kane Guardia gave her thanks to the entire JCPenney Team, "We're so grateful you all were able to join us today. We're really grateful for your support, we're really pleased with The Collection. We're just so grateful for this really authentic partnership that we get to take part in. So on behalf of all of the team, thank you everyone at JCPenney." After the cheers and celebratory whoops that followed, all that was left to do was shop The Collection! 
You can shop the Hope & Wonder Hispanic Heritage Month Collection at JCPenney right here! With net profits benefiting Latinitas.