Certified Icon, RuPaul Andre Charles, has been discovering people's Charisma Uniqueness Nerve, and Talent since the first season of RuPaul's Drag Race aired way back in 2009. Since then, the show has garnered immense praise and popularity, becoming an absolute staple in manys lives. Mine included. I had never watched an episode until this past year when I binge-watched every season available to me. Over 20 seasons of lipsyncing, iconery, and above all else, talent. What blew me away was just how many Latina Queens were included every season. After doing such important research, I figured I would compile my findings into this piece. So without further ado, here are my top 6 Latina drag queens in RuPaul's Drag Race, because Pride may be over, but these drag queens are here to slay! 
6. Cynthia "CuCu" Lee Fontaine
We are starting strong with Puerto Rico's beloved Cynthia Lee Fontaine. Originally from Season 8, Cynthia was diagnosed with Stage One liver cancer shortly after the season began and had to bow out to pursue treatment. Once in remission, she joined the cast of Season 9 and absolutely slayed the game. She was a joy to watch, effortlessly hilarious and so incredibly talented. Literally anytime she was on screen I was laughing. While she was eliminated in Episode 6, she lives on forever in our hearts, and the iconic nature of her "CuCu" will always make me giggle. Though she didn't win the season, she was memorable. Cynthia currently resides right here in Austin Texas, and even walked in Austin Pride! I've attached a compilation of some of her best moments so you can really get a feel for Cynthia, I promise you it's well worth the watch. 
5. Salina EsTitties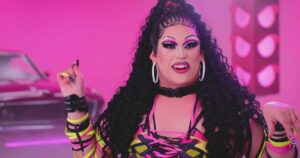 Of Hondorian descent, Salina wears her culture on her sleeve (at times literally). Introduced just this year on Season 15 of Drag Race, her Dragsona is heavily inspired by the Chicana girls she grew up with in the Bay Area. From her Quince-inspired Grand Finale cake dress to a beautiful homage to what her mother wore crossing The Border for her Rip Her To Shreds look, Salina is a fashion queen through and through. Something about her was so endearing, that you just couldn't help but root for her. Despite not winning, Salina made it all the way to Episode 12 before being eliminated. While there are plenty of notable moments with Salina, her friendship with the one and only Ariana Grande comes to mind, the moment when she described Anetra's legendary leap in lip sync (you know the one) stating she looked like "Free Willy" lives rent-free in my mind. 
4. Jessica Wild
Another piece of Puerto Rican royalty, Miss Wild is just that; Wild. True to the name her journey on RuPaul's Drag Race has been quite the adventure. Starting on Season 2 of Drag Race, way back in 2010, Jessica only made it to Episode 7 before meeting her end. It had been quite a while since Drag Race Superfans had heard from Jessica, but in 2023 she came a-knockin. Starring in Season 8 of RuPaul's Drag Race All Stars, Jessica captured the hearts of many (myself included). She was kind, hilarious, and never above doing something for a bit. She didn't mind being the butt of the joke, and that made her an absolute hoot in the house. Not to mention her outfits were legendary! Though Jessica's a comedy queen, her fashion sense was bar none. There are too many good Jessica moments to choose from, but perhaps my favorite is her knee-slapping improv scene during the Forensic Queens Maxi Challenge. While she didn't win Season 8, she certainly won it in my heart. 
3. Mistress Isabelle Brooks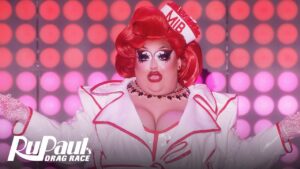 This one might be a little controversial, but like Mistress, I too am not above controversy. What can I say, I love the drama and Mistress certainly brings that. Though Mexican-American, this standout queen hails all the way from my hometown of Houston, Texas, and takes pride in her classic Texas drag. Her hair is big, but her attitude is even bigger, and I won't lie. At the beginning of Season 15, Mistress intimidated me. I was worried she was just gonna be another mean girl, but to my delight, she was so much more than that. Mistress has a big bark, and make no mistake, she would bite if she thought you were worthy of it. But instead, she ended up being a wildly talented individual, who wasn't so much a drama starter as she was a truth speaker. She killed it at comedy, her outfits were gag-worthy, and even though she'd hate you to know it, she actually was a decent person. Though she didn't win, she made it all the way to the finale and I have no doubt this isn't the last we've seen of Mistress Isabelle Brooks. 
2. Valentina
I love Valentina. I'm not really sure what got to me first. Whether it was the beautiful Confessional Look she dawned or the iconic way she sashayed into the Werk Room every episode. It could have been the drop-dead gorgeous outfits the Mexican queen wore for each runway. Most likely though, it was the fact that aside from all the glitz and glamor, she just seemed like a fun queen to hang out with. Regardless, Valentina is and will always be one of my favorites. She's had her tour around RuPaul's Drag Race, being on two seasons and not winning either. She did fantastic in Season 9 and was leading the pack when all of the sudden she gave up. In a now infamous scene in which Valentina was finally in the bottom two, and asked to Lipsync For Her Life, she simply refused. That was that. Back for redemption, Valentina joined the cast of All Stars Season 4, and did great, even acing a lipsync of two. But it wasn't enough, and once again she was sent packing. To this day she's heralded as one of the RuPaul favorites. An absolute standout for no reason other than her own Charisma Uniqueness Nerve and Talent. It's because of her kindness and personality that she's currently a judge on the first season of  Drag Race México. 
1. Bianco Del Rio
Bianca Del Rio is my absolute favorite queen in all of Drag Race Herstory. She is of Cuban-Hondorian descent and, after winning Season 6 of Drag Race, became the first Hispanic drag queen ever to win. She deserved every bit of her success as she also became the first winner in the entire series to have never been up for elimination or even placed low throughout the season. When I tell you she dominated this season, I mean she dominated. She is my favorite type of queen. With her signature dry sense of humor and a New York accent, it's as if Dorothy Zbornak from The Golden Girls was reincarnated into a drag queen. So effortlessly funny, and so incredibly smart with not only her humor but her business decisions. Bianca has gone on to star in movies, is the author of the book Blame It On Bianca Del Rio: The Expert on Nothing with an Opinion on Everything, and has even gotten to host Drag Race's recap show, The Pit Stop. Which, if you're interested in hearing a hilarious conversation between Mistress and Bianca, or watching Bianca fawn over Jessica Wild for various episodes, I highly recommend you check out. 
RuPaul's Drag Race has become such a comfort show for me. It's the one place in Hollywood where representation certainly isn't lacking. Seeing all these different Hispanic queens absolutely warms my heart, and if you need any good seasons to binge, look no further than the ones mentioned here on this list! Thank you for reading this article because reading is what? Fundamental, and in true RuPaul fashion I will encourage you to practice some self-love by watching some gold ol' fashion Drag Race because if you can't love yourself, how in the hell are you gonna love anyone else?