Released in 1980 and directed by Richard Fleischer, "The Jazz Singer" is a musical drama featuring singing superstar Neil Diamond, multi-talented actress Lucie Arnaz, and legendary British actor Laurence Olivier.  The film was subsequently released after 3 previous versions, first dating back to 1927. Unlike the previous film adaptations, this particular version differs as it's more modernized, and features a major hit soundtrack. The premise of the film is based on the character Yussel Rabinovitch (Neil Diamond), a talented man who leads the life of a cantor, a leader in the Jewish faith who sings traditional Jewish songs and prayer. As much as Rabinovitch is devoted to his faith and family, he also has a passion for music outside of his religion which causes friction between his traditionalist father Cantor Rabinovitch (Laurence Olivier), and wife, childhood sweetheart Rivka Rabinovitch, (Caitlin Adams).
Set in New York City, the film's first major scene begins with Rabinovitch (Diamond) jailed after a fight breaks out at a nightclub. Unbeknownst to his father, Rabinovitch writes songs on the side for an African-American quartet group and utilizes the stage name "Jess Robin". As the singer of the quartet gets arrested, Rabinovitch fills in during their nightclub show in blackface as encouraged by the remaining group members which causes an all-out brawl in which the audience becomes aware of his true identity. This differs from the original 1927 version as the use of blackface is more highly incorporated, (a common practice at the time), which is now considered highly derogatory and offensive. 1980s Jazz Singer takes a different tune, as the focus is not so much on the love of jazz music and hiding one's physical appearance. Instead, the film solely focuses on the love and passion Rabinovitch has for his self-penned music outside his Jewish faith.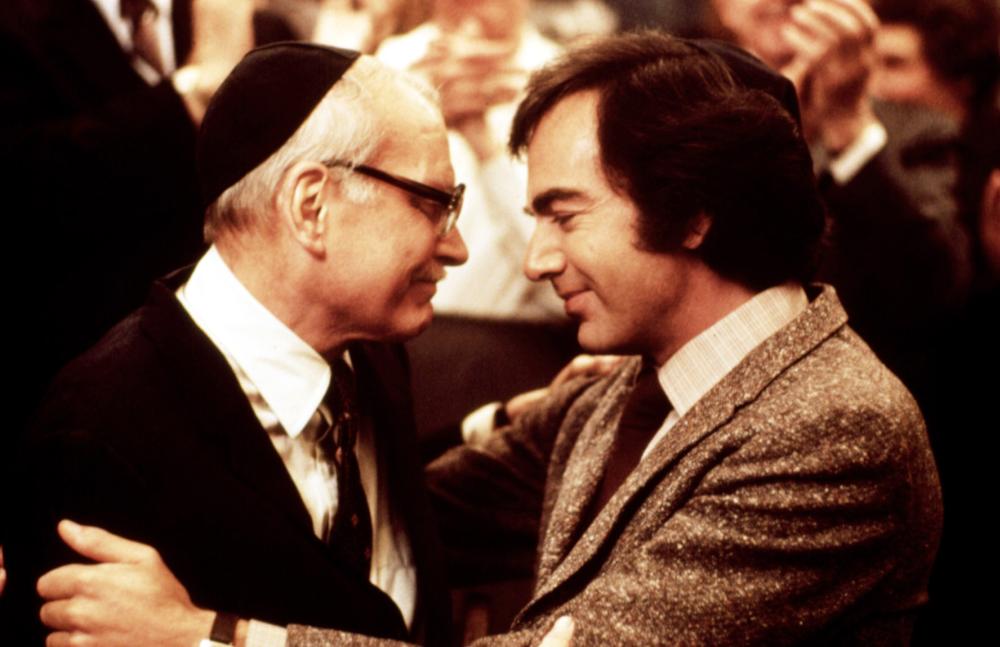 With a reputation as a hit-making machine and known as "The Jewish Elvis", the expectations for the film were great. Diamond had been a singing superstar and songwriter known for hit songs such as "Solitary Man," "Brooklyn Roads," and major number one song "I'm A Believer," sung by The Monkees in the 1960s'. Due to his notoriety as a music sensation, there was certainly pressure on Diamond to deliver an outstanding performance, and although critics were initially unkind to Diamond in his acting debut, he does in fact do a fair job considering no prior acting experience. His portrayal of a man struggling between devotion to tradition and ambition for musical success fairs well overall, and hits on a relatable theme for people even if it doesn't pertain to music per se. The film also heavily displays Jewish culture which radiates well with Diamond, as he personally stems from Jewish roots growing up in New York.  
After the initial opening sequences, the storyline begins to unfold as Rabinovitch (Diamond) ultimately decides to leave New York for LA in hopes of finding stardom, upsetting both his wife and father in the process. While there he meets music agent Molly Bell played convincingly by Lucie Arnaz. The chemistry between Diamond and Arnaz is spot on, and Arnaz brings a vibrant and much-needed playful touch to the seriousness of the film. The scenes between Laurence Olivier and Neil Diamond are also touching, as Olivier adds his acting depth and notable experience rounding out the central characters. As the film goes along, you will see Diamond do what he does best by singing his heart out beginning with the original co-written piece "Love on the Rocks." Much to his wife's dismay, Rabinovitch does find success although he struggles early on in his move to LA with uncooperative music producers and a fellow artist. In portraying music agent Molly Bell, Arnaz does a great job of being the catalyst needed for Diamond to succeed in the film. Not only does she exude wittiness, but she also evokes realism into the character which gives the film a more authentic touch. Later on, you will witness the chemistry between Arnaz and Diamond unfold, as the films plot takes a twist.  A romantic relationship is subsequently cemented between the two when Rabinovitch's wife (Adams) willfully stays unsupportive toward his newfound career as she is deeply rooted in her Jewish faith and customs causing the break-down of the marriage. Actress Caitlin Adams captures her role with sincerity and charm, which makes for a great counter to Arnaz's assertive vibrance. Olivier also feels authentic and his veteran acting experience shows, although his performance was surprisingly canned by critics initially.
As the film proceeds, it becomes clear that Diamond seems to possess a sort of vulnerability throughout as noticeable, which I'm attributing to his lack of acting experience. He appears to be most comfortable while on stage or through the film's musical sequences. For fans of Diamond though, they won't be disappointed as he looks just as handsome as ever on screen and showcases some of his catalog's best work with the amazingly beautiful ballads "Love on the Rocks," and "Summerlove." We get the best of both worlds from Diamond as we witness him display his Jewish pride as well on songs such as "My Name Is Yussel," and "Havah Nagilah." 
When it comes to the best scenes in the film, one of them is undoubtedly when Diamond serenades Arnaz with the emotional ballad "Hello Again," a personal favorite of mine. Watching Arnaz gaze lovingly into Diamond's eyes will get into your emotions to the point of potential tears. In this scene, you can feel the great chemistry between the two, which makes the film. Eventually, their whirlwind romance catches up to them as it creates tension with Rabinovitch Senior who disapproves of such a relationship. Although Laurence Olivier was hit with the "too campy" remarks from critics, he portrays his character with such depth and believability. The veteran actor brings sophistication and admiration to the film, in which he played quite well. From being touted as the greatest actor of his generation, he certainly lived up to that standard throughout.
As the film nears its close,  Bell and Rabinovitch hit a rough patch, which can be attributed to his father's displeasure from the breakup of his son's marriage. Rabinovitch gets visually upset and emotionally torn between the devotion to his faith and his newfound romance and career, which leads him to a breakdown. Molly Bell on the other hand patiently waits for him to come to terms with himself. 
Looking back at the film, it could have benefited from a more cohesive script, but with that being said it is an overall delightful watch as the central characters are portrayed by some of entertainment's most gifted. Diamond, Arnaz, and Olivier are quite the trio, and the soundtrack is so amazingly complimentary to the production you almost forget about all criticism of the script. Ending with the one and only "America," by Neil Diamond, the song tops off the film and leaves the audience with great closure, and a reminder of immigrant assimilation into the United States. Although the film is touted as controversial by some, particularly the 1927 version, 1980s Jazz Singer offers a refreshing look and brand-new screenplay which steps away from the original film by incorporating less racial overtones. The film overall touches on many relatable and definable subjects such as devotion to one's culture, acceptance, and pursuing one's passion equivalent to the American Dream. First viewing the film about 10 years ago, I was extremely curious as I grew up listening to Neil Diamond, which significantly reminds me of many car drives with my own mom. The familiarity with Diamond, Arnaz, and Olivier is definitive of what initially drew me to the film and is another added gem into my classic movie collection. Reflecting back to 2012 when I saw Diamond for the only time in concert, I view the film in a different lens as I was able to witness his talent live, making it all the more special in retrospect.
To view "The Jazz Singer," grab some popcorn and watch it on Amazon Prime, as it will make for a great movie night with your significant other. It should be noted both Lucie Arnaz and Neil Diamond received Golden Globe nominations for their performances. The soundtrack also went on to receive critical acclaim and success with a Grammy nomination for "Best Score Soundtrack," with the album hitting #3 on the Billboard Charts.  Check out the full soundtrack here. 
Read our wonderful interview with Lucie Arnaz here, where she gives first-hand insight into the film.