By Lacey G. Segars
AUSTIN, Texas-Latinitas attended the University of Texas at Austin (UT Austin) over the weekend to celebrate their 19th annual 'Girl Day.'
Every year, the Cockrell School of Engineering at UT Austin hosts an event called 'Girl Day,' where they celebrate women in Science, Technology, Engineering and Mathematics (STEM) careers and encourage young girls to get involved in such fields. One hundred and sixty organizations volunteered to demonstrate the type of work the girls could do in the future in a fun and engaging way. This year, Latinitas participated by bringing hands-on activities to the attendees.
Early Saturday morning, Latinitas was excited to be welcomed back to the event to bring in two activities using Dash Robots and the Virtual Reality (VR) Remix, ready to get young girls excited about STEM.
"The energy in the room can be felt as soon as they walk in–all excited and wide-eyed to begin coding the robots and see something cool on the VR headsets. It's so much fun to be back and see some of our Club Latinitas members and meet new chicas," said Rita Olivares, Program Coordinator at Latinitas.
With the help of iPads, the girls were able to learn basic coding skills needed to operate the small, blue robot. This lesson helped teach the girls about programming in a simple and exciting way.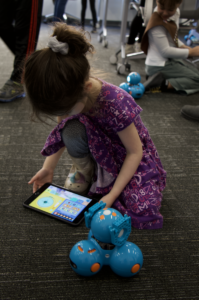 The girls were able to put on the VR headsets and virtually walk around Austin using 360 images from Google. By using technology, the girls learned about different applications for VR, and how gentrification has affected East Austin. This activity explained to the girls how VR can be used to not only show what is happening, but actually immerse an individual into the environment and experience it for themselves.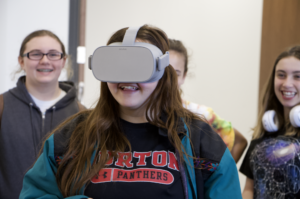 It is the largest event of its kind in the U.S. and is growing every year as more initiatives form to empower women in STEM. 
"Things have changed so much from when I was in school. It's so great they have the opportunity to learn about this technology at such a young age," said Staci, a parent of one of the girls participating. 
Girls filtered in and out of classrooms all day to experience the lessons Latinitas and other organizations had to offer. This year's 'Girl Day' was the largest to date serving over 12,000 children, parents and educators. The mission is to have an inclusive workforce, and with events such as this one the possibilities for the future of women in STEM are endless. 
Want to read more stories like this? Give us your feedback, here!
Latinitas Magazine is a project of Latinitas, a registered nonprofit. We are funded by readers like you, so please consider donating today. Thank you!