Classic Hollywood is filled with many epic and culturally significant films. From the silent film era to talking productions, pre-code films, film noirs and westerns, there are a wide variety of genres and subjects to watch, appreciate, and analyze.  Many films featuring subjects on Latino and Hispanic culture or which required the casting of a Latino failed in that aspect. In fact, roles to Latinos and minorities were limited in the Old Hollywood studio system, and in their place were taken and casted with white actors and actresses. Latinos also either played a stereotyped figure, or were casted in second rate or supporting roles. On the contrary, classic cinema in Mexico was highly popular with legendary figures and actors such as Maria Felix, Jorge Negrete, and Flor Silvestre, but few were able to cross over into the American mainstream. American-born Latino's in classic cinema were also scarce. The following list contains classic black and white films that featured Latinos in a variety of roles and that broke social barriers in entertainment no matter how large or small the contribution. To watch the films, you may be able to find them on Amazon Prime, Youtube, or on the Turner Classic Movies website.
1. The Girl Who Had Everything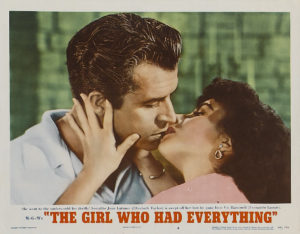 Released in 1953, this romantic film drama features Elizabeth Taylor, William Powell, and the dashing Argentinian actor Fernando Lamas. The film's central plot is focused on the relationship between two characters played by both Taylor and Lamas. Taylor plays Jean Latimer, a young woman whose father Steve Latimer (Powell), and defense attorney, does everything he can to give his daughter an adequate upbringing, while spoiling her in the process. Lamas plays gambler and suspected mob affiliate Victor Ramondi, whom Latimer defends in court. After Jean meets the handsome Ramondi through her father, sparks fly at his displeasure, which creates tension between all parties. Can Steve protect his daughter from the charming but potentially dangerous Ramondi? That's to be seen at the end of the film, where this romantic drama concludes.
2. Flying Down To Rio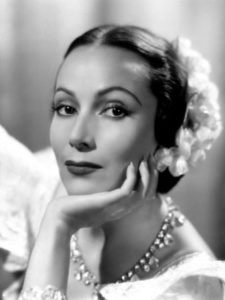 From 1933, and a pre-code film, "Flying Down To Rio" features many stars from its time such as Fred Astaire, Ginger Rogers, Gene Raymond, and Mexican-born actress Dolores Del Rio. Rio was one of the first Mexican actresses to cross over into Hollywood, and the first major actress to wear a two-piece bathing suit featured on film. In the film, Gene Raymond plays a band leader who sees and falls for Belinha, played by Del Rio, but turns out she is engaged to another man which complicates matters. Filled with fun dance sequences by the legendary Astaire and Rogers pairing, this fun musical film is one to watch and to witness a Mexican actress in a glamorous leading role in old Hollywood.
3. Mexican Spitfire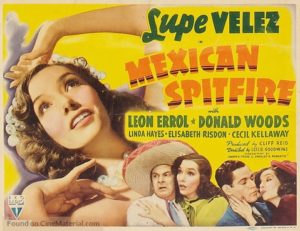 Released in 1940, this comedy film stars Mexican actress Lupe Velez, and is the first of a film series based on the title and characters. Velez plays the fiery and hot-headed Carmelita Fuentes, who is newly married and determined. A screwball comedy, Velez is comedic, and her character Carmelita Fuentes is threatened by her newlywed husband's snobbish aunt and ex-fiancé. Velez is known for these series of films with her strong personality which added to the stereotypes of fiery Latina women. Also, one of the few Mexican actresses to cross over into American films, she was a talented actress that made her mark on film in old Hollywood.
4. Viva Zapata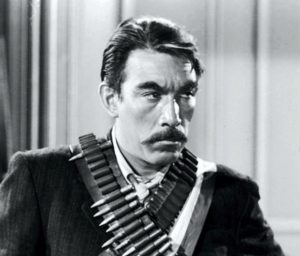 Although Marlon Brando plays main character Emiliano Zapata, Mexican actor Anthony Quinn won an Academy Award for Best Supporting Actor for his role as Eufemio Zapata, brother to the infamous Mexican revolutionary. From 1952, the film depicts Zapata's life through a Hollywood lens. Some accounts and portrayals may be fictionalized but the film brought awareness and attention to the history of the Mexican Revolution and Zapata's significance in coming from a peasant upbringing to a rise in power and his historical influence in Mexico. The film is a must watch regardless if Zapata is portrayed by non-Mexican Brando, which reflects just how the film industry strayed from casting authenticity to ethnic characters during that time.
5. High Noon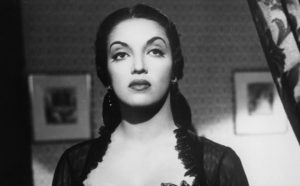 Released in 1952, this western film features Hollywood legend Gary Cooper, Grace Kelly, and Mexican actress Katy Jurado. The plot of the film is centered around Cooper's character who plays 'Marshall Will Kane". Kane is on the brink of retirement but is stalled in doing so when a known outlaw and enemy of his is released from prison. Kane feels the need to stay and protect his town, against the judgment of his wife, played by Grace Kelly. In the film, Katy Jurado plays 'Helen Ramirez and is revealed as a former lover to key characters in the film, and is utilized as a catalyst for the unfolding plot. This film is highly regarded for its political themes and cultural influence in Western films. 
6. The Bad and the Beautiful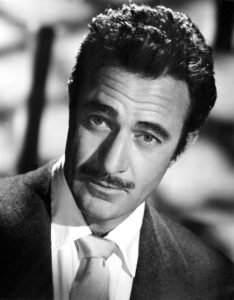 Directed by the legendary Vincente Minnelli, "The Bad and the Beautiful" features many prominent stars such as main characters Kirk Douglas and screen siren Lana Turner. Mexican actor Gilbert Roland plays "Victor Gaucho Ribera", a Latin film idol, which wasn't too farfetched from his own image, and was subsequently nominated for a Golden Globe for Best Supporting Actor. The film itself is a complex plot of nuances and characters that center around power, influence, and prestige in Hollywood.
7. Too Many Girls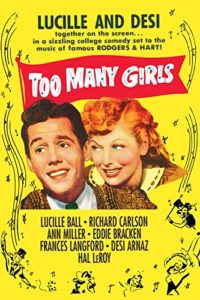 From 1940, this American musical comedy film features Lucille Ball, Ann Miller, and Cuban born Desi Arnaz. Although primarily known for their iconic tv show "I Love Lucy", in the 1950's, Ball and Arnaz appeared in a few films together as well, and met while this particular film was in production, hitting it off instantly.  This film itself is an RKO production with Lucille Ball in the lead. Her character, Connie Casey, is a celebrity heiress who travels to New Mexico to see her boyfriend. When her oil rich father finds out he hires 4 college football players to act as her bodyguards to protect her. Her love life soon gets complicated as she catches herself falling for one of the players. Arnaz plays Manuelito, one of the 4 football players, and Lucille Ball herself  finds herself falling head over heels for the real-life Latin musician. This is a fun film to watch, especially for fans of Ball and Arnaz.
8. Ben-Hur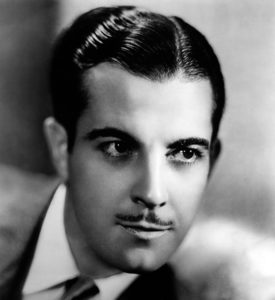 This silent film distributed by Metro-Goldwyn Mayer from 1925 features Mexican born actor Ramon Novarro, one of the first big Latin names in Hollywood before film produced talking productions. Although there is no speaking in the film, silent films offered words pictured on the screen to help tell the story, along with visually appealing gestures and acting. Novarro was cast in the lead as Ben-Hur, a Jewish Prince who finds himself in trouble after his boyhood friend and rival "Messala" portrayed by Francis Bushman, decides to persecute him following an accusation. The film has a religious tone as it incorporates the character of Jesus, whom Ben-Hur encounters along his journey. Novarro found himself highly sought after when the film wrapped as he became elevated in Hollywood circles acting alongside famed actresses such as Greta Garbo and Joan Crawford in the years following.
9. Crisis
From 1950, this MGM film features Hollywood leading man Cary Grant, actress Paula Raymond, Puerto Rican actor Jose Ferrer, and Mexican actors Gilbert Roland and Ramon Novarro. In the film, Dr. Eugene Ferguson (Grant) goes to South America for a vacation with his wife. Once there, a revolutionary war breaks out, and the Dr finds himself in an unusual position as he is taken against his will to the country's dictator Raoul Farrago played by Ferrer. Since Dr. Ferguson is a brain surgeon, he is in demand to perform an operation on dictator Farrago. Ramon Novarro plays a brutal colonel in Farrago's regime, and Gilbert Roland plays an opposition leader hoping to overthrow Farrago and interfere with the life-saving operation. Will Farrago live and continue his brutal dictatorship, or will his regime get overthrown by opposition?
10. Border Incident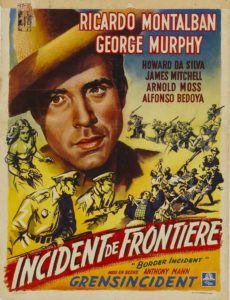 A 1949 film-noir (crime – drama) starring Mexican actors Ricardo Montalban, and Alfonso Bedoya along with actors George Murphy and Howard Da Silva, this film focuses on characters Pablo Rodriguez (Montalban), a Mexican investigative agent, and Jack Bearnes (Murphy), an American agent who are both sent to crack down on the deadly killings of immigrants and Mexican farm-workers crossing into California by smugglers and bandits. Both agents go undercover and in disguise, and the plot begins to unfold afterward. Howard Da Silva plays "Owen Parkson" the leader to an illegal organization and gang who smuggle Mexicans across the border only to kill them in return. What will happen to both undercover agents when they come face to face with the smugglers and gang organization? A great film that gives attention to border issues between Mexico and the United States. The film was Ricardo Montalban's first role as a leading man in American films, and was also the first Latino actor to be featured on the cover of "Life Magazine" in 1949.