By Raven N. Garza
AUSTIN, Texas— I was 11-years-old when I attended my first concert. It was an intense night in the Rio Grande Valley with cover bands that were the Latino versions of AC/DC, Guns n' Roses and Metallica. Not exactly your typical experience as an elementary kid. Yet there I was: little Raven bobbing her head up and down, very off-beat (and feeling a little sweaty), but entranced by the huge crowd that formed a buzzing ocean of excitement.
That night I was guided by my mom and two uncles who were, and continue to be, dedicated fans of those iconic 80's bands. From that point on I kept listening to rock in its many forms including thrash metal, grunge and punk. A few favorites were The Clash, Nirvana, Iron Maiden and Pearl Jam. When I hit puberty I became more visually expressive about my music tastes, which included wearing black leather jackets, layering on heavy eyeliner and cutting my hair scandalously short —that didn't get a great reaction.

According to IFPI's music consumer insight report, 57% of people said rock was one of their favorite genres. Despite rock music's popularity, even among the Latinx community, there's prejudice and judgment towards people who engage with certain subcultures, the way of life of a particular group of people who are different from the rest of society. Although I never fully committed to one in particular— my look and attitude were inspired by a mix of punk, grunge and goth subculture.
This stemmed from my love for the music genres that they were based on, but they also had similar characteristics and overlapping styles that drew me in. Some of those ideas were being open-minded, anti-establishment, progressive, critical towards big corporations and promoting equality and social justice. A key example of how these values were expressed through music is Riot grrrl, an underground feminist punk movement that began in the early 1990s, which addressed sexuality, racism, patriarchy, classism, homophobia and female empowerment.

Washington band Bikini Kill played a significant role in Riot grrrl, and they wrote about the meaning behind its creation in a typewritten tour flier. 
"Because we girls want to create mediums that speak to us," the page reads. "Because a safe space needs to be created for girls where we can open our eyes and reach out to each other without being threatened by this sexist society."
It's powerful to use rock music as a means to express your unique identity and perspectives either as a fan or a musician. For some Latinx folk, they grow up on rock, get inspired and end up making their own melodies— which was the case for San Antonio-based singer and songwriter, Andria Rose.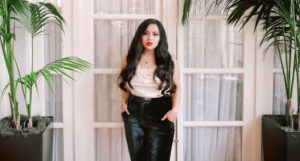 Similar to many Latinx kids, Rose's father was a "big classic rock head" and she admits he was the one who introduced her to the genre. 
Van Morrison's "Brown Eyed Girl" was her childhood anthem. After exploring more artists, she fell in love with The Doors' introspective tunes like "Riders On The Storm" and "End of the Night" are especially brooding and reflective. Today, she creates dreamy music with elements of jazz and psychedelia that leave you feeling like you're in a vintage romance film.
Before Rose was playing shows at The Aztec Theatre, Paper Tiger and the Lowbrow Palace, growing up her family didn't understand her music preferences.
"They would often say that the songs sounded the same," Rose said. "And that the music was overall boring." 
When she became a fan of indie rock in middle school, her classmates would cynically ask: "You listen to Indian music?" Considering San Antonio is predominantly Latinx, remarks like this "other" Rose and her interests by making associations with an unfamiliar culture. She realized her peers were teasing her, but she stuck with pursuing the music she loved and it has shaped the content she makes as an adult.

In spite of dealing with that sentiment growing up, her family has been supportive of her music career. Also, she hasn't had many bad experiences as a musician, and she feels inspired witnessing recent innovative Latinx artists who are breaking through in the industry; including Bad Bunny, Kali Uchis, The Marías, and Cuco.

As a queer, Latinx woman, I grew up feeling confused and at odds with society's constant pressure to act, look and feel a specific way. But I was sure of my taste in music. It felt good to stray from conventional gender norms and standards through subculture trends: dressing more "masculine" in studded leather jackets and Dr. Martens boots, getting tattoos and piercings and adding unnatural colors to my hair.
The thing about being Latinx is the act of standing out or deviating from the norm usually doesn't sit well with our community. If you dress differently or act in a way that doesn't align with our culture's gender roles, for example, things might get tense.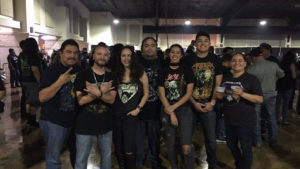 As a teenager, and even to this day, I got picked on for my taste in music and the way I looked— both from my family and others in the community. I wasn't alone in that struggle.
"My parents thought I was just weird as hell," Prisilla Benitez said, an Austin native. "My brother would be scared of coming into my room because I had an Escape the Fate poster where the singer's face was melting off."
Another statement comes from my mom, Maribel Garza, who spoke of her teenage years. 
"When I was young, I used to tell my parents I was going to the mall and I'd hide one of my brother's rock t-shirts in my purse," she wrote to me. "As soon as my friends picked me up, I'd change in the car and go to rock concerts by local underground bands."
Garza grew up in Pharr, Texas, a small town in the Rio Grande Valley, where people would always make comments about her interest in rock music. 
"Most of my friends listen to pop or contemporary," she shared. "They find bands that I love to be too loud or harsh."
Living in the Valley, you come to realize that people are stubborn about their beliefs. My mom and I are both passionate about defending our way of life, but oftentimes it goes in one ear and out the other.   
On top of your family thinking that you're strange, you also have to deal with a music industry that thinks rock was created by and made for, white men. When in reality, rock music has a diverse history. The big names of Rock and Roll like Elvis Presley, The Beatles and Jerry Lee Lewis got their sounds and inspiration from people of color. Sister Rosetta Tharpe, Howlin' Wolf, Rosendo Ruíz Jr., and Lalo Guerrero are a few of those pioneers.

"The colored folks been singing it and playing it just like I'm doin' now, man, for more years than I know," Presley said to the Charlotte Observer in 1956. "They played it like that in the shanties and juke joints and nobody paid it no mind 'til I goose it up. I got it from them."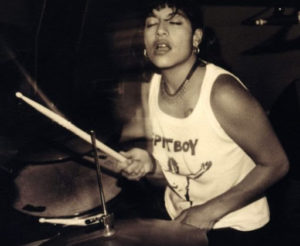 People of color have been making their mark on the genre for a long time. With punk specifically, there's an inspiring array of stories on how Latinx artists have been navigating the scene since the mid-70's. One is about Cristy C. Road, Cuban-American illustrator, graphic novelist and punk rock musician, who talks about her experience growing up as a punk teenager in Miami where she had to defend her identity, gender, queerness and Cuban roots.
"My self esteem suddenly transformed from being in a constant state of embarrassment over my list of insecurities, to not really giving a shit," Road said in an interview with TNB.

When she was criticized by her traditional Cuban family, her classmates and society at large about her nonconforming identity, she responded by questioning their standards and carving a space in the punk subculture where she could be herself. Currently, Road works primarily as an illustrator and graphic novelist in Brooklyn while also performing in the pop punk band Choked Up.

I relate to the way Road felt empowered by punk, and how she used it to find comfort in the "deviant" aspects of her identity. Genre-bending Latinx artists, such as Road, sends a unique message about our community's creativity, and it negates the stereotypes of what sounds and styles define us. I'm excited to witness this new wave of artists, but, at my core, I'll always be a rocker.
Raven Garza is a graduate of the University of Texas at Austin with a bachelor's in English Literature and is now the Content Marketing Manager at Popspots. She has a background in the entertainment industry, tech startups, and art history. Garza is fond of covering live music, Latinx life and culture, and LGBTQ+ topics. Her works have been published in Austin Startups, Do512, Front Row Center, and Latinitas Magazine. To de-stress, she enjoys crowd surfing at punk shows around town.
Want to read more stories like this? Give us your feedback, here!
Latinitas Magazine is a project of Latinitas, a registered nonprofit. We are funded by readers like you, so please consider donating today. Thank you!