This past weekend Latinitas partnered up with AVANCE and Con Mi Madre to throw a Salsa event benefiting all three local organizations. The event, which took place this past Saturday, was hosted by Telemundo's very own News Anchor Lorena Placencia. Doors opened at 6 PM, and so did the outdoor dance floor. On the main stage, Salsa lessons were given, courtesy of Corazon Latino Dance Studio, followed by a full-out dance party, curated by DJ Kick It, where people could put their moves to the test. 
Tickets were sold at $35 a piece (with heavily discounted prices for students), which gave patrons access to free food, drinks, and lots of dancing. Inside the event, which was catered by Tito's Handmade Vodka and Maudie's Tex Mex, the organizations invited local Hispanic vendors to sell their wares. There was everything from Mexican artisanal boutiques such as Maravillas to ceramic artists like Freewheelin' Goods, to local jewelry makers such as Bellas Crafts, and even skincare products, like AFUS Beauty. Latinitas, AVANCE, and Con Mi Madre also had booths set up inside, where they could educate passersby on their own organizations. The booths were lined with volunteers from various sponsors such as Apple, Tesla, and Google. There was even a booth where you could register to vote before midterm elections. 
While dancing was clearly the highlight of the night, it wasn't the only thing going on. There was also a photo room set up inside with a ring light and full backdrop. Throughout the inside office, various backdrops were arranged for optimal photo-taking possibilities. As a way to raise money and awareness for the benefiting nonprofits, there were also multiple raffles happening. With such prizes as HEB gift cards, monetary rewards, and bundles of merch. The event went off without a hitch, and by the end of the night, it was clear how much love and support had gone into it.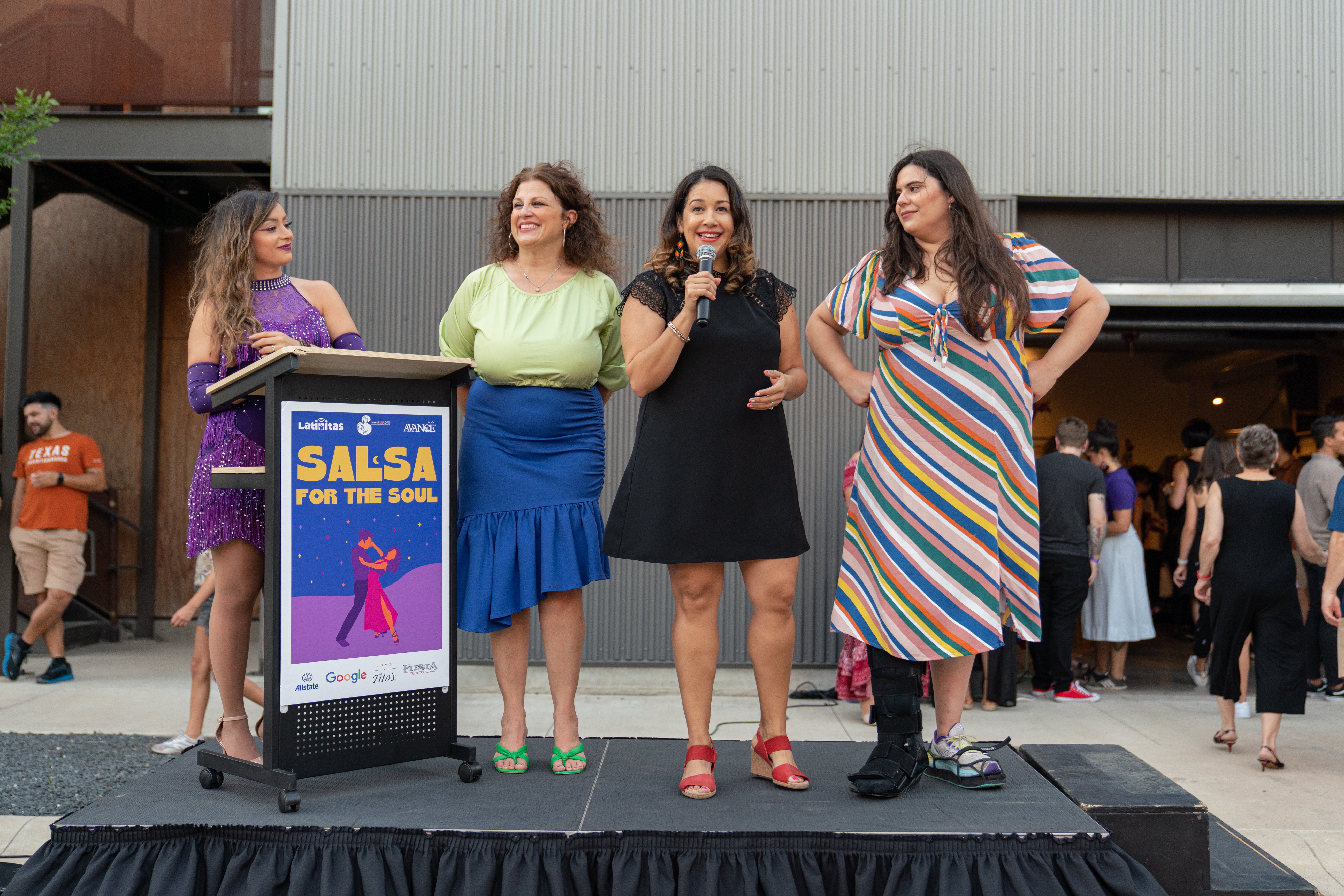 A big thank you goes out to the team of women who put together this event. AVANCE's Sr. Development and Communications Manager Stephanie De Leon and Development Associate Danielle Osio, Con Mi Madre's Development and Communications Associate Tiare Mata Nichols, and Latinitas very own Director of Development and Engagement Gabriela Kane Guardia, Director of Communications Salwa Yordi, Engagement Coordinator Addy Allred, and Development Associate Ashley Guerra.
AVANCE is a national nonprofit set on creating pathways to economic mobility for predominately Latino families through various programs. 
Con Mi Madre is an Austin-based nonprofit with the goal of empowering Latinas and their mothers through education and support services that increase preparedness, participation, and success in post-secondary education.
Latinitas is an Austin-based nonprofit that empowers young Latinas to get involved in media and technology, through after-school clubs, camps, events, and publications