By Anna Martinez
When we hear Barbie, we often think of a blonde blue-eyed model. Latina Tina Rodriguez is working to change that stereotype and showcase Barbie's diversity.
Rodriguez, Associate Prepack Manager for Barbie and Girl Brands at Mattel Inc., understands that being a Latina who works within her community is extremely important. Outside of Mattel, she says she works to leave a "positive impression on the life of someone else." She began this work when she was a teenager by joining Workforce Investment Network, where she received vocational training under the Job Training Partnership Act – School to Work Employment Program. 
Rodriguez was a single mother at the time and greatly benefited from this program.
"I began working there when I was 19 years old as a single mother. I was assigned a Youth Career Counselor who offered me the opportunity to work on site part-time to provide me with work experience and also assisted with paying for my vocational training," Rodriguez said.
She attended Southern California Regional Occupational Center for Office Technology and El Camino College for Career Enhancement. Rodriguez also received supportive services such as childcare assistance, resume writing, interview preparation, and interview attire assistance. She earned her GED from Long Beach City College with backing from the program.
Rodriguez continued working with them and eventually became that same help for coming generations. After this, Rodriguez went on to work for Mattel, her current job. Here she works to create visual displays for Barbie at retail stores as well as ensure that orders are placed and delivered on time.
Rodriguez's father had an immense impact on her life and in the career she has now. He was an entrepreneur who worked tirelessly to leave a business behind for his family. Rodriguez helped her father start his environmentally-friendly trucking company. From him, she learned hard work and dedication. 
Like many other Latina women, Rodriguez was first introduced to the business world through her family members. Migrant families come here to work and create a life that follows the American dream and from them, the younger generations learn to hustle.
Rodriguez's Latina roots influence her work at Mattel because it is important for her to feel connected to her Latinidad. Through her work, she gives back to her community and is the voice for Latina women.
She has been able to team up with organizations such as Save the Children and provide toys to children being held at immigration camps. She is also in charge of managing all displays for the Barbie and doll brands at Mattel.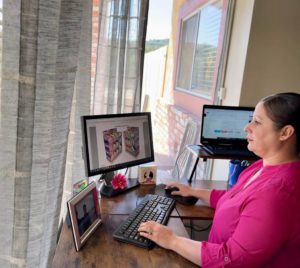 "I make sure everything is executed from the request; say from Walmart who may want 3,000 displays," Rodriguez said. Then her team ensures those designs are applied to the various displays at retail stores. Lastly, Rodriguez makes sure the demands are in and that all materials are on schedule.
"As I am walking through the stores and seeing these displays it feels incredible to know that I was part of that," says Rodriguez.
And little Latina girls, walking through and seeing displays with women who look like them, feel empowered and they feel represented. Part of this is thanks to Rodriguez who is helping engineer such displays.
 "I have to decide if this is the graphic that I want on this display and I make sure my displays are diverse and multicultural," says Rodriguez.
Rodriguez makes a difference in the way Latina women perceive themselves. When they see themselves in a barbie doll on display, they see that they matter and that they are not alone.
 "Being able to really share my culture with my organization is one of the biggest ways I make an impact at Mattel," says Rodriguez. "Being a leader is having a voice, being a leader is getting things done and finding any way possible to get it executed and overcoming any barriers."
 Rodriguez is a reminder that Latina women can be present in all places, even Barbie. Latinas can be the ones to influence how Barbie looks and be the difference in the way modern Latinas see one another. 
 Rodriguez inspires Latinas to dream big, be present and take up space everywhere. Rodriguez hopes that they grow into their leadership positions and use their culture to inform spaces. That they become the Latinas that change cultures.
Featured image courtesy of Tina Rodriguez.
Want to read more stories like this? Please give us your feedback here!
Latinitas Magazine is a department within Latinitas, a registered nonprofit. Readers like you fund us, so please consider donating today. Thank you!