Hosted by Marisol Acuña
Editor's Note: This is a transcription of Latinitas Magazine's SoundCloud podcast "20 Questions With," where we invite bold and creative individuals to discuss their experiences and background. Listen along by clicking the link!
Hola Chicas! Welcome to 20 Questions With, a podcast in conjunction with Latinitas Magazine. Latinitas Magazine is a strong voice for Latina and POC Youth, which is why the hosts of 20 Questions With are all young Latinas who are looking to gain experience in innovative and creative fields just like you! 
In each episode, you'll hear from striking individuals who are inspiring today's youth with their passion, motivation, and grit. 
Today, join Marisol Acuna as she sits down as asks 20 Questions With Christina Jovanna Olivarez
Before we get started, here's what you should know about Christina: 
Christina is an award-winning social media strategist and TEDx Speaker. She is the Founder & CEO of The Social Butterfly Gal, LLC, a social media strategy company. Through VIP strategy days, trainings, resources, and education, Christina helps companies build their brand on Instagram with a strategy that increases impact and grows businesses.
She has had the honor of training thousands of executive leaders nationwide through her signature training and has led social media for one of the largest cultural festivals in the nation.
In addition to the work that she does at the SBG, Christina co-founded a women's entrepreneurship conference & community called Hustle + Socialize. H+S brings together the most diverse women's business community of South Texas and curates life-changing experiences.
Through the annual conference that takes place every June and summits and events, H+S empowers women to discover new ways to harness their unique strengths, elevate their skills, leverage their value and better advocate for both themselves and their companies.
Christina serves on the board for New Leaders Council in San Antonio & is a proud member of the Poderistas Power Squad.
We're so excited to learn more about Christina and what she does – so let's get started with the show! 
Marisol: Hey everyone, thanks for joining us on this episode of 20 Questions With! I'm Marisol Acuna and I'm here with today's guest Christina Olivarez. Thank you for joining us today. 
Christina: Thank you so much for having me. I'm so excited to be here. 
Marisol: We're also very excited. So I guess we can get started with the questions. My first question that I have today is where did the idea of founding The Social Butterfly Gal come from? And can you tell us a little bit of the story of origin, of how it came to be? 
Christina: The Social Butterfly Gal came about after getting out of college and not being able to find a job. I had several internships throughout being a college student at Texas State University, I was a real go getter. I was very involved in student organizations surrounding radio, television and film. And even though I had all these internships, as soon as I got out of college, I just didn't have any luck. I would have all these interviews, but it didn't really lead into what I really wanted to do, which was be a reporter for a news company. So when I got my first job, it was a news and video content director for a freelance website here in San Antonio. And while I was doing YouTube videos, I was managing their social media and I was going around different businesses in San Antonio, highlighting them and creating little commercials. And that's when we started to recognize the power of social media. This was 2013. At that time, social media wasn't where it is today. Businesses were barely getting on Facebook, Instagram had just launched, Twitter had been around… After not really having that luck in the news business, one of my best friends told me, "Well, the reason why you can't find a job is because it hasn't been created. So go create it." And that got the wheels turning. I started getting a lot more involved in public relations and in marketing. Finally, I just took that next step, that leap of faith. And I launched Social Butterfly Gal in 2015. It's been the most amazing, wild and craziest ride I've ever had in my life. 
Marisol: That's amazing. What were some difficulties you faced in the beginning?
Christina: Definitely one of the biggest difficulties is getting businesses to understand the importance of social media. Now, due to the global pandemic that we had we kind of understand why almost every single business needs to have a social media presence and be engaged online. I gave a TED talk recently and in the TED talk, I talked about how social media is not just an option anymore, it's a necessity. So I feel one of the biggest challenges in 2015 was getting older companies to adapt to these digital platforms and to understand where the marketing industry is headed. We still had a lot of people put a lot of their marketing dollars in radio, television and billboards. I was 24 at the time and very young. So coming into the spaces where there were a lot more people that had years and years of experience behind their belts, being able to come in as a firecracker and as a young Latina too… it was kind of scary and challenging. But one thing that was certain was my passion for marketing, my passion for social media. I've been on social media or even just digital media since the age of eight, with AOL and MySpace. So even though most of these people had years of marketing experience, that doesn't discredit or discount the experience that I had as a kid, adapting to AOL, adapting to MySpace and understanding how the online experience works. I think that was definitely a huge challenge that I faced in the beginning. And then definitely just networking and finding your place in this sphere. I think now it's a little bit easier to network, because we do have that online component where you can easily get in touch with someone through LinkedIn, or you can get in touch with anyone on Twitter or on Instagram. Just finding those networking events and putting yourself out there and going by yourself is always kind of scary. To think, "Okay, well, I have to go to this networking event, and I'm going by myself, and I'm going to go and shake hands and meet people." But I think that was also the fun part, being able to go and experience that and meet people and go for coffee. Even though it was a challenge, it was a lot easier once it happened. 
Marisol: But do you think any of these trials or tribulations could have been avoided with the knowledge that you have now? 
Christina: I always feel that everything that happens in your journey is a part of your journey, and I truly believe that things happen for a reason. I love looking back, though, and seeing the evolution of my brand. So I don't think they could have been avoided. But I do feel that in college, I wish I was involved a little bit more in business, because a lot of what I learned was really trial and error. And I do feel had I maybe taken one business course, or maybe if I kind of knew that I was interested in something of that nature, it would be a little bit better just to have that knowledge behind my belt. But the good old trial and error, that's how you learn. Failing is such an important part of the journey. I think I would never take any of that away or any of that back.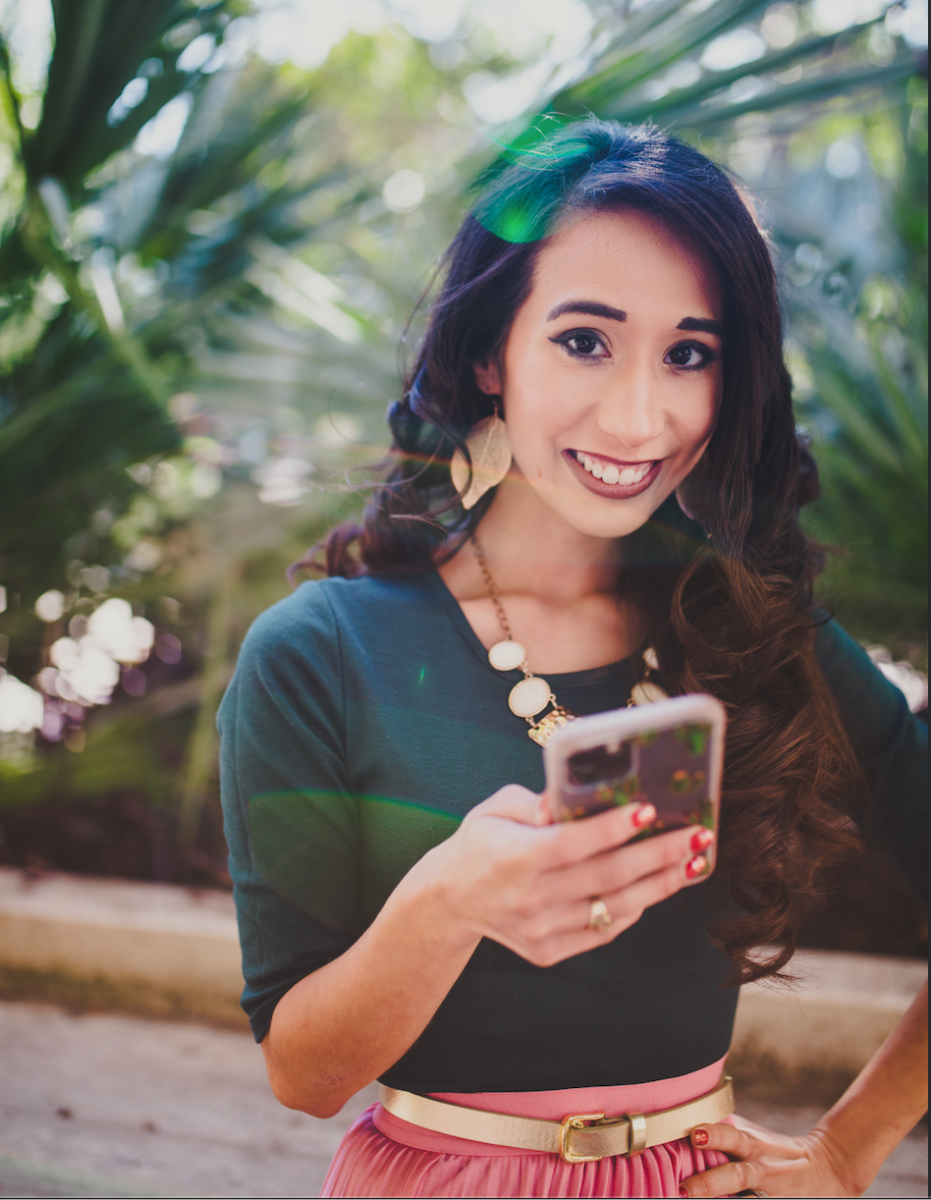 Marisol: Yeah, that's a good answer. What is your brand's definition of social media success, would you say? 
Christina: For sure, it's understanding how to be strategic on social media, how to use these platforms, not only for social good, but also to make an impact for your own business. I really work with my clients a lot, to build out a strategy for whatever goal they're wanting to accomplish. So if that's to increase brand awareness, or to increase revenue, or sales, or to really just get out there for their business online, I definitely work one on one with clients. Every client has a different goal that they want to accomplish. I think the biggest goal that I did accomplish – and the biggest success that was really certain – was, during the time of a global pandemic, taking things from an in-person realm to an online medium, executing that very well, and being able to take my conference that I co-founded online and sell tickets through social media. I think that is such a success as well. Everything changes so quickly in social media. So it really varies between what the actual goal of the clients is, what they really want and how they want to use their social media. 
Marisol: That makes sense. What does a day in your life look like?
Christina: It's very chaotic, sometimes. Now, things are getting a little bit better. I definitely worked out of coffee shops. Of course, during the pandemic, I worked from home. But every day is very different. Some days, I'm in meetings with stuff for the conference. Other days, I'm working one on one, in what I have my offer call VIP days. That's a whole day dedicated to working with my clients one on one, it's a four and a half to five hour strategy session. So it definitely really depends. There's other days I spend just creating content for my brand. On a specific day, I'll spend the whole day writing and batching content. So every day is very different, but one thing is always certain: I'm always on social media. That's one big thing. I think now that I have two businesses, you really have to learn how to manage your time wisely and understand where you need to bring in help. I had an assistant working with me, I'm going to be looking for a new assistant later in the summer. But you know what to do, what to delegate and where you need to manage your time, because running two businesses, it takes two different mindsets and two different hats to wear. So every day is really different. There's no set day. 
Marisol: Yeah, that's definitely something I also need to work on myself. Which social media platform do you believe has the strongest influence in a business or content creators outreach? 
Christina: No doubt, Instagram is by far one of my favorite platforms, but also one of the world's top social media platforms. We saw an increase in people utilizing Instagram, I believe the increase was almost 50% of people gravitating towards Instagram. So I'm an advocate for your business being on Instagram. Due to the pandemic, everyone at the corporate Instagram started implementing new services. They added different features like a shock feature, a donation feature. So I do feel that Instagram is one that has a lot of influence that businesses should not sleep on. But of course, you're seeing the rise of many different platforms and you're seeing the rise of Tick Tock which has a huge influence on younger people, as well as the music industry. Facebook's always there. We know Facebook is there. But a platform that I feel is very underrated is Twitter. I think that is a very, very powerful platform. So all of the social media platforms have different influences, but I truly feel for a business the main ones are Facebook, Twitter, and Instagram. I really do feel like Instagram is the one that has skyrocketed since the pandemic as well. 
Marisol: Which social media platform is your personal favorite? 
Christina: Instagram, by far. I think maybe it's a toss-up between Instagram and Twitter. My very first platform that I got was Twitter. And obviously, we're not counting like AOL or MySpace, but when we started getting into what we know social media to be now, that very first platform that I got was Twitter. And I got on it because I was a huge Grey's Anatomy fan, and Shonda Rhimes, the mastermind in Grey's Anatomy, had Twitter. I love spoilers, and at that time, I was 17 or 18 years old. I thought, "I'm gonna get on Twitter". And I really learned through college how to network with people in your industry, how to network because I was in the news industry. A lot of journalists use Twitter. So I was really networking with different anchors and producers. When it came to Instagram, I had this brand that I was building on Twitter, but then I executed that on Instagram, because it's very visual. So I feel if you could give me two platforms to keep for the rest of my life, I would say Twitter and Instagram. Maybe Twitter a little bit more, I really do love Twitter. 
Marisol: Awesome. This is a little bit more lighthearted. What has been your favorite social media trend recently? 
Christina: There's so many. I feel like TikTok keeps me on my toes. And I feel like there are so many talented creators out there. I'm so jealous of their creativity, how they just come up with these things, the editing and the transitions. I'm blown away. But I definitely feel like you can find so many fun ones. I'm just super-big into 2000s nostalgic stuff. There's this guy that I follow on Instagram and Twitter called Rodrick, and he does millennial comedy and stuff targeted towards millennials that I just really enjoy. But I don't know, there are so many trends, right? There are so many dance crazes. It's just really interesting to see the creativity behind some of your favorite people's accounts.
Marisol: Yeah, especially with the pandemic, everyone just kind of hopped on and started finding talents that they'd never realized they had. 
Christina: It's like the dances. I remember my husband and I were just going on Tick Tock and trying to find things that we couldn't bake. And dances that we could just learn to keep ourselves occupied, we couldn't go anywhere. 
Marisol: I saw a tweet recently that went, "Would Tiktok have blown up without COVID-19?" And I thought, "You never know". It's kind of crazy that we all just used it as an escape from being locked in our houses. If you could write a letter to your past self, what do you think would be the main point you would make?
Christina: Maybe three points. Stop caring about what other people think. Stop worrying, everything will work out. And go for it. I think fear holds us back a lot. I still get scared a lot of the time. I think also trusting yourself: I would tell my past self, trust yourself a little bit more. Those are the things that I'm constantly working on in therapy right now. Even at 30, these are just similar concepts that I keep going back to and working on. But definitely, I think back to 18-year-old Christina, or even when I first started, when I got out of college and I first started my business, I always think back to that person: my girl, you need to chill. Things will be okay.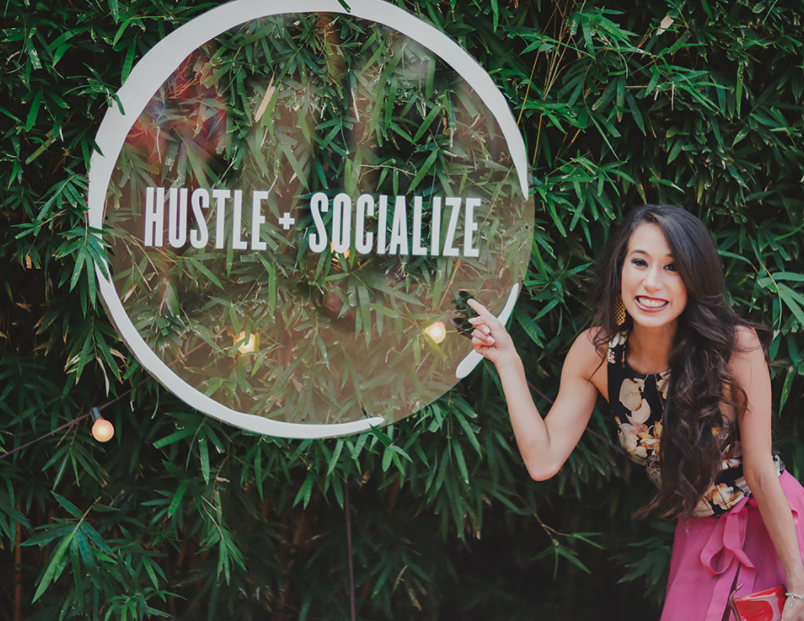 Marisol: That's nice to hear from my perspective, right now. Not gonna lie. I know you work closely with businesses. But what advice would you give a young content creator or writer or anyone that's trying to break into the social media scene? 
Christina: Be yourself. We hear this from so many marketers, and you hear it so much in the space. But it's so true. I mean, people can smell when people are fake. And people are attracted to people who are authentic. If someone is just trying to get themselves out there and create a brand or create a personal brand, they really need to think about what makes them super unique and what are their special qualities, and not try to mimic or copy what's already out there. But why do people want to follow you? What's one thing that makes you stand out? It's funny: when I look back at the evolution of my brand, something that was consistent throughout the board was that I stayed true to myself and I stayed true to my personality. In the news business, or when I was trying to break into the news business, I had several news directors tell me to cut my hair, or that they didn't want me to speak a certain way because it was too high pitched or that my energy was a little too much. And I think what I love so much about what I do, and starting my business and doing my businesses, is that I'm very unapologetic. I'm just like, "Hey, this is me. I'm the girl that loves cats. And I take photos in coffee shops." And I'm just so true to who I have always been. I think that is one basic necessity when it comes to building a brand. 
Marisol: That's great advice. What do you like to do in your free time?
Christina: I love to hang out at coffee shops, whether it is for work or for fun. My husband and I really love to travel and we're so happy that now we're both fully vaccinated, and that we're finally getting back to what we love to do. We really love to travel. We try to do at least three to four trips here and there throughout the year. We love exploring and seeing the world. I'm a girl from the Rio Grande Valley, a border girl, and it's funny because I live in San Antonio, but this is where my summer vacations happen because this is all we knew in terms of a big city. So I think it's so cool to explore new places. It really changes your perspective about life in general. But I also love to watch Netflix and movies. I have a cat. I love cats, so I always play with her and have fun. Just chill. 
Marisol: I love that you mentioned traveling compared to where you grew up. I grew up in Mexico, so our vacations were to Rancho Viejo. My grandparents had a house, so we would just drive and our whole summer was spent there. So I totally relate to traveling abroad and thinking, "Oh my god, this is amazing and so awesome."
Christina: I went to Paris for the first time, I traveled abroad for the first time in 2019. Literally, right before the pandemic happened. And I'll never forget, seeing the culture and seeing all these things that you dream about. I really had tears in my eyes. It was just this moment of "Wow". Just being able to have that opportunity. It was amazing. 
Marisol: Yeah, I completely relate to that. This is a pretty broad question. Who inspires you?
Christina: My grandma. I wish she was alive to see me right now. She passed away five years ago. Her tenacity, her personality is very similar to mine, she was a go-getter. She really didn't stop until she was almost at her deathbed. And I take that energy. One day, I wish that I can see her again and just talk to her. She truly, truly inspires me. And I just have so many amazing things to say about her. 
Marisol: That's amazing. Do you think this was the job you dreamed of when you're younger? 
Christina: Absolutely not. I wanted to be on the red carpet of an Oscar, or I wanted to be an entertainment reporter. If I had one dream job, I wanted to be a reporter for E!. But you know what? Dream job or not, this is the dream. I get to create my own programs and curriculum and my own brand. And I get to work with amazing people. I've had incredible opportunities in the past several years, being able to have a TED talk. I mean, in the middle of a global pandemic. And being able to win an award and just being able to work with different organizations throughout the country. So even though I wanted to be a reporter, nothing can compare to where I'm at right now. And I know for a fact that this is only the beginning. There's so much more ahead. But definitely, when I was a little kid, I wanted to work for E!, that's it. 
Marisol: Do you think that Latinx representation in big social media platforms will continue to grow and improve in the coming years? 
Christina: I really hope so. And I feel like we need it now more than ever, which is kind of why we, myself and my best friend, started and co-founded our conference. We support black and brown businesses. Even as a Latinx business owner. I live in San Antonio, and sometimes I would go to events, and there would be no representation. I thought that was so weird. I thought, "Well, if they're not going to bring people to the table, then we're going to start our own table". So I really hope that you see more of that, because we're here. We're rowdy, get ready. 
Marisol: Actually, my next question is, I know you co-founded H&S and socialized conference in the community. Could you tell us a little bit about how that came about and what the main focus of it is? 
Christina: Sure. When I had first started Social Butterfly Gal, one of the things that I wanted to accomplish in five years – my five-year – plan was I wanted to have a women's conference because I just really love women empowerment and being in those spaces and just feeding off of energy. And at that time, I didn't know if I wanted to have that under my brand, or do something else with it. My best friend, she's been my best friend for 20 years, we met in the fifth grade, she was my maid of honor for my wedding. And while she was coming up here for my wedding, we started talking about a conference. To answer that last question about representation in our Latinx communities and how there was not a lot, there was no visibility. Being someone from the border, we don't have role models to help us navigate business or help us navigate different things. So we just started talking and one thing led to another and I was nominated for an award. In my interview, there was this woman there and in order to try to win the award, I said, "Oh, I'm launching a conference". At that time, there was nothing. I just thought, "I'm gonna say this because I really want to win this award". And one of the women that was in the room immediately after that interview, one hour later, she emailed me saying, "I really want to know more about your conference" and I just thought, "Well, I guess we're doing it because there's no other option". And so Hustle & Socialize started forming. We launched in 2018. We're a Women's Entrepreneurship conference here. We're based in San Antonio, Texas. But of course, due to the pandemic, we are now virtual and in person, hopefully getting back to in-person next year. We are a space for black and brown businesses, we do everything from personal development to business development, we help women just understand bits and pieces of their business, and we bring in amazing leaders. What we really want is for women and businesses to excel, we want to see those collaborations, we want to see those earnings and the revenue and just really help other businesses gain that visibility. We're in our fourth year, and we're actually in conference mode right now, our fourth annual conference is next month in June. It's definitely a labor of love. And we're very excited, we've grown so much in the past three and a half years. So it's just so exciting to see the impact that Hustle & Socialize has had in such a short amount of time.
Marisol: What would you say are the core components of your business strategy?
Christina: For Social Butterfly Gal, I run on these values of being authentic, and diversity, equity and inclusion, and just having integrity and community. I really, truly believe that you need community and you need to have these relationships. Community changes everything, because you can't do it alone. And I feel that in business, I've really learned that it is a community effort. One person can refer you to your next big client. So I really value that as well, just meeting people and building that piece of community.
Marisol: What was the best part about being able to give a TED talk?
Christina: There are so many amazing parts to it. When I went to the stage, that was my first time around people since the pandemic, so I think that was a cool part. But in all honesty, I had been dreaming about a TED talk. I've watched so many TED Talks at the start of my business, I never thought that I would be as a TEDx speaker in the same company as some of my biggest role models in life and in business. And I think it's so powerful to be up on that stage, to have the lights dim, to see the TEDx thing in the back, and being able to share an idea to not only your local community, but to the world because it's on YouTube, so anyone can go on YouTube and find it. It was such a beautiful moment too for Latinx representation. I'm always gonna have my gratitude to the people who nominated me. For that, and just being able to be on that stage and to share with the whole world my passion for social media.
Marisol: What motivates you to keep working hard every day?
Christina: I think future generations. My husband and I don't have kids right now. But I do think about, if I get really lucky to have a child, or even just my cousins who are younger, or friends that I know who have children, or just people that I know that are younger, I think about all the different hardships that so many other generations have gone through before us. And where we're at right now, in this moment, how much we still have to go for women. I think that truly inspires me to keep going. Because the work that I'm doing right now, it's for me, but it's not for me. I'm helping knock down those doors, the ceiling, it's for all those other people that are gonna come after me. Entrepreneurship is hard, especially now in the pandemic. There have been times where I think, "Is this what I was supposed to do? Am I meant for this? What if I just quit?" You just have all these questions because it is so uncertain. And in entrepreneurship, you have to be comfortable with being uncomfortable. And I need plans. I need to know what's going on. I'm a strategist at heart. So give me a problem and I'm going to try to solve it. And when you don't really know what's going to happen next, that freaks me out. But I think it's moments like that where I think about someone who maybe wants to start their own business one day, and maybe someone who wants to get the courage to speak out on a specific issue, and they're so scared to do it. It's things like that that really keep me going. 
Marisol: That makes sense. What would you say is your favorite part about your day to day job?
Christina: Meeting people. Being able to connect with so many amazing business owners or just people in general. I love networking, and I love talking to people and meeting people. And I love events, but I think it's just so fun to meet people and what they're doing in life and get inspired by them. And I think also just creating videos and creating content. It's so fun. But the people that I've had the opportunity to work with, that's always the fun part. 
Marisol: On a lighter note, what three items would you want with you if you were on a deserted island? 
Christina: Cats. Lots of cats, could be my cat, but just cats in general. Coffee. Can't live without my coffee. I am gonna say my husband. Sure. But if it's an item, coffee, cats, and my phone, even though I don't know how that would work.
Marisol: But you need some form of…
Christina: Some form of entertainment. Coffee and cats are like the top two, of course. 
Marisol: That actually was my last question, but I'm gonna cheat and ask you one more. Who's your favorite Grey's Anatomy character?
Christina: Oh, my goodness. That's hard. Cristina Yang, by far, I would say she is definitely my favorite. I don't have a tattoo. I'm scared of needles and tattoos. But if I ever got the courage to get a tattoo, I would get her quote, "Have some fire, be unstoppable, be a force of nature", she said in season four. If I were to get a tattoo, I would do that. Yes, Christina as a character, but, oh my god, Meredith and Derek. Their love. I stopped watching after he died. But then I heard and saw that he was back. So I was tuning in, and I was thinking, "Oh my god, these two characters still have it after all these years, even if he's in the beach, or whatever he's in right now". 
Marisol: Well, thank you so much. Those were all the questions I had for you today. So thank you so much for taking the time to come on here and talk to us.
Christina: Thank you so much for having me!
If you're interested in pursuing a media career, make sure to visit us at latinitasmagazine.org for more information. Thank you guys so much for tuning into this episode of 20 Questions With. We'll see you next time.
Want to read more stories like this? Please give us your feedback here!
Latinitas Magazine is a department within Latinitas, a registered nonprofit. Readers like you fund us, so please consider donating today. Thank you!