The word Brujeria or witchcraft may spark disbelief or fear in others. It has gained a negative connotation throughout history, some may argue for good reason. Or if you have been watching Latinx shows, such as "Siempre Bruja," you might have seen Brujeria through the window of magical realism. Yet, there is one bruja who is changing the narrative. 
Certified coach and clinical hypnotist, Vanessa Codorniu, also known as "The Biz Bruja," is an office worker turned full-time bruja. She's a shamanic practitioner, circle ceremony guide, clinical master hypnotist, integrative wellness and health coach, a consultant and trainer for Akashic Records, and a teacher in various forms of Reiki. She's also the Founder of the School of the Healing Artes, which provides a variety of courses in gaining Reiki Usui and HR Clinical Hypnotist certifications. 
Reiki is a form of alternative therapy, which developed during the 1800s in Japan. Based in universal energy healing, the practitioner hovers their palms over the patient to remove negative or stagnant energy in the body.
Throughout Codorniu's practice in clinical hypnosis, she is often hired at hospitals to help patients release fear and anxiety before going into surgery. 
"When they go in, they are calm. They even heal faster," Codorniu said. "Because remember, stress is what also creates illness." 
Many of us may have already experienced being in a hypnotic state without even knowing, according to Codorniu. 
"In a hypnotic state, your brain waves slow down," she said. "When you listen to a song you really love, and your phase-out, and you're imagining some story or daydreaming, that's a hypnotic state."
Growing up in an Argentinian household in Queens, New York, spiritual practices surrounded Codorniu's daily life. 
"I was really blessed to be born in a South American family," Codorniu said. "That well, Catholic-based still had a lot of traditional practices, such as limpias (spiritual cleansing and healing rituals), the honoring of spirituality, espiritismo (spiritism), and the honoring of ancestors."
According to Britannica, Latin America has had a collision of cultures and beliefs that have led to religions such as Santeria, an Afro-Cuban belief system that incorporates catholic beliefs with Yoruba beliefs. This religion developed in the 19th century, and has widely spread throughout the Americas, and holds traditions that many Latinos know of today. 
At her family's home, spaces on the wall were made to place photographs of family relatives, of religious figures, such as Ave Maria (Holy Mary), and candles to light and gather around to tell stories. Now living in her own space, Codorniu keeps an altar in her home where she displays photographs of past relatives and significant objects that represent them in some way. By keeping her ancestors present in her life, and continuing a daily spiritual routine she has the ability to communicate messages.
"The wisdom that came through for me was about trusting my inner self, trusting my intuition, that we receive information from dreams, that it was important to understand where we come from, to honor that, and to know that we're never alone," Codorniu said.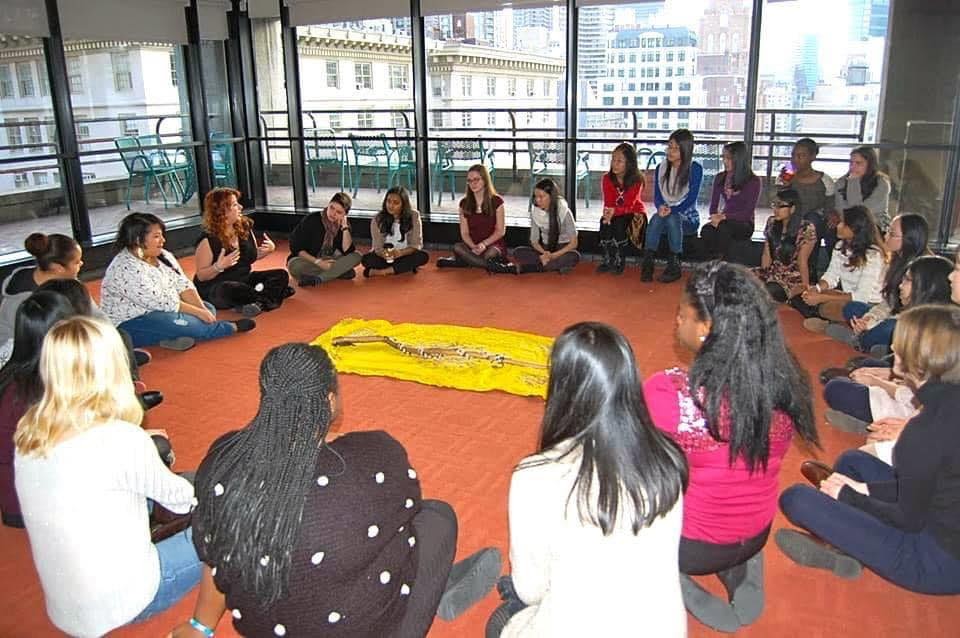 When Codorniu was faced with challenges during her time in college she turned to her family for advice and guidance. She was around 19-years-old when she attended NYU Tisch School of the Arts where she later graduated from Hunter College with a degree in Media Studies & Latin American and Caribbean studies. Along with facing the struggles from having a heavy Spanish accent and receiving criticism, she was also having difficulties in math. 
"I remember being so scared of math and thinking, I can't do it. But then I was like, "Wait a minute." "My grandfather used to talk about hypnosis," Codorniu said. 
Later that day, she went to the library and created a cassette, where she would listen to it for 30 days, and practice deep breathing exercises to achieve an inner focus, to release fear. 
"I then went from a C- to an A-," she said. "This worked for me. I thought to myself, "When I grow up, I want to study this." That's how I became a clinical hypnotist and have been doing it for 22 years."
In 2012, Codorniu decided to leave the corporate world when she was laid off the day before a major surgery. On December 21, 2012, Codorniu was in a car accident; after the incident, Codorniu deeply felt her desire to listen to her calling.
"I literally sat there, and I was like, "My life is going to end like this. I didn't go full-time with The Biz Bruja. I didn't talk about the things that I really cared about the way I could have," she said. "I deeply heard my intuition, 'Do what you need to do, what you're supposed to do. Be all that you're supposed to be.'"
While listening to her intuition and working towards her goals she was faced with the death of her loved ones. Throughout the pandemic, Codorniu's father, mother, and brother passed away. Despite the recent loss of her loved ones, Codorniu continued her business and worked regularly. 
"Some people said to me, ''How is it that you're working?' And I said, 'My people [family and ancestors] want me to step out and help the next generation heal, to not stop because I've finally got the chance to help others move on from traumas and generational curses,'" said Codorniu. 
Codorniu continues to show Latinx healing methods to her community and beyond where she offers services in Ancestral Hypnosis Healing, Akashic Records Readings, Coaching for establishing an Online Business, Teen Leadership Training, and Astrology for Business, through her website. She is currently offering a 'pay what you can' service in both English and Spanish. 
Featured image courtesy of Codorniu. 
Want to read more stories like this? Please give us your feedback here!
Latinitas Magazine is a department within Latinitas, a registered nonprofit. Readers like you fund us, so please consider donating today. Thank you!