By Anna Martinez
"Never put limits on yourself no matter where you come from, don't let it define you and always chase your dreams," says Roseangel Conde, a 19-year-old Peruvian-Ecuadorian up-and-coming singer.
Conde was recently featured on Spotify's Dreamy playlist, a goal that she had at the start of the year. Her music was receiving a lot of attention but she wanted a challenge. 
After receiving this recognition the artist said that she was inspired to write and produce an entire album with Spanish and English songs.
The featured song Estrellas, one of Conde's first Spanglish songs, was inspired by Conde's Peruvian grandmother. 
"[My] grandmother couldn't really understand the themes of my music because she is a Spanish speaker," Conde says. 
She advised Conde to make a song about coming to terms with herself and overcoming a breakup in a language she could understand. 
Conde is grateful to her parents for teaching her Spanish at such a young age. The artist used the Spanish language to inform her lyrics and they have resonated beyond herself to other Latinas who listen to her music.
"[I hope that my music helps] people embrace their uniqueness and embrace where they come from and most importantly to embrace their roots," she says. 
Conde began her musical journey at the age of 3. It started off as a family activity where she would often perform karaoke shows. 
When Conde started making music in high school, songwriting and producing came along with that.
She taught herself about production and learned the parts that went into creating a song before eventually "reeling" songs on streaming platforms such as Spotify and Apple Music. 
This is also when Conde started experiencing one of her biggest obstacles: the lack of female representation in the production industry. Conde participates in music production classes and bootcamps which are predominantly filled with men.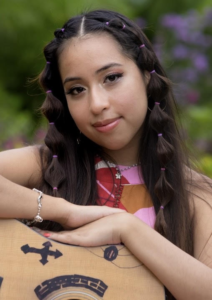 "I would get put down a lot and I would leave the classes feeling dumb or excluded," says Conde.
Because of this, Conde likes to show through social media that she takes a hands-on approach to the production of her music and has knowledge of the equipment she uses.
Conde also uses her social media platforms to advocate for female rights. She believes that all women deserve the right to have control over their own bodies. She is also an advocate for immigrant rights because she saw the struggles that her immigrant parents dealt with. 
Conde attempts to always be authentic on social media. She appreciates that platforms like Instagram and TikTok are now advocating for more authenticity and was grateful to be highlighted in the top Latinx creators by TikTok. 
"I hope that my music opens doors for other Latina women that want to create their own music and songwrite and produce in a male dominated industry," says Conde.
As a first-generation Latina artist, she understands that this is hard to do. She especially relates to the pressure that comes with being first-generation, as Latinas often question whether they are worthy of titles such as musician. 
In five years, Conde hopes to release two more extended play records and to collaborate with more Latinx artists. "Soon, we're going to be taking over the industry," she says.
Her new single Love You Por Siempre will be released on April 20. You can follow Conde on Instagram, TikTok and Spotify.