By Raven N. Garza
AUSTIN, Tx.—You can't have a Zoom call without a few technical difficulties, right? Stephanie Urbina Jones and Patricia Vonne texted the meeting link to their bandmate, Tish Hinojosa, who had trouble connecting from the West Coast. It was a Monday afternoon, and Latinitas Magazine hopped on a call with The Texicana Mamas along with Graham Weber from House of Songs, a nonprofit that hosted writing sessions for the San Antonio native band while making their self-titled debut album.

The record, released Aug. 21, was in the works since their first performance two years ago at the Bluebird Cafe in Nashville, Tenn. and can be listened to on Spotify or other streaming platforms.  A huge piece of their mission is to show Latinas it's possible for them to become musicians despite the barriers. 
"Nobody intended for anything to happen when we played that night, we just came together," Jones said, referring to their first performance as a band. "The magic kept happening. We kept pulling that thread and following it." 

That magic appears in spades with songs like "Esperanza," which uses country beats played alongside captivating Mexican guitar rhythms. It paints a tale about a mother and daughter crossing the Rio Grande River, highlighting the resiliency of Latinx culture and the hopeful visions that guide many of our families.

If the Zoom setting wasn't enough of a COVID-19 reminder, the pandemic also shifted the band's original debut plans, but they found alternative ways to spread their message including socially distanced music videos filmed on their iPhones.

Together, they've been directing and editing while learning the ropes along the way —including some help from YouTube tutorials. Depending on how many people participate in a video, and the effects they want to achieve such as recreating a Zoom call, it typically takes about nine to 12 hours to complete one video.
"We're going by the seat of our pants, but it's really teaching us how to transition," Vonne said.

What the Mamas aim to convey with their DIY music videos is a celebration of family, friendship and culture —which have the power to connect people even during an isolating pandemic. They want their fans to enjoy the simple things in life, whether it be preparing a meal with loved ones as shown in "Cocina de Amor," or virtually spending time with your girlfriends like in "Amigas de Corazón."

Weber, Program Director at House of Songs, told Latinitas Magazine about COVID-19's effect on the organization's operations. The nonprofit, supported by the Walton Family Foundation, provides a collaborative space for artists across the world to exchange ideas, create music and bridge cultures.

With in-person sessions being out of the question, all meetings now happen virtually. 
"I had to do it myself to figure out that this isn't that scary," Weber said. "You can still get to the same bones of what you're trying to do."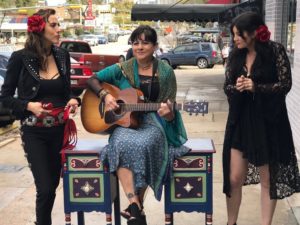 The Mamas tell emotional stories that express their bi-cultural experiences while instilling a strong sense of self and fervent pride in their heritage.

The group said it was important for them to talk about immigration and border issues, because the Latinx community needs more voices. Jones grew up around folk and storytelling, but she never heard many Latina stars or Latinx voices in American music. 
"I started writing these hybrid songs about my culture," she explained. "Then 20 years later I got an amazing break where I played with Vince Gill and The Time Jumpers and created this —you know, my brand is honky tonk mariachi. As my grandmother would say 'country con chili peppers.'"

After hearing Linda Ronstadt on the radio as a child, Hinojosa immediately got inspired to sing and play guitar, eventually tapping into songwriting in her early 20s. Rondstadt is a highly influential musician with a unique voice who performed across many genres including rock and roll, country and Latin.
"I saw people sitting around writing songs, I thought, 'it doesn't look that hard,'" she recalled, chuckling at the memory. "I started trying it myself and actually got one or two songs published, and the important thing was what it triggered off for me —the desire to write about my culture."
Her stories —about home, family and her parents' struggle to raise 13 kids together —are what put her on the map. Though, amid her successes, there also came discrimination. She remembered recording a special duet in the '80s when a studio employee made a joke about saying "dig me a posthole" in Spanish, alluding to Latinx landscape workers.

The comment reminded her of how essential it was to sing about Mexican characters. "It was an important wake up call to me, and in the long run it's been like my asset," Hinojosa concluded. 
Vonne chimed in about an experience she had in New York City, seemingly taken back to her own journey's road bumps after listening to Hinojosa. "I was in a room with someone really big, they were just feeling me out," she explained. "They said 'Well we really like you but we think you need a whole new band, new songs, and we want to hook you up with songwriters in Nashville.' I was thinking, who am I going to become if they take over? That sit down taught me that I don't care if it's a major label, I want to achieve what my vision is —my music, and co-write with the people that I want."
Instead of adhering to their vision, she sought her own opportunities, identity intact. Vonne was glad it happened, because it solidified her resistance as a Latina from San Antonio.

Although there have been obstacles, the band has made quite an impact together in just two years. They've performed all over Texas, including Latinapalooza at South by Southwest and in popular music hubs like Nashville, New York and Washington. What's more, their debut album features Grammy Award winning Flaco Jimenez and Max Baca of Los Texmaniacs, both of whom have shared the stage with them in the past.

The Texicana Mamas' tunes have crossed many borders and reached fans on a global scale including countries like Italy, Germany, the United Kingdom and Spain.
"The first music video we did was the Kitchen of Love where we asked people from our fan base in eight different countries to submit," Vonne shared. They filmed themselves in their kitchens with their families."

The Mamas want Latina fans to know they've been in their shoes. Hinojosa explained, "I think it's really important for young Latinas to know that we struggled, it wasn't that easy, but we've made it and they can too."

For Latinxers considering songwriting, Jones suggested writing from the heart. 
"Your word, your truth —not for anybody else but because you love it. You can always come back to that song that you love, the experience of writing, the creation of it, and that's what's contagious," she said. "Use all of what's happening in the country, in your heart, in your family, your fears, your excitement, your passion. Put it into the menudo of your heart and write it."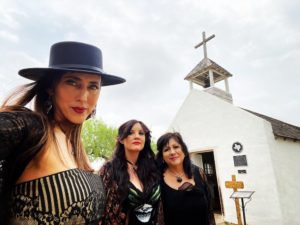 Despite the world's uncertainty, the Mamas have plans underway. In 2021, they're hoping to start playing in festivals and theaters around the world. The goal? "To tell our stories, share our culture, spread the beauty of our heritage and hopefully inspire other Latinas and Latinos," Jones asserted.

Rain started falling on Hinojosa's screen, which prompted her to say goodbye and send virtual love to her bandmates. Vonne left parting words of advice to Latinas exploring the music industry.

"Don't compare and despair," she warned. "Don't say 'oh, they have more going on than I do.' Think about how you can make your road of success." 
I think I personally needed to be reminded of that as well. Be sure to check out the new album by The Texicana Mamas to hear their passionate tales of love, hope, sisterhood and Mexican-American culture.
About the writer:
Raven Garza is a graduate of the University of Texas at Austin with a bachelor's in English Literature and is now the Content Marketing Manager at Popspots. She has a background in the entertainment industry, tech startups, and art history. Garza is fond of covering live music, Latinx life and culture, and LGBTQ+ topics. Her works have been published in Austin Startups, Do512, Front Row Center, and Latinitas Magazine. To de-stress, she enjoys crowd surfing at punk shows around town.
Want to read more stories like this? Give us your feedback, here!
Latinitas Magazine is a project of Latinitas, a registered nonprofit. We are funded by readers like you, so please consider donating today. Thank you!