By Dana Garibaldi
MCALLEN, TX. — As a theater student and enthusiast, I know my fair share of Broadway musicals, which I hold near and dear to my heart. One of my personal favorites is "In The Heights" — a four-time Tony Award-winning musical that tells the story of a vibrant and predominantly Latino community in New York's Washington Heights neighborhood. "In the Heights" was first introduced to Broadway in 2008. Later that year, the musical was nominated for a whopping thirteen Tony Awards, taking home Best Musical, Best Original Score, Best Choreography, and Best Orchestrations. 
The show introduces us to multiple characters, including the protagonist Usnavi, as they each work towards their hopes and dreams of the future. With its energetic musical numbers and renowned creator Lin Manuel Miranda, "In The Heights" is a beautiful and powerfully impactful show about community and the place we call home. While I'm not usually excited for Broadway-to-screen adaptations (given my ongoing trauma after seeing the 2019 "Cats" movie), I believe there's good reason to be excited for this upcoming film, set to be released in theatres and on HBO Max on June 18, 2021. 
Here are 5 reasons why you should be excited too!
The Production Dream Team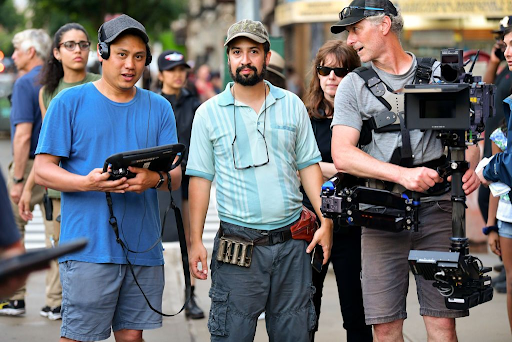 In addition to writing and producing the Broadway adaptation, Miranda once played Usnavi in the original Broadway production of "In The Heights." Now, Miranda is co-producing the movie adaptation! Other prominent figures on the production team for "In The Heights" include Director Jon M. Chu and Production Designer Nelson Coates, who both worked on the 2018 film "Crazy Rich Asians," an equally vibrant movie that received raving reviews from critics and audience members alike. 
The Cast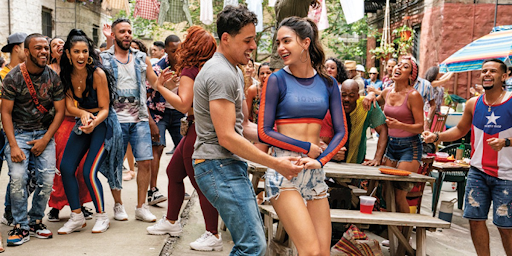 Another reason to get ready for "In The Heights" is the fantastic cast involved in this film! Anthony Ramos, who played John Laurens and Philip Hamilton in the 2015 musical "Hamilton," is set to play Usnavi. Christopher Jackson, who played Benny in the original Broadway production of "In The Heights" and George Washington in "Hamilton," is set to play Mr. Softee. 
In addition to this, singer Leslie Grace will play Nina, telenovela actress Melissa Barrera will play Vanessa, and Olga Merediz will once again play Abuela Claudia after playing the role in the original Broadway production. Some other actors who will star in the film include Stephanie Beatriz from NBC's "Brooklyn Nine-Nine" and Dascha Polanco from "Orange Is The New Black." Miranda is also set to have his own cameo as Piragua Guy.
The Visuals
As seen in the official trailer, "In The Heights" will feature some seriously stunning visuals. We see a colorful synchronized dance number taking place in a pool, a mysteriously dimmed nighttime as residents dance by street poles, bold and vibrant lights as people dance salsa together, and even a gravity-defying couple's dance on the side of a building!
The Music and Choreography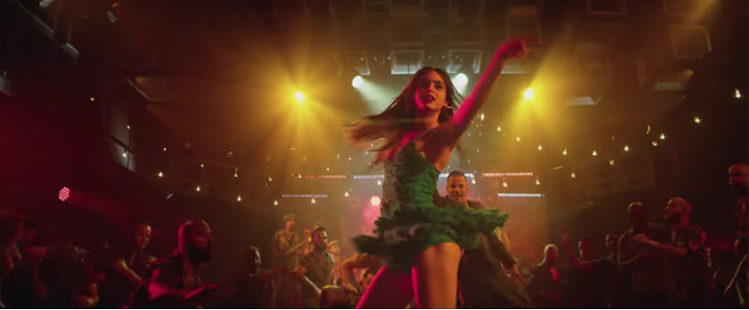 All of the music from the original Broadway show will be included in the new movie adaptation, a pleasant detail for many theatre fans. If you're already a fan of "In The Heights," you'll be able to sing along as you watch this musical undergo a brand new medium that gives it an entirely new look. But if that wasn't exciting enough, the choreographer for this musical adaptation is Christopher Scott, who choreographed several of the well-coordinated and stylish "Step Up" movies, as well as my childhood favorite, the 2013 Disney Channel Film "Teen Beach Movie." 
The Latino Representation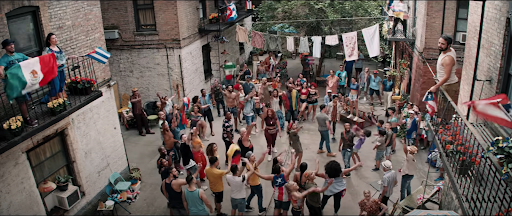 Perhaps the most important (and most exciting) thing about this movie is its' light on Latino diversity and representation in film. According to the University of Southern California Annenberg Inclusion Initiative, Latinos were the only major racial and ethnic group underrepresented in on-screen speaking roles as of 2019. Luckily, this film gives Latinos a chance to identify themselves with characters who put their emotions out for the world to see and follow their dreams in the process. In one particular scene featured in the trailer, we see a glimpse of all sorts of Latino flags flying in the streets —from the Dominican Republic to Mexico to Argentina— as people unite to dance and sing together in the streets. "In The Heights" puts Latino pride and unity on display, a heartwarming and significant message crucial for these divided and difficult times. 
About the writer:
Dana Garibaldi is a teen writer pursuing the International Baccalaureate program at Lamar Academy. She currently writes for Latinitas Magazine and Choose Change, and is passionate about female empowerment, closing the STEM gender gap, and current social issues. Whenever she's not writing, she's hosting Fun Times with Dana and Heidi (her positive news podcast) or hanging out with her cat, Thor.
Featured image courtesy of NPR
Want to read more stories like this? Please give us your feedback here!
Latinitas Magazine is a department within Latinitas, a registered nonprofit. Readers like you fund us, so please consider donating today. Thank you!