By Jackie Ibarra
SAN ANTONIO, Texas — The air feels different in this small shop in downtown San Antonio. 
Right outside, in the midst of busy streets and coffee shops, the typical Texas sun blares down, the humidity clings to skin and the air feels thick. But, step inside and the world changes. 
At the Plant Shoppe, visitors can be transported to an indoor jungle full of different species of plants. From the walls of plants on the shelves to the waves of plants on the floor, plants and staff welcome all kinds of visitors. While there aren't any ferocious felines roaming this jungle, people could run into one very sweet shop cat named Charlie.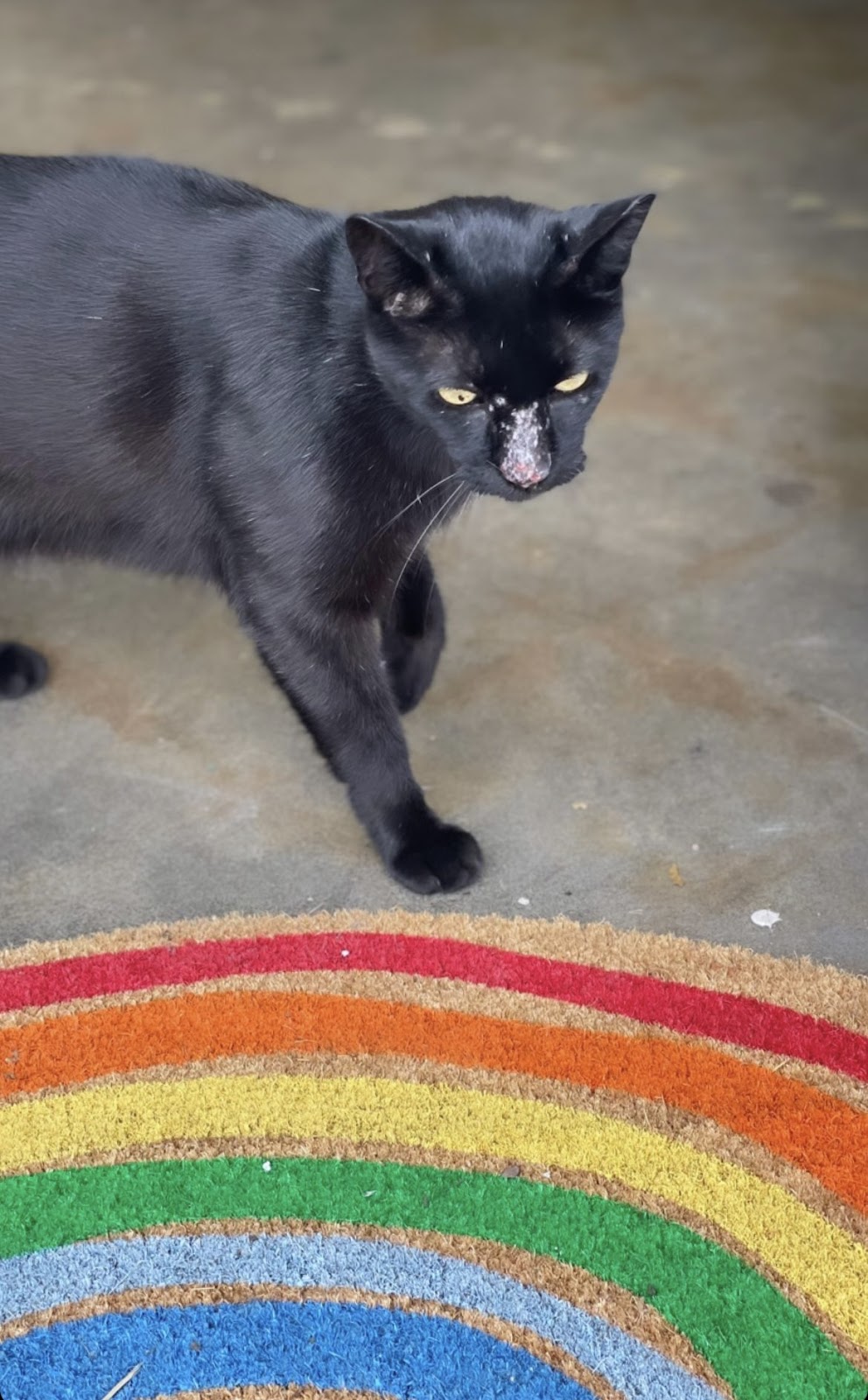 Before this indoor jungle settled in its permanent location on St. Mary's Street, it was a pop-up shop making appearances at local farmer's markets and coffee shops. Sonam Aditya started the Plant Shoppe as a small pop-up with hopes of sharing the beauty and power of plants with San Antonians after not being able to find rare plants in the city. 
"I felt like San Antonio was a little bit behind in the plant craze because if I went to these other cities, like they were all into these plants, I could find those plants," Aditya said. "And here (San Antonio) we weren't there yet so I was like maybe this is my calling." 
However, when the pandemic forced people inside and places like farmer's markets to close, Aditya was determined to keep spreading the plant joy. So, she took matters — and plants — into her own hands and delivered plants to people. 
"When the pandemic hit, all of my customers were home, you know, it was super locked down where nobody was really going anywhere," Aditya said. "But a lot of people wanted the plants so I just kind of was like, 'Hey, what can I do to change up this process?' and that is when we started delivering plants."
Throughout the pandemic, Aditya was able to see how much plants were helping people navigate the pandemic blues and it was one of the reasons why Aditya decided to move to a permanent location.
"I understand the power of plants and what they can do to space and how they can cheer you up but I didn't realize how much people were depending on them," Aditya said. "Because we literally had weekly deliveries to almost the same people because these people were just enjoying watching these plants grow"
Although the shop has been open for about seven months now and is thriving with plants and people, the journey to get there hasn't always been easy, Aditya said. 
"It was very hard, you know, I'm not gonna paint a picture that it wasn't," Aditya said. "When you go into it, you can't just have good vibes, you really have to like the practical side of it."
For Aditya, plants were just a hobby. They were a newfound discovery and a way to help her take a break from her computer while working from home. They were by no means a business venture. While Aditya always had a life-long goal to open up in a business, she always thought it would be a tea shop —when she retired. 
"I always knew that I would open something one day, but I thought when I'd retire, you know, because it just doesn't seem realistic to open a shop randomly like, 'Oh, I'll just open a shop,'" Aditya said.  "So I was like, 'maybe when we're 60 I'll open a tea shop.' So it just happened much earlier and it's not tea."
So when she decided to leave the comfort and security of her job in the tech world and open up the Plant Shoppe way before she retired, she was terrified. 
"It was a big risk, you know, anytime somebody opens a business is a huge risk because you don't know what's going to happen when you have a very secure job that you had a career for over a decade," Aditya said. 
As a new business owner, Aditya said there was a lot that she had to be OK with. For example, there's not always a set pay, there's a lot of unknowns, and nothing is guaranteed. However, Aditya said the hardest part was being OK with failure. 
"I think the hardest thing for me was getting into the mindset of just taking a risk, and giving it my all, and being okay with failure," Aditya said.  "As long as you convince yourself that it's okay to fail, I think you're able to make a bigger leap." 
However, once she did commit to the idea of her own business, actually getting the dream off the ground provided its own set of obstacles.
When Aditya was on the search for a place for her plants to permanently call home, she ran into some doubt from renters. 
"So it was interesting whenever I tried to rent a building because I would go in and I would ask about a building and people would look at me, and they would always assume I was not the owner," she said.
While Aditya said she doesn't know if the speculation was caused because she was a woman of color, she said she would run into the same assumptions. 
"They always assume that I was somebody's assistant and I was helping them do it. And then when it finally came down to it, where they knew that, OK, I'm the owner, like, I'm not trying to build and they were very skeptical about, 'Oh, is this business gonna do well?' 'Do you have the money for it?'" Aditya said. "So it was very interesting that they did not believe in me, but I feel like if I looked a certain way they wouldn't question it."
View this post on Instagram
GIVING BACK TO THE COMMUNITY 
When Aditya started the Plant Shoppe, she had to have faith in her dream and herself but, mostly, Aditya said she had to have a lot of faith in the San Antonio community to have her back.
"I think that was the hardest thing for me was just being OK with failure," she said. "And then believing in our community for showing up, you know, all these amazing people who are plant people, they have such good hearts. And I feel like they're really interested in helping and supporting local. So it's not just a slogan that they get to wear on a T-shirt. I feel like they really show up"
The beauty of San Antonio is that they really do show up and show out for small businesses. 
When a local plant shop on the South Side of San Antonio was on the brink of shutting down, San Antonioans showed up and helped. It's a reason why Aditya has loved being in San Antonio. 
Although there have been some struggles since opening up her shop during the pandemic, Aditya does what she can to help give back to the community that's helped her. 
For the most part, it's through helping people find the perfect plant for them and by educating people on how to get their plants to thrive. 
"The other thing with us, thankfully, because we're not sales-oriented, we're really nature-oriented, like we want to help you find something that's going to work for you," Aditya said.
Aditya doesn't care much for hard-core numbers and never tells her staff to hit any daily quotas. Helping her community find a plant they'll love is all the reward she needs. 
"So you become a plant person, whether you buy plants from us or another nursery, that's fine," she said. "My hope is that if I get to convert you into somebody who gets to have plants in your space, like, we've won."
Other times, it's through helping other small businesses by curating their products in her store. 
While it may be called the Plant Shoppe for a reason, they offer more than just plants and good vibes. Visitors can also buy lifestyle products such as candles, incense, pins, prints and more products from local artists and small businesses.  
"I really do want to fight for equality as much as I can in my very, very small way," she said.
When Aditya started curating products, she wanted to look for beautiful and diverse products.  Although she didn't set out for products to be made by women, 95% of their curated products are made by women.
"If I get to help women, whether they're single moms or just kind of trying to feel confident about that, 'Hey, I can support myself, you know, with the things I love,' which is kind of what I'm doing," Aditya said. "I really wanted to nurture that, right so every woman or every being who supports themselves with their love or their passion"  
Another way Aditya gives back is by showing her support for social justice movements such as the Black Lives Matter movement or backing the LGBTQIA community. 
With a "y'all means all" decal on the front window of the store, a pride flag hanging inside and a BLM Instagram story sharing Black-owned businesses and support, the Plant Shoppe is no stranger to showing its support for human rights. Aditya said it's important that the shop shows its support for everyone. 
"For me, it's not that it's a plant shop, and we're including it. To me, we're a small business fed and grown literally by our communities. So we want to nurture our community, and we want everybody to feel welcome," Aditya said. "Because nature, if you go into a forest, the plants don't discriminate, right? The ocean doesn't discriminate. The birds don't discriminate. So we don't want to do that."
However, their support goes beyond stickers and highlights. Over the months, the Plant Shoppe donated money to various charities such as the Thrive Youth Center San Antonio, Black Visions Collective, Black Outside, Inc, and the San Antonio Area African American Community Fund. 
Sometimes she gives back by simply telling her story in the hopes that it might inspire someone to turn their passion or hobby into something bigger. 
"I feel like people should take the lead, sooner than later. That's what I want people to know. It's better to take in now and see what happens. We're on an adventure, and we need to treat it more like that than this really scary, hard-to-do thing because we have been taught responsibility and all this stuff," Aditya said. "But it's when you get to do what you really like, that's when you get to make something that you love, and other people can feel that."  
View this post on Instagram
THE FUTURE 
Aditya doesn't entirely know what the future holds for her or the shop. 
Right now, she hopes to host more workshop classes on basic plant care.
But, what she does know is that the beauty and power of plants are worth sharing, no matter the hardships. For Aditya, it's all about spreading plant love and peace to whoever walks through the door. 
"Plants are alive and they're beautiful," she said. They come in all sorts of varieties, just like humans do and we just have so much in common, and I think living with them is one of the most beautiful symbiotic relationships we can have. I think we should all try it."
About the writer: 
Jackie Ibarra is currently pursuing a bachelor's degree in Journalism at the University of Texas at Austin. Currently, she's a volunteer writer with Latinitas Magazine. She has experience with social media, videography, and audio journalism. Ibarra loves telling audio stories and writing about her Latinix roots, social issues, and current events. Her works have been published in Latinitas Magazine and her stories can be heard on the Daily Texan's Spotify account. Ibarra loves to grow with whatever work she does! When she's not working or writing, she's either exploring Austin or keeping up with martial arts.
Featured Image courtesy of Plant Shopee. 
Want to read more stories like this? Please give us your feedback here!
Latinitas Magazine is a department within Latinitas, a registered nonprofit. Readers like you fund us, so please consider donating today. Thank you!