AUSTIN, Tx. — Andria Rose, a 21-year-old Latinx velvet pop singer, has graced the stage with trending artists such as The Marias, Jasper Bones and Kali Uchis —to name a few. Although COVID-19 has put a halt to in-person shows, the pandemic has not stopped Rose from connecting with her fans through her jazzy, psychedelic vocals. 
The San Antonio, Texas singer recently dropped two new tunes: "Get Away" and "Para Siempre." The former was released on Aug. 27 and the latter will be dropped on Sept. 4. 
Rose sat down with Latinitas Magazine and shared her inspiration behind the new, soothing tracks. With the pandemic lingering into the later part of 2020, Rose wrote "Get Away" based on having an overwhelming sense of cabin fever.
"(The song is about) the free and open space of what I use to feel," Rose said. "I turned the song into an ode to myself where I'm talking to myself and battling insecurities in my subconscious." 
The singer shared that although "Get Away" holds a specific meaning to her, the song can have alternative meanings.  
"That's what's cool about music and lyricism, it may mean one thing to you, but to other people, it means something completely different," Rose said. "It could be seen as a song about a relationship and needing to get away and finding yourself again." 
Speaking of lyrics, Rose's latest single "Para Siempre" is the singer's first track released in Spanish. Fans can see the electric singer dabble in Spanish lyrics in her 2019 music video "Interlude," but Rose wanted to create a song that connected her to her Latinx roots.
"I've been listening to a lot of Bolero music," she said. "I love the way Eydie Gormé and Los Panchos' music or Bolero and Spanish music makes me feel. It makes me feel almost cinematic and it's just a wonderful feeling of ease." 
MAKING AN ARTIST
Before Rose was opening for Kali Uchis  —who Rose said was "so sweet"— at San Antonio's The Aztec Theatre, Rose was performing, starting at the age of 12, at local community events such as grand openings in Mission, Texas.
One local event had about 4,000 attendees, which was Rose's largest crowd to date. Such a large crowd may seem daunting for some, but the singer admits she never suffered from stage fright. 
"I kind of fell right at home, immediately, in front of people," she said. "It's interesting because I've always been an introvert, not shy per se, but I keep to myself and keep a small group of friends. But when I got on stage it was like a different person came out and it was really cool to have a balance."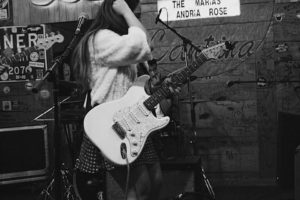 Growing up between Mission and Corpus Christi, Texas, Rose grew up listening to the Queen of Tejano music —Selena. With Selena Quintanilla hailing from Corpus Christi as well, Rose said she felt inspired by the late-singer and believes Quintanilla played a role in where she ended up today. 
"It was refreshing to know that (Selena) was from Corpus and that she became as huge as she did," Rose said. "So I started studying different videos of her. My mom got me these DVDs of documentaries and clips from (Selena's) shows and I would just stay in my room for hours and pretend I was putting on a concert —I loved it."
It's safe to say all those hours of practice helped shape Rose into the performer she is today —taking center stage, rocking a red shade of lipstick with a vintage inspired outfit. However, Rose admits her success did not come without family and friends doubting her abilities and dream. 
"I didn't let that faze me because it feels like I was born knowing what I wanted to do," she said. "I don't think anyone has the right to tell me what I'm able to do and what's plausible. I had to realize that early on."
By continuing to make music, Rose has reached fans across the world, through streaming platforms like Spotify, in countries such as Italy, Brazil, Thailand and Indonesia —proving her haters wrong. 
"People are going to doubt the process because they don't see the growth that is happening every day, even as miniscule as the growth may be, it's still growth," Rose explained. "I work hard enough and I can do anything."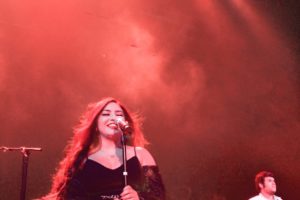 Although COVID-19 is making sure everyone remains six-feet apart, Rose is not letting social distancing get in the way of creating music. She said she looks forward to the day she and her bandmates can tour again and visit the countries her music has reached. 
"If I can provide a means of escape or means of introspection for someone it would be rewarding to me," she said. "I came from really nothing and to be able to have my music heard all over the world is amazing." 
For any other person whose dream is to be on stage, Rose said she wants up-and-coming artists to love themselves and to "stick to your guns."
"I've always been an avid daydreamer and dreamer and to accomplish that, I put myself out there," she said. "The worst thing people can say to you is 'no.' Even if they say 'no,' take it with a grain of salt and keep trying, because you can't let rejection define you for the rest of your journey."
Tune in to hear Andria Rose's new singles "Get Away" and "Para Siempre" on Apple Music, Spotify, and YouTube. 
About the writer:
Elisa Garcia is a graduate of the University of Texas at Austin with a bachelor's in journalism and is now the Magazine Editor of Latinitas Magazine. She has experience in social media, reporting and videography. Garcia enjoys covering pop culture trends, arts and life community events and feature profiles on women empowerment. Her works have been published in The Pan-American Newspaper, ORANGE Magazine, San Antonio Weddings and Latinitas Magazine. You can read her work at elisaruthgarcia.com and follower her on Instagram and Twitter @elisaruthgarcia. When she's not writing you can catch her with her cat, Opal.
Want to read more stories like this? Give us your feedback, here!
Latinitas Magazine is a project of Latinitas, a registered nonprofit. We are funded by readers like you, so please consider donating today. Thank you!