By Samantha Paradiso
AUSTIN, Tx. — Adam Rapaport and Stephen Gan and Anna Wintour, oh my! Magazine editor-in-chiefs seem to have edited out their diversity and inclusion a bit. 
Rolling off the backs of the Black Lives Matter movement, many Black and POC creatives such as Kevin Curry and Shelby Ivie Christie took to social media to express grievances with past collaborations and work experiences with many high-profile magazines, including V Magazine, Bon Appétit and Vogue which have been receiving flack from the media —and rightfully so. 
Recent efforts in inclusivity seen in modeling campaigns can be seen from companies like American Eagle's sub-owned brand Aerie, who launched "Aerie Real" in 2014, a body image campaign. The company released news that it was going to discontinue using supermodels and digitally retouching its models to encourage positive self-image and body positivity.
Inclusivity in the modeling world can also be seen by casting models like Winnie Harlow, who has a skin condition called vitiligo.   
Although the public has responded positively to both attempts of inclusivity, corporate brands should not be patting themselves on the backs just yet —in reality the fashion industry is leaps and bounds from where it should be.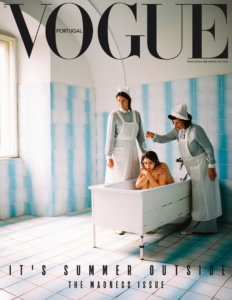 Vogue Portugal removed one of its four covers for July/August 2020 after receiving criticism for their insensitive and distasteful cover, named "The Madness Issue." The cover pictures a young woman, seemingly nude, being bathed by two nurses, emulating the aesthetics of an antiquated mental institution. Vogue Portugal Editor-in-Chief Sofia Lucas took to Instagram on July 3 to dive a bit further into the controversial cover. 
"One of the covers portrays a hospital scene where the model is being taken care of by her real life mother and grandmother," Lucas wrote in her Instagram caption. "Our intention is to open up the topic of mental health, and bring to the discussion the institutions, the science and the people that are involved with mental health today." 
Prior to Lucas explaining the cover on July 2, Vogue Portugal's official Instagram post showcasing the cover simply captioned, "It's about love. It's about life. It's about us. It's about you. It's about now. It's about health. It's about mental health. #themadnessissue It's about time." 
However, readers disagreed with Lucas and the publication all together. Many took issue with the title, "The Madness Issue," and how it stigmatizes and aestheticizes mental illnesses. In recent years, individuals have shed light to ableist language that's used in everyday speech: crazy, insane, lunatic and bipolar. Among these examples is madness, a term which plays upon the idea of insanity and hysteria, commonly known as the woman's disease, a catch-all term that basically implies a woman's problem is 'all in her head.'
Readers also pointed out the fact that the chosen cover was in poor taste, despite its sentimental familial factors. A naked woman bathed by two nurses in vintage uniforms, the picture is reminiscent of women's reality present not too long ago. Women in the 1800s had little agency over their lives, according to the University of Wisconsin husbands could admit their wives to mental institutions based on domestic troubles, heredity and even childbirth —further highlighting the constraints women experienced.
Although asylums feel far removed from today, the world depicted in Sylvia Plath's 1963 semi-autobiography "The Bell Jar," which follows the protagonist's descent into mental illness, proves otherwise. The novel is parallel with Plath's own experiences with what may have been clinical depression or bipolar II disorder, proving the concept of the woman's disease continuing well into the 20th century. 
Though unconfirmed, Portugal Vogue's word choice may be interpreted as a double meaning— a specific edition to the magazine but also a problem. "The Madness Issue;" it's a  title with only three words, it's mind-blowing how Vogue Portugal got it so so wrong. 
Although the  cover has been pulled from the magazine's collection, its lasting implications are still present. They have yet to change the issue's title. 
But Vogue Portugal isn't the only publication whose campaign has been under fire recently. On Friday, July 24, Italian fashion brand Marni sent out a promotional email —paired with an Instagram post— for their Summer 2020 campaign, and many took issue with their distasteful wording.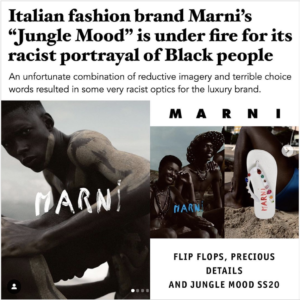 Black models were posed modeling the brand's flip flops with phrases like, "powerful and shining like a tribal amulet," "barefoot in the jungle," and "jungle mood." Fashion vigilante account Diet Prada states it best:
"It becomes a more layered conversation though, when you discover the photographer Edgar Azevedo is Afro-Brazilian. Meanwhile Giovanni Bianco, the art director, is Brazilian-Italian. Was something lost in translation? More context provided by the brand to explain the vision and collaboration with the photographer could have helped in this situation, but needless to say, the damage was done when the marketing team decided on those words.
These stereotypes are just some of the ways the institution of white supremacy has oppressed, dehumanized, and deprived Black people of their human rights. For yet another fashion brand to reflect these tropes further proves the work that needs to be done to dismantle the pervasive racism throughout the world."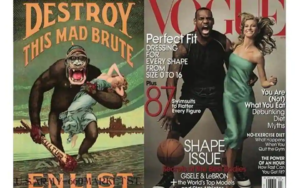 In 2008, U.S. Vogue announced its April cover would feature Lebron James and Gisele Bündchen, hailing the basketball player as the first Black man to be on their cover. However when the issue came out, many were infuriated by the photoshoot's racial undertones. Some said the cover resembles Fay Wray's King Kong, depicting James as, "beastly," "aggressive," and "dangerous." This isn't the first time the magazine's Editor-in-Chief Anna Wintour has been in the hot seat, hence her lukewarm apology amidst the 2020 Black Lives Matter movement for publishing images and stories that have been "intolerant" throughout her 30-year reign as editor. 
Vogue was not the only publication under the publishing giant Condé Nast to receive backlash this past June. Former Bon Appétit Editor-in-Chief Adam Rapaport stepped down after a resurfaced 2004 Halloween picture of him and his wife in brownface. Additionally, the food magazine received criticism for its unequal compensation of BIPOC editors, with Assistant Editor Sohla El-Waylly stepping forward and telling the New York Times, "only white editors are paid for their video appearances. None of the people of color have been compensated for their appearances."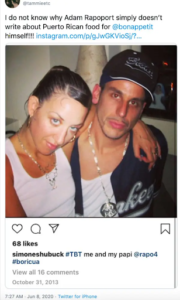 These controversies could easily be chalked up to out-of-touch-white-professionals in positions of power, but frankly, it's not that simple. In a cut-throat industry such as fashion that has committed itself to elitism and gatekeeping, discrimination and hostility in the work place is not exclusive to non-BIPOC individuals. 
Editor-in-Chief of V Magazine and VMAN, and Creative Director of Elle Magazine Stephen Gan has recently been ousted as racist, sexist, and homophobic by former staff, according the the New York Times. Although these were just allegations, Gan has racked up quite a few accusations from problematic Halloween costumes to racist comments. 
Films like the 2006 "The Devil Wears Prada" depict a seemingly extravagant picture of the fashion industry. But jokes and Harry Potter transcript hunting aside, it's clear the magazine world needs a real cleansing. 
Samantha Paradiso is currently a senior at the University of Texas at Austin, studying English and Sociology. She currently serves as a Managing Editor at music publication Afterglow, and has had work featured in SPARK Magazine and Orange Magazine.
Want to read more stories like this? Give us your feedback, here!
Latinitas Magazine is a project of Latinitas, a registered nonprofit. We are funded by readers like you, so please consider donating today. Thank you!