By Bailey Pownall
AUSTIN, Texas – Last week the annual South By Southwest festival (SXSW) was cancelled to prevent further Coronavirus outbreaks. For the first time in 34 years, South By Southwest will not take place. Growing up in Austin, SXSW was always the best way to spend spring break. For two weeks in the middle of March, it was Austin's time to shine on the global stage. SXSW is an integral part of Austin's robust, creative scene and has been the catalyst for other major annual events to find a home in Austin like the Formula One race and the Austin City Limits Music Festival. The festival, held annually since 1987, has grown with the city and helped Austin become the international hub it is today.
The City of Austin is bracing for the impact of the cancellation. City officials estimate the massive festival creates an economic impact of more than $350 million for Austin and brings over 400,000 visitors each year. To combat the fallout, the Austin Community Foundation has launched the Stand with Austin Fund for donations to support individuals and small businesses most negatively impacted by the cancellation of SXSW.
The cancellation is devastating for the entertainment and hospitality industry as many businesses make as much money during SXSW as they do in an entire quarter. So many people are being affected, festival attendees are not being refunded, and artists, businesses and workers are expecting to feel the impact of the cancellation both in terms of lost finances and opportunities.
"We are in the unimaginable position of reducing our workforce," said SXSW officials in a recent press release. "We said goodbye to approximately one-third of our full-time staff." The insurance plan covering the event does not include viral pandemics and the cancellation has put the future of SXSW at risk.
Even though SXSW is cancelled, many alternative events have popped up, leading to the trending topic #AltSXSW. To keep the spirit of SXSW alive, check out these five #AltSXSW events. 
1- 38th Annual Austin Music Awards
March 11, 2020 doors open at 5 p.m. at ACL Live at the Moody Theatre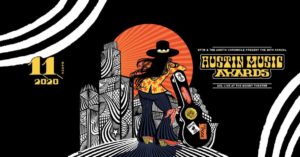 The Austin Chronicle presents the annual Austin Music Awards Ceremony, the ultimate achievement for musicians based in Austin. Even with SXSW being cancelled, the music never stops in the live music capital of the world. Check some local legends who helped build the Austin music scene like Grupo Fantasma, Charlie Sexton and Jack Ingram!
https://www1.ticketmaster.com/event/3A00578ACD5872E2
2 – Texas Female Founders Day
March 12, 2020 from 9:00 a.m. – 5:00 p.m. at Austin Community College Eastview Campus
Celebrate Female Founders from around Texas brought to you by WatchHerWork. A day full of panels, food and great conversation from some of the leading female entrepreneurs in the state! Listen to a keynote address by Denise Hamilton, founder and CEO of WatchHerWork.com, and attend breakouts focused on a variety of topics such as mental health for entrepreneurs. One of the biggest benefits of SXSW is the opportunity to network, and even though there isn't an official festival this year, there are still some great opportunities to network. 
https://allevents.in/mobile/amp-event.php?event_id=1000076512030543 
3- Startup Sistas in Austin by DivInc
March 12, 2020 from 5:30 p.m. – 8:30 p.m. at Google Austin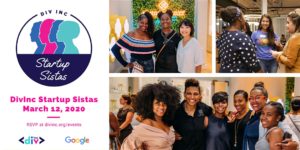 Based in Austin, DivInc regularly hosts events focused on empowering and growing entrepreneurship in diverse communities. DivInc connects underrepresented entrepreneurs to the resources they need to build their businesses. They host recurring events throughout the year. Come celebrate diversity in entrepreneurship on March 12 with great food, conversation and learn about building an environment of equitable business.
https://www.eventbrite.com/e/startup-sistas-in-austin-registration-91529522265
4 – KOOP Radio presents WoManifest
March 14 from 3:30 p.m. – 6:30 p.m. at One2One Bar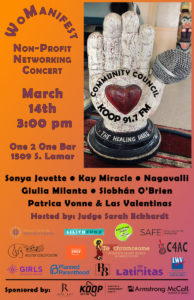 Come celebrate International Women's Day at this family friendly event with great local live music while learning more about some of the best nonprofits in the city. Featuring an all female music line-up rocking from from 3 on. Be sure and stop by the Latinitas table!
https://www.koop.org/news/womanifest
5- Lucy's 10th Annual South By South Austin Fried Chicken Revival
March 18-22, 2020 12 p.m. – 7 p.m. at Lucy's South Congress

Celebrate 10 years of Lucy's flagship event, the Fried Chicken Revival. Great opportunity to get your live music fix, featuring over 35 bands from Austin and around the country. This four day, unofficial SXSW showcase is truly what makes Austin special, by bringing together great music and food. Listen to great live music while eating the best fried chicken in the city. 
https://www.lucysfriedchicken.com/music-events/revival/ 
It was sad to see SXSW cancelled for the first time, but it is heartwarming to see the community rally around industries most affected. It is nice to see the community #StandWithAustin and recognize that even with SXSW cancelled this year the creative community is still here! Check out these and other #AltSXSW events and see you at #SXSW2021! 
Want to read more stories like this? Give us your feedback, here!
Latinitas Magazine is a project of Latinitas, a registered nonprofit. We are funded by readers like you, so please consider donating today. Thank you!