By Melody Gonzalez
Latinas are often known for their voluptuous and curvy bodies. Just think of Latina celebrities like Eva Mendes, Selena Quintanilla, America Ferrera, Sofia Vergara, Salma Hayek, and more. 
We come in all different shapes, sizes, and heights, and that is beautiful. Growing up as a Latina teenager, I had insecurities about self-image. I suffered from facial acne, and I was embarrassed. I was self-conscious and had low self-esteem. 
I wished for clear skin like most of my peers, but my acne did not go away overnight. 
But I wasn't alone, and I wish I'd known that at the time.
One study found that by age 13, 53 percent of girls are "unhappy with their bodies." The rate of unhappiness increases to 78% by the time girls reach age 17. To understand why this happens, we need to understand the four types of self-image:
how you see yourself

how others see you

how you perceive others see you

how you perceive you see yourself
The teenage years are a time of transition from childhood into adulthood. During your teen years, you often have a strong desire to be independent, so you may struggle with still being dependent on your parents. 
You may also feel overwhelmed by the emotional and physical changes you may be experiencing. Trouble sleeping, aggression, withdrawal, clinical anxiety, and depression are among the issues that insecure teens struggle with the most.. 
Some teens may struggle with fitting into a certain crowd.  They might ask themselves questions like: Am I acting like myself? Can I act like myself? Should I act more like my friends to fit in? 
I'm here to say you are not alone. We all are human beings and we all have or have had an insecurity about ourselves. 
I started a skin care routine to address my facial acne. I saw an improvement in my skin. I also had a best friend who was a great emotional support. Having a friend to talk to openly about any doubts you may be experiencing may be exactly what you need to grow and heal. 
I would love for any teen to consider and find a desire in something you love or to pick up a hobby that interests you. 
If you love painting, gardening, sports, or going to the park and being around nature, it can bring you peace. My daughter and I love to pack a picnic and spend time at the park or botanical garden.  
These are just some ways to find a great passion and peace in life when everything seems chaotic. Don't give up and move away, thinking you are not good enough, because you definitely are and have something about you that is special and bright.  
Try your very best to accept yourself and all the great qualities you have. You are bound to uncover hidden gifts and talents that you didn't know you had. This will help you tackle any other insecurities that may come your way as you grow older. My body changed when I became pregnant. After giving birth, our bodies change from weight gain and our figures are not the same as before.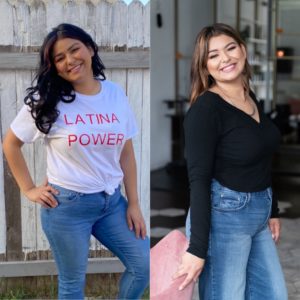 I've experienced weight gain on and off after giving birth to my daughter in 2009. The birth of a baby can produce all kinds of powerful emotions, from excitement to fear, and anxiety. Many moms experience postpartum depression after childbirth.  I myself experienced a great deal of emotions from excessive crying, overwhelming fatigue, loss of energy, and inability to sleep. Being a mother means you are selfless, loving your baby and sacrificing the needs and wants of yourself for your baby/child's wants and needs. I know it can be difficult, but love your body and yourself.  
For all mothers, give yourself the credit you deserve. Being a mother makes me see each day of life with a more grateful heart. My world is filled with so much more beauty because my daughter is a part of it. 
As a Latina woman, I have gone up and down with my body weight. The COVID-19 pandemic changed us. In late February 2021, 42% of U.S. adults reported undesired weight gain since the start of the pandemic, with an average gain of 29 pounds.  
I gained a total of 30 pounds. Yes, it was tough at first to look back at my photos before COVID-19 and say to myself, "I was so thin."  
Instead of being negative, I focused on the positive. I avoided being doubtful about my insecurities. Meditations, affirmations and words of encouragement have helped me in my journey, as have standing in front of a mirror and saying positive affirmations to myself, and changing how I speak to myself. I love my body. I am full of love and beauty, and I am strong and bright.  Now I look at my current photos and say to myself, "I'm so beautiful."  
Bodies are supposed to change. They change as we age, as our bodies respond to stress. They change throughout our monthly cycles and with or without exercise. The only way to feel self-confident is to feel comfortable in your own body. No matter what you look like, you are meant to be yourself.  
I just want to encourage you to stay strong. If you feel like you are failing, don't doubt yourself. All women deserve to look and feel beautiful, whatever weight, shape or size they are. There is so much of yourself you should be proud of: having a great personality, being confident, and kind. There isn't just one way of being beautiful.
A part of self-love is listening to our bodies and supporting them the best we can. Things will affect us emotionally and our bodies can break down, so don't worry about sizes. There's so much more to life than that. You're beautiful just the way you are. Be kind to yourself Latinas/ Latinitas!