By Laura Donnelly
Everyone has a song or a few songs that make them think of someone or something special. Some songs remind us of people we love, others, times we've overcome an obstacle. For actress and comedian Cristela Alonzo – she has strung those particular songs together into a memoir producing a soundtrack of her life. Some of these songs helped fight loneliness during awkward adolescence, others mark pain such as the death of a parent and others joy and inspiration. Each chapter of "Music to My Years: A Mixtape Memoir of Growing Up and Standing Up" is inspired by all these tunes, some of which will sound familiar to any girl growing up with a hardworking-tough on you- serious mom.
While most know Cristela Alonzo as the voice of Cruz Ramirez in the Disney's Pixar movie "Cars 2″ or through her comedy specials like "Lower Classy," she also made history as the first Latina to have her own broadcast television show. Named after her, "Cristela" aired 22 hilarious episodes on ABC Family and starred other famous Latinos – such as the mom from "The Wizards of Waverly Place" Maria Canals-Barrera and singer, composer and TV personality Carlos Ponce, as well as fellow comedian Gabriel "Fluffy" Iglesias. The show was based on Alonzo's own experience helping her family raise her niece and nephews while pursuing her dreams in show business.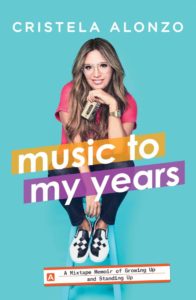 Alonzo's writing is from the heart. The real deal. She defines what a mixtape is for those of you who might be too young to remember – that it's like a Spotify playlist of olden times (the 80's and 90's).  She explains how it's meant to be played over and over in order to evoke all sorts of emotions. Her songs are unexpected picks, but meaningful. If you watch TV Land, you will be familiar with the theme to the "Golden Girls," an 80's sitcom about four hilarious senior women living together in Florida. For Alonzo, these women and this song helped her with loneliness, being awkward and poor in middle school.  
She writes a whole chapter about Lionel Ritchie's  "Say You Say Me."  You can see Ritchie as a judge on "American Idol" now, but he's more famous as a Grammy-award winning musician who wrote the theme song to the 80's movie "White Nights," the story of a Soviet ballet dancer who has defected to America and an American tap dancer who has defected to the Soviet Union. Alonzo talks about how seeing the movie's star Gregory Hines changed her life – that there were dancers, singers and actors who were "brown like her." These songs taught Alonzo to cope, dream and grieve.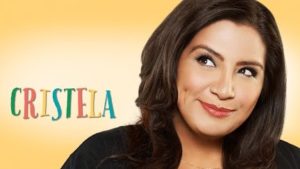 There are other songs like Ice Cube's "It Was a Good Day" that connect later in a real-life way for Alonzo and, of course, for this South Texas girl – there is a Selena song. But, though "Music to My Ears" is written with Alonzo's signature humor the biggest theme of the book is the loving and complicated relationship with her mom. Alonzo grew up with her mother and siblings, struggling with poverty and even living in an abandoned diner at one point in San Juan, Texas near the U.S. border of Mexico. Simple kid things like after school programs or having friends over was often out of reach for Alonzo's latch-key kid life and music kept her sane and connected to the outside world. Alonzo admires her mom and the sacrifices she made for her children and honors that throughout the book.
In the time of COVID-19 we are learning music is more than just sounds. It's a break from boredom. It's a fun moment dancing salsa with your mom in the kitchen, it's connection to family and culture or for some it's helping to squash the stress of the unknown. Alonzo's mix-tape of a book couldn't have come out at a more appropriate time! Viva la Mixtape.
Want to read more stories like this? Give us your feedback, here!
Latinitas Magazine is a project of Latinitas, a registered nonprofit. We are funded by readers like you, so please consider donating today. Thank you!