So you want to watch a fun show with Hispanic flare? I've got you covered. Here's my list of the top 5 Latinx shows you can stream right now. 
5. Good Trouble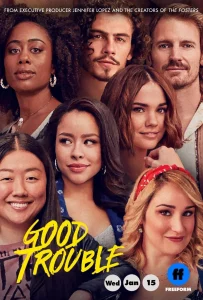 Available on Hulu or Freeform
Okay, this one isn't exactly a Latinx show, but it does feature a Hispanic main character, Mariana Foster. The show aired back in 2019 and is currently in its fourth season. Good Trouble is a spin-off of the hit Freeform show The Fosters, that follows Mariana and her adopted sister Callie Foster as they navigate their careers and romantic relationships in sunny Los Angeles.
From the beginning The Fosters, and now Good Trouble, have worked hard to break down stereotypes. The original show was all about showing the complications, and benefits that come from having a chosen family. Good Trouble focuses on the struggles of being a female in a male-dominated society. Mariana is a brilliant coder, who found her love of STEM in high school, and the show follows her through the beginnings of her career all the way to funding her own app. Good Trouble doesn't shy away from pointing out the blatant sexism and racism Mariana faces. It's important for young women to see such a powerful and smart character as a young Latina!
4. Superstore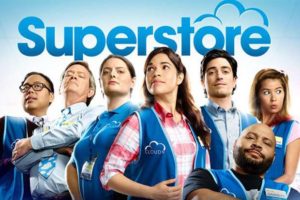 Available on Hulu or Peacock
Like Good Trouble, Superstore has a Latina main character. The show follows Amy Sosa, played by America Ferrera, a longtime employee of Cloud 9, as she works her way up the corporate ladder and gets into all sorts of mayhem along the way. Set in a superstore, the show pokes fun at the crazy things customers and stores do. While the entire cast may not be Hispanic, Hispanic themes are constantly in the background of the show.
The first season dealt with Amy throwing her daughter's Quinceañera, and the drama that came along with it. The later seasons even touch on deportation as we see beloved Sales Associate Mateo get taken by ICE. And while he is Filipino, and not Hispanic, the arc still hits home to plenty of people in the community. A big part of the show is Amy struggling to make enough money for her family, and ultimately moving forward in her career. It's powerful to see a strong Latina working her way up into a leadership position while also raising a child by themselves. The show's heartwarming and hilarious, while also grounding itself in a reality that many people can relate to.
3. One Day At A Time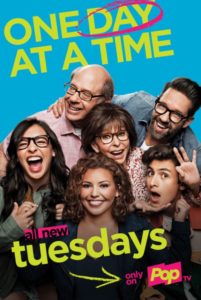 Available on Netflix
One Day at A Time is a sitcom that centers around the Alvarezs, a Cuban- American family navigating life, love, and noisy landlord Schneider. The show follows Penelope Alvarez, a former Army Nurse Corps veteran turned single mom as she raises her two children, Elena and Alex, and grapples with her traditional mother. While the show is lighthearted it does deal with heavier topics, such as fleeing from Cuba, deportation, LGBT representation, and addiction.
Unlike some of the other shows, which have Hispanic characters with Hispanic aspects, One Day at A Time is written from a Hispanic lens. It's in the show's DNA down to the leftover food grandma Lydia packs for her daughter in an old butter container. Penelope's story— joining the military at a young age, getting injured, and still struggling to make ends meet, is an incredibly relatable one. The show is also very timely in the way it deals with Elena's sexuality and her grandma's acceptance of it. While the show was canceled after only 4 seasons, it's still an amazing watch I highly recommend!
2. Jane The Virgin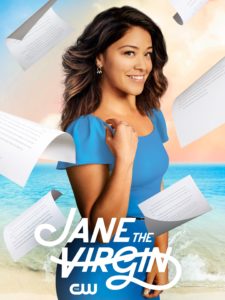 Available on Netflix
Jane The Virgin is a modern-day telenovela starring Jane Villanueva, a creative waitress who is accidentally artificially inseminated with her boss's child, despite being a virgin. Jane lives with her wild mom, who got pregnant with her as a teenager, and her traditional grandmother. Religion was instilled in her at a young age, and Jane has decided to follow in her grandmother's footsteps and wait until marriage, which is complicated by the fact that she is now pregnant. Especially considering she already has a boyfriend.
Similar to One Day at A Time, the show is fully filmed from a Hispanic lens. Their cultural background comes through in everything they do. The show isn't just inspired by telenovelas, it is one. Jane's family goes through various twists and turns, all explained by our deep-voiced narrator. Honestly, these top three could all be tied for first given how incredible they all are. But Jane The Virgin is only slightly higher due to the show actually reaching a proper conclusion and having a finale, unlike One Day at A Time.
1. Ugly Betty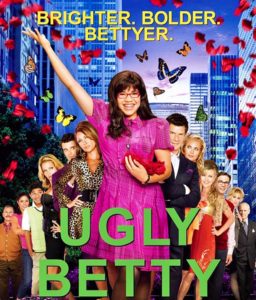 Available on Hulu or ABC for Free
My personal favorite, an oldie, but such a goodie. Also starring America Ferrera, Ugly Betty aired back in 2006 and ran for 4 seasons. The show follows Betty Suarez, a nerdy girl with a passion for… journalism, who's thrust into the world of fashion. Betty begins working as an assistant to the owner of Mode Magazine's son, Daniel, with the intention of becoming a writer, but the job is more than she bargained for. Betty is Mexican American, and this show does feature her Hispanic background prominently. In fact on her first day on the job Betty even wears a poncho to work.
While the show teeters the line between cheeky and offensive, it also has a lot of heart. The show finds a way to balance the wacky antics and saucy scandals of the Mode world, with at times harsh reality of living life as a Hispanic girl in Queens. Betty struggles with a lack of confidence and is essentially bullied for how she looks, but throughout the show, she's able to overcome and succeed in her dreams. The show touches on health issues, deportation, and even discovering your sexuality, all with a Hispanic lens. Moreover, the show highlights just how important having a Familia is, without ever feeling cliché.