HARLINGEN, Tx.—L.A.-based Mexican-American musician MONOGEM, also known as Jen Hirsh, grew up in a family that not only loved music but celebrated it. Specifically, Hirsh's abuelita would play the timeless bolero track "Bésame Mucho" by Consuelo Velázquez on repeat throughout the house.   
"I have the most beautiful memories of my abuelita singing and admiring the timeless bolero, "Bésame Mucho,"" she said. "It was her favorite song in the entire world. Whenever I hear or sing it, it triggers this nostalgic connection to her, to my childhood and my heritage."
Having promised her abuelita never to lose touch with her heritage, the connection to the track runs deep. This is why, on Nov. 20, MONOGEM released a stunning and haunting rendition of the classic tune. 
Her grandmother knew MONOGEM would become a singer at an early age and encouraged MONOGEM to sing in Spanish. Being half Jewish, MONOGEM even performed "Bésame Mucho" at her bat mitzvah for her grandmother. 
"I was also super inspired by the story of the song, written in 1940 by Consuelo Velázquez. She wrote it having never been kissed yet, at a time when kissing was considered a sin," she said. "Channelling her story and imagining my grandmother's personal connection to the song made the recording process an out-of-body experience."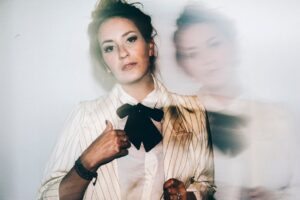 Although MONOGEM got her start as an English-language artist, "Bésame Mucho" will be her fifth track in Spanish. MONOGEM graduated from Berklee College of Music, where she developed a knack for singing in Portuguese. With foundations in both the Spanish and Portuguese languages, she still had reservations about singing in the language she grew up speaking with her abuelita —Spanish. 
"It wasn't until recently that I worked up the courage to start releasing music in Spanish. I had this revelation, where I was like, 'why aren't I singing in the language that I actually sort of know how to speak?'" she said. "It was always this weird, brooding insecurity for me that kept building up. And I always felt like I wasn't Mexican enough, or my accent was too gringa. I just felt like 'don't even try it because no one will believe you.'"  
Before the release of her first Spanish single in 2019, "Soy Lo Que Soy," (I am what I am), MONOGEM explained she struggled with anxiety over writing in another language as well as changes within her team. Her producers Kyle Patrick and Will Snyder, aka The Slackademics, encouraged MONOGEM to write "Soy Lo Que Soy," and with the song being well received, she has been able to release various Spanish tracks like "Paradíso" and "Míranos." 
With newfound confidence, MONOGEM said her music resonates with a new, diverse audience she did not know she could have. In Feb., before the state of California issued a lockdown due to COVID-19, she had the opportunity to experience a new audience first-hand while opening for Ximena Sariñana, a Mexican singer and songwriter, at The Paramount L.A. in Boyle Heights. 
"It was amazing because I got to sing for a totally Spanish-speaking audience," MONOGEM said. "It was my first experience performing for an audience that could really understand all my songs. So I think that's what post-COVID will look like for me —a lot more shows to a lot more diverse audiences, which I'm really looking forward to."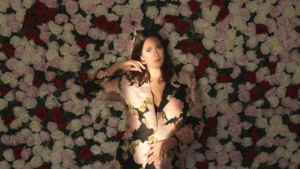 Since the release of "Soy Lo Que Soy," the theme and attitude of "I am what I am, take it or leave it" has been persistent throughout her song-making process and can be heard in tunes like "Call It What It Is." 
"I think it comes with age and more wisdom in the industry. Just being comfortable in my own skin and really celebrating what I have to offer and what and who I am," she said. "And it's really the most beautiful thing about being an artist. Because being able to share that message with my listeners and hoping that somebody can connect with that and someone who's felt the same way that I did, that's the whole reason I do this. And I feel like I didn't really learn that until I wrote ("Soy Lo Que Soy")."
In fact, MONOGEM's confidence and connection to her Latinidad have resulted in her mother wanting to enroll in Spanish lessons. 
"Growing up, (my mother) never discouraged me from (speaking Spanish). It just wasn't ever really encouraged," the singer said. "And so now the fact that she's watching me blossom has encouraged her to reconnect. That's pretty special for me. And the fact that all of this has made my own mother want to connect more with her heritage, like, how cool is that?"
The singer explained she is ready to show her fans who she is and release a full-length album in 2021, complete with bilingual tracks. MONOGEM said she doesn't want to live in a crossover lane between English and Spanish music but wants to create her own lane.
"I feel like there's so much pride within the Latin community, and people are really being celebrated and recognized the way that it always should have been," she said. "Look at "Despacito," that was a big moment. I hope that these two music markets continue to merge because I think that's the way that they're heading."
With MONOGEM continuing to connect to her culture, she has kept her promise to her abuelita in keeping their Latinx heritage at the forefront. 
"The connection to ("Bésame Mucho") and to (my abuela), it just feels so right on all of this," she said. "Sadly, she's no longer with us. But, if only she could hear this version of "Bésame Mucho" today. I'm sure she hears it somewhere." 
Readers can listen to MONOGEM's new track "Bésame Mucho" on Apple Music, Spotify, YouTube and SoundCloud. 
About the writer:
Elisa Garcia is a graduate of the University of Texas at Austin with a bachelor's in journalism and is now the Magazine Editor of Latinitas Magazine. She has experience in social media, reporting and videography. Garcia enjoys covering pop culture trends, arts and life community events and feature profiles on women empowerment. Her works have been published in The Pan-American Newspaper, ORANGE Magazine, San Antonio Weddings and Latinitas Magazine. You can read her work at elisaruthgarcia.com! When she's not writing you can catch her with her cat, Opal.
Featured photo by Avery Wheless.
Want to read more stories like this? Give us your feedback here!
Latinitas Magazine is a department within Latinitas, a registered nonprofit. Readers like you fund us, so please consider donating today. Thank you!