By Daniela Rangel
LAREDO, Tx.—TikTok users entered a frenzy on Friday, July 31, as they heard the news of a possible ban on the social media platform. As stated in the New York Times, content creators broadcasted their disappointment at potentially losing the popular social media platform and thanked their fan bases one last time. 
President Trump reinstated his claims for banning TikTok by Saturday, August 1, to signing an executive order to ban the application within 45 days if ByteDance, TikTok's parent company, does not sell to a U.S. suitor. Trump's constant paranoia that the app allows the Chinese Communist Party to have access to American's data may set a dangerous precedent for free speech and international business. 
As I procrastinated writing this article, I spent my time on TikTok —surprise. What sets the application apart and resulted in two billion downloads on the Google Play Store and App Store compared to its American owned counterparts, is a personally curated algorithm of videos catered to your interests. Unlike Instagram's feed consisting of posts from whom one follows,  TikTok has been the number one reason I have been aware of political issues. 
While older generations may groan at my statement, TikTok has democratized a stage for creators who have been affected by racial injustices to use their voice, such as Jackie James (@fatraco0n) and Joyola Dokun (@joyoladokun). These videos have allowed me to hear directly from those hurt in an age where an increasing number of people have grown skeptical of the news. TikTok has been a hub for GenZers to receive actionable advice to be activists since most of us cannot yet vote. I am concerned for what will happen to the voices I listen to on the daily.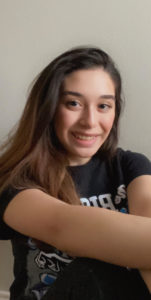 TikTok is not the first app to be called into question. Earlier this year, Grindr, a popular dating app for individuals in the LGBTQ+ community, was sold by a Chinese-owned company to San Vicente Acquisition due to the U.S. government's concern of a national security threat. Similarly, TikTok's communication team vehemently denies allegations of sharing user-data with China. 
Much like other applications of TikTok's nature such as Facebook and Google, companies based in the States, data is extracted from TikTok's users' behaviors —likes, shares, friends, and locations. Thus, to improve the app and keep the service free, data is monetized. However, in 2017 under China's National Intelligence Law, the Chinese government may have access to data from Chinese owned companies.
Now, having such data in the wrong hands has also been proven to have disastrous consequences. Take the 2016 U.S. presidential election Russian interference, where Russia targeted voter registration systems and state websites in at least 21 states, as stated in Time Magazine. 
Do politicians fear TikTok's national security issue or a further perpetuation of a strained U.S.-China relationship? Due to national interest and security, buying apps from different countries always poses the question of whether they are safe and secure to use and what data is collected. Because of this, Trump wants to ban the app or sell it to a national buyer. This causes implications with international sellers since Trump insinuates no trust from anyone and could potentially leave the U.S. from international tech opportunities.
Trump's laser focus on banning the app has shown where his priorities are, which are not necessarily in the best interests of the American public. As states reopen from lockdown, COVID-19 cases have skyrocketed, children are going missing from ICE detention centers and far too little has been done in support of the Black Lives Matter movement under the Trump administration. In fact, protestors are being illegally detained. Is this the best time to be hyper-focused on banning an app?
Activism aside, I have found a community on TikTok where I otherwise could not have in my homogenous city of Laredo, Tx.. Finding a community in a roughly 96% Hispanic/LatinX city is daunting, but TikTok's personalized algorithm led me to LGBTQ+ creators. As a result, I am proud to say I am one step closer to feeling comfortable in who I am. With a ban on TikTok, other youth from the Pacific to the Atlantic will no longer have role models who are relatable, which is a public value worth protecting. 
Want to read more stories like this? Give us your feedback, here!
Latinitas Magazine is a project of Latinitas, a registered nonprofit. We are funded by readers like you, so please consider donating today. Thank you!