AUSTIN, Texas — Every four years, when the Olympic Games were aired, it was a family event. My eyes were glued to the television watching athletes from around the world compete in gymnastics, swimming or basketball. Once again, I was anxiously awaiting the Summer Games and the captivating performances by athletes —but COVID-19 has shattered this possibility. 
The COVID-19 pandemic has caused many events to be postponed for the remainder of 2020. This includes the biggest worldwide sporting event of the year, the 2020 Olympic Games to be hosted in Tokyo, Japan. Although the 2020 Games will now be held in 2021 as a result of COVID, many accomplished women of color from around the world prevail with sights set on taking home bronze, silver, or gold for their country.
Women began competing in the Olympic Games in 1900 in Paris, slowly but surely, additional sports were added for women competitors. However, it wasn't until 2007 when the International Olympic Committee (IOC) affirmed it was their responsibility to encourage and support the promotion of women in sports at all levels —about time. 
 Here are some of the women that we will see at the 2021 Olympic Games! 
1. Eri Yamada, Softball, Team Japan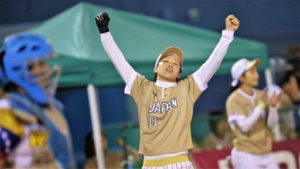 At 6-years-old Yamada started playing baseball with the boys in her community. By the time she turned 15, she was no longer allowed to play on boy teams and made the jump to softball. Yamada made her Olympic debut at just 20-years-old at the 2004 Olympics in Athens and returned to the 2008 Olympics in Beijing. Although Yamada is a bronze and gold medal holder, she has faced several setbacks, such as the Olympic committee deciding not to renew softball as an Olympic sport in 2012 and 2016. 
"Softball is the real team sport," she said to WBSC. "In baseball and softball, players need to help each other. We need to make IOC Members aware of the high ethical value that baseball and softball can represent. The Olympics are the Festival of Sports, we belong there. In Tokyo we will need the support of the people. I think we will get it, because we deserve that."
With Yamada and her team at the 2020 Summer Games, a new generation of young women will be able to watch Olympic softball. Sadly, softball will not be played at the 2024 Games, meaning inspired young women will have to wait until 2028 to watch this team sport. However, this only motivates Yamada to show the Olympic committee the value of her sport.
2. Sakura Kokumai, Karate, Team USA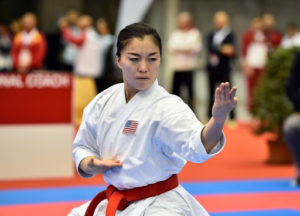 Having originated during the 17th century in Okinawa, Japan, it's fitting karate will make its Olympic debut at the 2021 Tokyo Games. Sakura Kokumai will also be making her Olympic debut and is the first American to qualify for the Games in the sport. 
Kokumai has been practicing karate since she was 7-years-old at her local YMCA in Honolulu, Hawaii. By the time she was 14, she made the Junior National Team and has built an impressive resume — a member of the USA National Team since 2007, Worlds bronze medalist and a Pan American and USA National Champion to name a few. She could be one of the most hopeful athletes looking to earn gold in Japan for the U.S..
"To younger athletes, never, never, never give up," as stated in her profile. "Hard work always pays off. Just stay focused, surround yourself with good people and the result will naturally come to you."
Kokumai said she is honored to be among the 77 qualifying athletes to represent Team USA in Tokyo. She admits her journey was hard and at times there were moments she wanted to give up, but she kept on fighting for her dreams.
3. Silvana Lima, Surfing, Team Brazil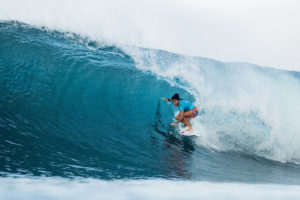 To those who know her, Silvana Lima is known as a warrior. In fact, the World Surf League (WSL) states there is no other word to describe a woman as resilient as Lima. Her drive resulted in eight Brazilian national titles, two world title runner-ups and the unofficial title of Brazil's greatest-ever female surfer. However, Lima did not get to the top that easily, she started behind the pack. Growing up in a shack on the sands of Paracuaru, Brazil, she learned to surf on a wooden plank with a makeshift fin she made herself.
She reached global recognition by 2006 and moved up the letterboard in 2008 by ranking the No. 2 spot among female surfers for two consecutive years. Her winnings allowed her to buy her and her family their dream house, but this did not come without several setbacks such as tearing ligaments in her knee in 2012 and being rejected from surfing sponsorships because she did not "look like a model."
"I'm not a babe. I'm a surfer, a professional one, " Lima told the BBC in a video series. "The surfwear brands, when it comes to women, they want both models and surfers. So if you don't look like a model, you end up without a sponsor, which is what happened to me. You're excluded, you're disposable. Men don't have this problem."
This did not, however, discourage her from continuing on with her passion for the sport and found her own way to fund her career. "I could get breast implants, dye my hair, wear contact lenses to make my eyes blue, but it wouldn't be me," she told BBC. "I've faced many obstacles since childhood. I carry them with me all the time, but I think it's good for a person to tough it out." 
4. Aliphine Tuliamuk, Track and Field – Marathon, Team USA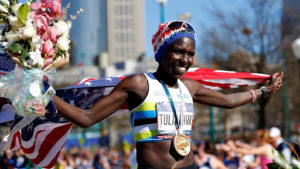 Just one month after Aliphine Tuliamuk became a U.S. citizen in 2016, she competed in three USA Track and Field events, the 25K, 20K and 5K races —she was first place in all three. On February 29, 2020, Tuliamuk earned the first place title for the marathon event in the U.S. Olympic Team Trials, securing her spot in Tokyo. 
Before Tuliamuk was Tokyo bound, she was running around her native village of Kongelai, Kenya. Tuliamuk told ESPN she was running everywhere, to school, to the river to collect water and to the local market making her daily run anywhere from six to eight miles —unconsciously, training her as a runner.
With the coronavirus rupturing the lives of many, the Olympic Games were, to many, a glimmer of hope. Now, with the Games postponed, Tuliamuk's career and personal dreams will have to be put on hold. Tuliamuk told Women's Running she had plans of visiting Kenya for the first time in three years and starting a family with her partner.
"Winning the Olympic Marathon Trials was the crowning moment of my journey so far," Tuliamuk reports in Women's Running. "As an athlete, my goal next summer is to bring home a medal for our country. But I think what I really want is for the world to heal so that all of us can pursue, and hopefully achieve, any of our individual and collective goals in life. That hope, that new dream, is what will keep me running."
The Games have been postponed to go on from July 23 to August 8 in the summer of 2021. Despite the postponement, they will still be held in Tokyo and any athlete who has advanced in their country's qualifier will remain qualified. However, many sports had to postpone their qualifying rounds, thus changing the window to hit qualifying marks that will make an athlete eligible to compete in such rounds. 
The Summer Games are postponed but these women show us that life is what you make of it, life's challenges are what shape us. Not only do these women, and others, inspire us, but challenge us to think past our obstacles —if we think we won't, we won't, if we think we will, we will. These women are just a handful of many women who will show us how their restless devotion will pay off at the 2021 Summer Olympic Games.
Want to read more stories like this? Give us your feedback, here!
Latinitas Magazine is a project of Latinitas, a registered nonprofit. We are funded by readers like you, so please consider donating today. Thank you!