HARLINGEN, Tx.—For some, the Star Wars Expanded Universe only exists in its movie and TV show formats (a galaxy far, far away, indeed). However, for Mexican cosplayer Momo Naberrie, the galaxy is stitched closer to life by her various cosplay costumes, specifically Queen Amidala —aka Padmé Amidala Naberrie, hence Momo's cosplay name.
Based in Guadalajara, Jalisco, Mexico, Momo introduced her cosplay account on Instagram on Star Wars Day, May 4, 2020, wearing a Jedi outfit and carrying a blue lightsaber. Exactly one year later, Momo's presence has grown to 3,017 followers and counting. The cosplayer continues to create and share Star Wars-related content through handmade costumes, graphics, t-shirts, journals, and posters with her original designs. Still, one piece of content stands out against the rest: Momo's La Catrina Amidala costumes.
The La Catrina Amidala costumes are a combination of traditional Queen Amidala clothing from the Star War Prequels (Episodes I-III), paired with the striking and unique makeup of La Catrina, a symbol of Dia de Los Muertos of the tall female skeleton wearing a fancy hat with feathers.
Only five months into having her account, Momo released a total of three La Catrina Amidala outfits during October 2020 leading up to Dia le Los Muertos on Nov. 1 and 2. The costumes consist of Queen Amidala's packing dress, throne room gown and jubilation dress.
"I was a little bit afraid to (share those costumes). Because in my mind, people will have two reactions. People love it, or people hate it," Momo said. "But in the end, I was so surprised that people welcomed the ideas. I was like, 'Oh my god, really?' I think I can do the two things, show my love for Star Wars, and show my love for the Los Muertos because it's my favorite Mexican holiday. And also, people from other countries can know more about Mexican tradition."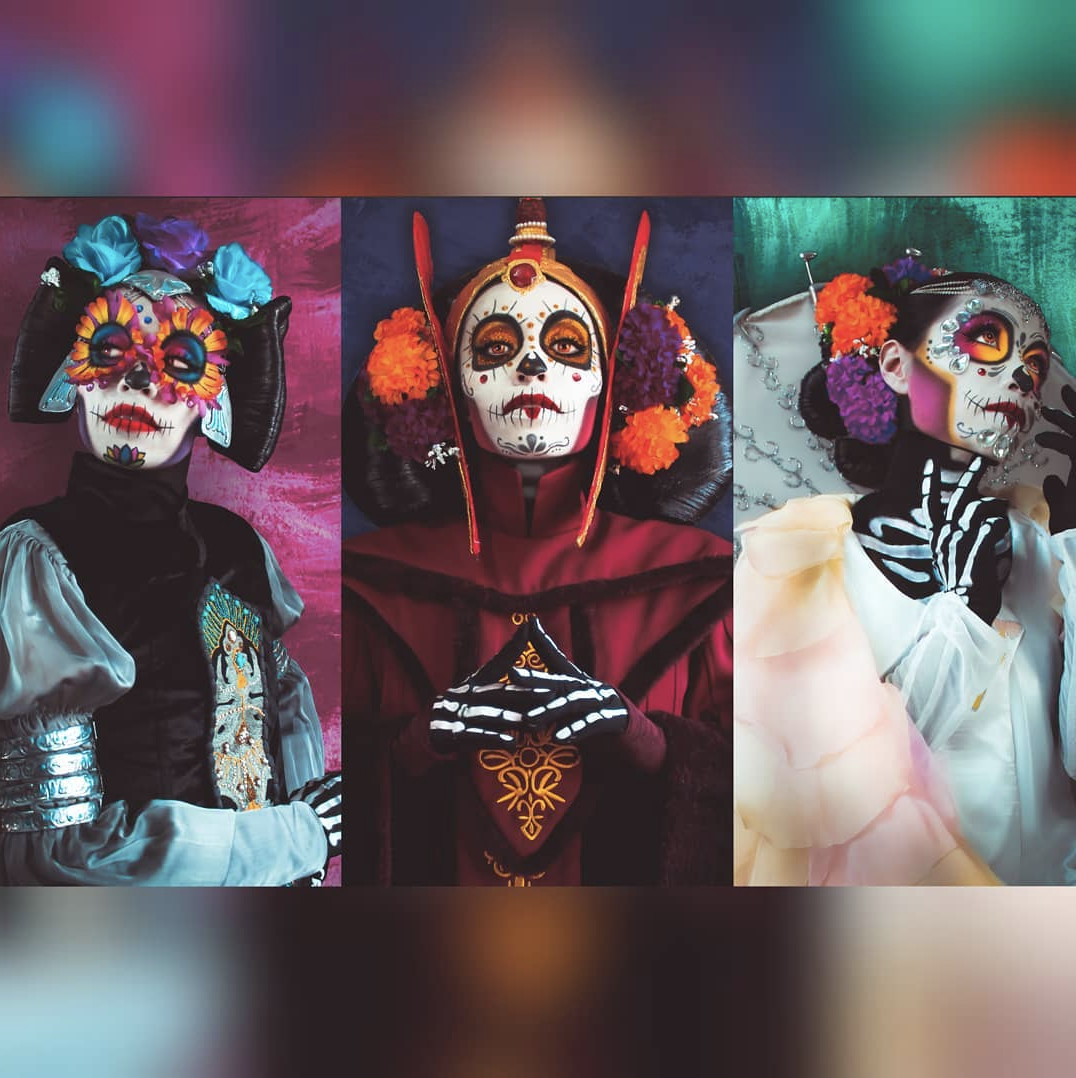 Momo first experienced the world of Star Wars at the age of 10 when she watched the trailer for Episode I: The Phantom Menace on TV in 1999. Knowing only the names of pop culture characters like Luke and Leia Skywalker, Momo explained she asked her father to take her to the movies to watch the film. She left the theater in awe.
"I really like (Padmé's) way of thinking. She's so determined. She's a strong woman," she said. "For that time, we didn't see that kind of a strong woman. Right now, we have a lot of movies or series or stories that we can see a strong woman. But in 1999, she was like, 'Oh my god.' I love to see a girl who can be powerful and strong. She can do anything. That's why I fell in love with her."
Despite only being in the cosplay world for a year, Momo said she had reached most of her primary goals with her account. One being her La Catrina Amidala costumes, and the other being known among Mexican Star Wars fans. Momo has obtained press mentions with Star Wars, Word of the Nerd, Poca a Poca, The Scevoli Tano Show, Consulting y Aprending and others.
However, the cosplayer explained she was hesitant to release her work to the public at first. With some encouragement from her husband, the 31-year-old opened Instagram and pressed 'share.'
"At this point, I don't feel like this love to do other kinds of costumes besides Star Wars," Momo said. "I really love the wardrobe of Queen Amidala, so I have a lot of gowns to do — like a lot."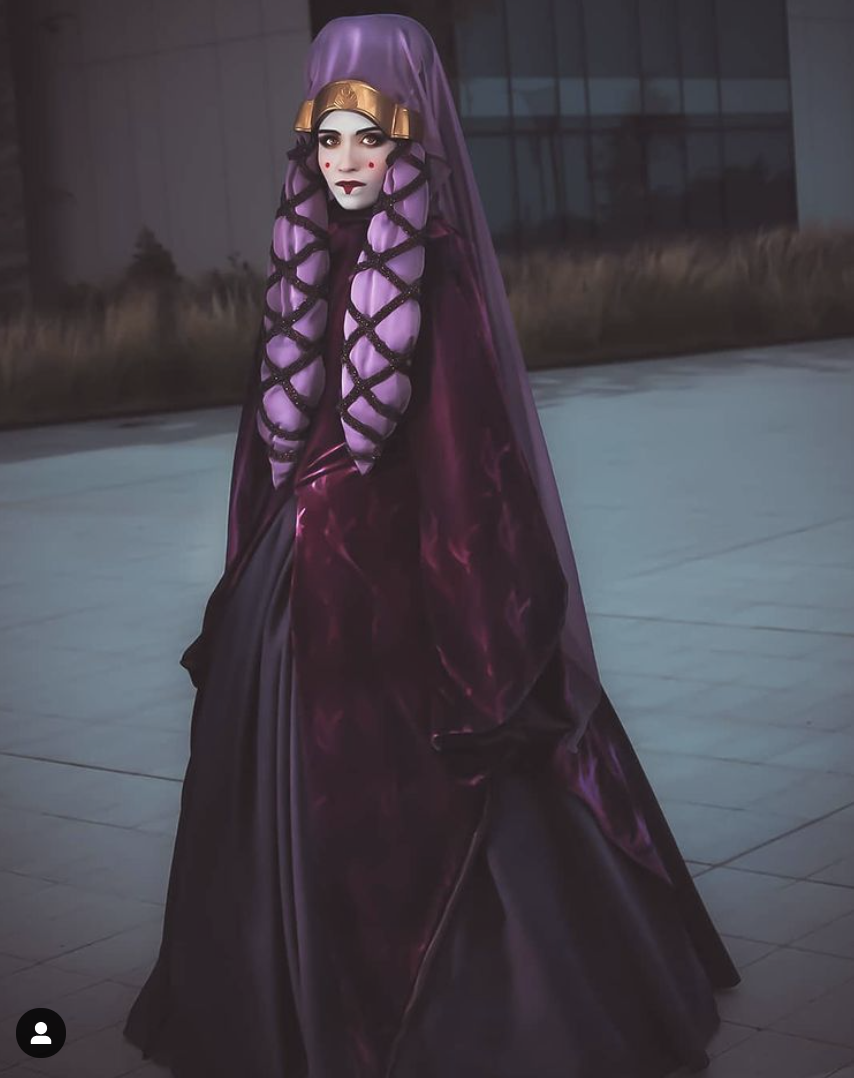 On April 5, 2021, Momo released a new Queen Amidala gown to her collection —the traveling gown, as seen in "The Phantom Menace" as Padmé returns to retake her homeworld of Naboo from the Trade Federation, and again at the funeral of Jedi Master Qui-Gon Jinn.
The outfit was Momo's first cosplay that she developed 100 percent on her own and from scratch. In her Instagram post, she explained, "it was a roller coaster of emotions, but at the end of the day, every single moment I dedicated in the process (was) worth it." Before creating the traveling gown, Momo's mother-in-law sewed the first three Queen Amidala outfits used for the La Catrina Amidala costumes. At the same time, Momo worked on creating the wigs, helmets and other props.
As of February 2021, Momo enrolled in sewing classes to develop her skills as a cosplayer.
With no plans on stopping anytime soon, Momo just wrapped up her first Instagram giveaway in celebration of her account's one-year anniversary. The prize included a t-shirt, notebook, and sticker pack, all showcasing Momo's original illustrations featuring Star Wars characters.
"(Star Wars) means that I can discover how to express myself," she said. "I was the only girl in middle school with my Star Wars backpack. But I felt really strong, and like 'Yeah, this is what I like.' I feel like this is myself. It doesn't matter if you don't like the normal things that other people like. It's OK to be different. That's why for me (Star Wars) is a big, big space in my heart."
To follow Momo's cosplay journey, you don't have to travel too many parsecs away. Her cosplay costumes can be seen on Instagram and Facebook, and you can support the creation of Momo's pieces on her Redbubble and Ko-fi pages.
About the author: 
Elisa Garcia is a graduate of the University of Texas at Austin with a bachelor's in journalism and is now the Magazine Editor of Latinitas Magazine. She has experience in social media, reporting and videography. Garcia enjoys covering pop culture trends, arts and life community events and feature profiles on women empowerment. Her works have been published in The Pan-American Newspaper, ORANGE Magazine, San Antonio Weddings and Latinitas Magazine. You can read her work at elisaruthgarcia.com! When she's not writing you can catch her with her cat, Opal.
Featured image by Momo Naberrie
Want to read more stories like this? Please give us your feedback here!
Latinitas Magazine is a department within Latinitas, a registered nonprofit. Readers like you fund us, so please consider donating today. Thank you!